A Complete Guide to Gulliver's Gate New York
Gulliver's Gate, New York is the world's most spectacular museum of miniatures. A huge team of master craftsmen have remade New York, and the world's, major landmarks in pocket-size. Gulliver's Gate contains more than 25 cities in six continents over 50,000 feet of exhibition space.
In this world, the trains run on time, there's no delay at airport security and no line ups at the grocery store. Ever. The tiny inhabitants of Gulliver's Gate go about their business undisturbed by the giants in their midst.
The most technologically-advanced exhibition of miniatures in the world, Gulliver's Gate is interactive and contains hidden scenes and funny details you won't expect. The closer you look at Gulliver's Gate, the more you'll find!
Quick Jump links to Gulliver's Gate NYC Guide
New York City Inside Gulliver's Gate
Gulliver's Gate is a celebration of New York City life. The iconic landmarks are all there; the Empire State Building; Central Park; Staten Island Ferry Building; New York Public Library and dozens more. The team that built the New York City model wanted to create a city of light. The streets are aglow with thanks to the skyscrapers, depicted as epic pillars of light.
Train lovers can't miss Gulliver's Gate's version of Grand Central Station complete with three levels of transit, cars, trains and subway. The detail is exquisite. But Gulliver's Gate doesn't only recreate New York's buildings, its recreates New York City life from the street up. Look closely to find the graffiti artist, the thief in the Met Life Building and the firemen rescuing a cat from a tree.
The Making of Gulliver's Gate
Gulliver's Gate is the creation of Eiran Gazit, an Israeli entrepreneur and former military man. In a meeting worthy of a Hollywood film, Eiran met Michael Langer, a fellow miniature enthusiast, on a mountain top in Costa Rica. The pair hit it off and vowed to make their dream of putting the world's greatest museum of miniatures right in Times Square a reality.
In May 2014, the pair launched a Kickstarter campaign in the hope of raising $20,000. That campaign got the attention of major investors Irving and Michael Langer of the Brooklyn property management firm E&M Associates.
To get from an idea to a reality, Mr Gazit and Mr Langer hired more than 200 model makers to work on the seven world sites that make up the Gulliver's Gate universe. To ensure authenticity, the model making teams live in the regions they built and had full creative control.
I am not going to tell them what to show about their own places, Mr Gazit said in the New York Times. They know much better than I do. I don't want an American interpretation of what life is like in Buenos Aires, for instance.
The Gulliver's Gate team designed most of the buildings using a computer, then created them using 3D printers and laser cutters. Some buildings were made using only traditional techniques. Yet, getting the scale and detail of buildings like the Shanghai Global Financial Center just right, takes more than a craft knife and a slide rule. It was a challenge for model makers to recreate the triangular building that moves in a circular motion. To ensure accuracy, each floor was 3D printed separately several times and carefully slotted into place.
Engineers even created their own GPS system to control the many cars, trains and subways in operation at Gulliver's Gate. And craftsmen are still adding details. There are 15 people on full time staff at Gulliver's Gate, performing minor repairs and adding new little quirks for you to spot.
Gulliver's Gate Open Hours and Admission Tickets Prices
Gulliver's Gate is open every day between 10.00am and 8.00pm. Last entry is at 7.00pm.
Hours change during holiday seasons. See the gulliver's gate website for 2018 Holiday hours.
Admission prices (without any discounts purchased directly from the attraction box office) are as follows:
Adults: $36
Children (4-12): $27
Children under 4: Free
Seniors (65 and over): $27
Active military: Free
Other Military: $18
Gulliver's Gate Discount Tickets Tickets NYC
Compare Gulliver's Gate Tickets Price
Many great tour operators are offering substantial discounts, Tripindicator is comparing prices leading suppliers:
How to Get a Gulliver's Gate Discount, New York
Don't buy your ticket for Gulliver's Gate at the attraction. Shop around online and buy your ticket ahead of time to take advantage of major discounts.
Buy your tickets online through a third party seller. Tickets are timed but are good for an entire day. Many great tour operators can offer substantial discounts. Tickets are non-refundable but if you are unable to use them on the day you chose at purchase, you can still rebook your visit.
Or, Buy your ticket ahead of time at Gulliversgate.com to save around $5 on each ticket. If you don't use your ticket on the day you purchased it for, you have 1 year from the original date to redeem it. You can rebook up to 3 days before your visit with no fee.
Be aware of possible discounts. Gulliver's Gate offer free tickets for active military service members, redeemable at the box office with ID, not online. Non-active service members can purchase tickets for $18. Seniors can purchase tickets for $27 both online and in person.
Buy a New York City Pass. There are a number of different companies offering passes to a variety of attractions with huge discounts. The New York City Explorer Pass includes Gulliver's Gate and is worth a look if you know you're doing some hardcore sightseeing.
Consider visiting Gulliver's Gate as part of a tour. New York City Tours includes Gulliver's Gate as a stop-off as do a number of New York hop on/hop off services. As always, do a search for other attractions in the vicinity, paying special attention to those that are free!
Getting to and From Gulliver's Gate, New York
Gulliver's Gate is located at 216 West 44th Street, near Times Square. Times Square is easily accessible by subway.
You can take the following trains to Time Square/42nd Street: N,Q,R,A,C,E,1,2,3,7
If you're coming from the other direction, take the following trains to Bryant Park/42nd Street: B,D,F,M
Parking is available at Gulliver's Gate and can be purchased ahead of time online or in person at the box office. To find the parking lot put the following address into your google map or GPS!
141 west 43rd street/146 west 44th street between 6th and Broadway.
That's about it! Enjoy your visit to Gulliver's Gate, a big little world that is sure to capture your imagination.
Tips for Visiting Gulliver's Gate
Travel Light
The intricate Gulliver's Gate exhibits are not hidden behind protective glass. To protect the exhibits and make sure there's plenty room for everyone to see them, Gulliver's Gate limits what visitors can carry. There are no luggage, backpacks, selfie-sticks, umbrellas, food or beverages allowed in Gulliver's Gate. Bear this in mind when you're planning your trip.
If you must bring a small backpack with you, you can leave it in coat check for a fee of $1, cash only. Strollers are allowed but you may wish to check this at coat check also. All bags are searched on entry to Gulliver's Gate so don't try to smuggle in contraband snacks!
Bring Your Smartphone
Gulliver's Gate encourages you to document your visit using your smartphone. Taking photos and videos of the exhibit to share with your friends and followers is a great way to remember your trip. Tag your photos with #gulliversgate so the team can showcase your masterpieces.
Don't Expect Geographic Accuracy
Gulliver's Gate is not geographically accurate so don't expect it to be! The attraction showcases highlights from six different continents and it wouldn't be possible to represent the landscape to scale. Gulliver's Gate also moves back and forth through time so get on board and enjoy the model maker's creativity and imaginations!
Take Your Time
It takes around 1.5 hours to see everything. With children it could take more or less time depending on how hungry they are! There is lots to see so don't make the mistake of spending all of your time in only one section. Equally, don't race around the exhibits without spending some time taking it all in. Aim for around 15 minutes in each section and you should do okay.
Grab a Souvenir
Gulliver's Gate has a state of the art 3D scanner and printer that can scan your body and create a lifelike model. You can then choose to add that model to the world of Gulliver's Gate or take it home with you as a memento. How great is that!
How to Take the Best Photographs at Gulliver's Gate
At busy tourist attractions, it's hard to take photographs without getting a dozen or so gawking tourists in the shot. It can also be difficult to take photos that are unique. How many people have taken the exact same photo of the Statue of Liberty, for example? Luckily, at Gulliver's Gate, you won't have this problem. There is so much detail in every model, no two photos are the same! Originality it not an issue but time, space and other people are. Here's how to take the best photographs at Gulliver's Gate.
Beat the crowds If you visit Gulliver's Gate during quiet periods you"ôre more likely to get a good shot with no surplus tourists. If you can't beat the other tourists, join them. Look for details that aren't being noticed by everyone else. Be patient and wait for a break in the crowd to get a good shot.
Use the Tourists Other people can be an asset to your photography. Snap quickly to get people in a natural pose but be sure to respect other's boundaries.
Think about angles Gulliver's Gate is a delicate and intricate series of models so you can't go stomping all over them! You can however experiment with the angle of your shots. Does Machu Picchu look best from ground level or above? Can you capture Shanghai's skyscrapers from a quirky angle?
Zoom The devil is in the detail and at Gulliver's Gate there's no shortage. Put on a zoom lens or use whatever zoom is built into your camera to get up close and personal with the stunning detail of the models.
Pose Eventually photographs with no people in them get boring. Even if they are photographs of Gulliver's Gate! Selfie sticks are not allowed in Gulliver's Gate but ask a friend or fellow tourist to take a few snaps with you in it. It will give the scale of Gulliver's Gate perspective and also preserve your great memories!
The Gulliver's Gate in Rest of the World
The Gulliver's Gate treatment isn't limited to New York City. Highlights from the rest of the world have been recreated in stunning miniature too.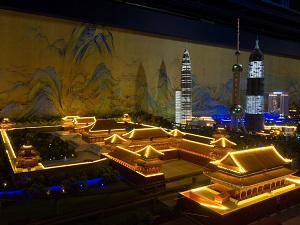 Gulliver's Gate Asia
It took 47 model makers in Beijng, China 125 days to create Gulliver's Gate's Asiana exhibit. Narrowing down Asia's vast array of natural, ancient and modern wonders must have been tough. The model makers settled on the Taj Mahal as the first stop on this mini Asian tour. A mausoleum that is actually the world's largest love letter, the Taj Mahal changes color depending on the time of day. Next comes ancient treasure Angkor Wat, Singapore's inimitable architecture and Kuala Lumpur's futuristic skyline. Japan's Mount Fuji is another highlight as are treasures of China, the Great Wall and the Forbidden City.
Gulliver's Gate Europe
Built in Rimini, Italy, it took 31 model makers 137 days to build Gulliver's Gate's Europe. This glorious maze of European history and modern-day achievement opens with the Colossus of Rhodes. There's little time to ponder the ancient world as, in this Europe, time and space has collapsed. The Large Hadron Collider sits close to the Coliseum, as it was in Rome's heyday, while the northern lights dominate the skies. Look carefully and you might spot Zeus behind the clouds, or the Loch Ness Monster beneath the water.
Gulliver's Gate Russia
One of the most ambitious models in Gulliver's Gate, it took 67 St Petersburg model makers 200 days to build Russia. Inspired by the Russia's romantic and brutal history, the model makers have created a winter fairy tale landscape. Models of Russia's architectural greatness, like St Basil's Cathedral, the Lakhta Center and the Old St Petersburg Stock Exchange, show man's dominance over an unforgiving landscape. But the Russian love for winter sports and wry sense of humor also gets a nod in the tiny details. Can you see a bear stopping city centre traffic?
Gulliver's Gate New England
A small team with big ambitions created New England, the birthplace of the United States of America. 12 model makers from Lowell, Massachusetts spent 221 days creating a historic model that takes you on a journey through the seasons. Enter via the Connecticut waterfront and take in classic Maine beach scenes, skiing in Vermont and life in Wolf Borough, New Hampshire. Even in this model of quaint rural scenes, the future is just around the corner as a model railroad courses through the land, pointing to soon-to-be-explored lands.
Gulliver's Gate Latin America
In Buenos Aires, Argentina, 15 model makers spent 189 days recreating the wonders of Latin America. Mayan and Incan civilizations coexist in this interpretation of the golden continent, alongside modern engineering triumphs, Puente de la Mujer and the Panama Canal. The latter is complete with intricate functioning locks. Moving into present day you can stroll through Valparaiso, Chile and La Boca in Buenos Aires. A true celebration of Latin America, this model is full of sound and color.
Gulliver's Gate The Middle East
Over 124 days, a small team of 19 model makers in Jerusalem, Israel built a model of the Middle East, the birthplace of civilization. See how the wellspring of Judaism, Islam and Christianity became one of the most diverse places in the world. Gems of the Middle East exhibit include the Western Wall and Dome of the Rock Mosque sitting a little uneasily beside hyper-modern Santiago Calatrava's Chords Bridge. Old and new meld more naturally on the streets of modern-day Jerusalem that bustles with a street-life not unlike that of New York.