Dubai Aquaventure Waterpark Admission Ticket Deals
Tripindicator.com is comparing Dubai Aquaventure Waterpark Admission Ticket prices from leading ticket suppliers, Try to find you the Cheap tickets prices.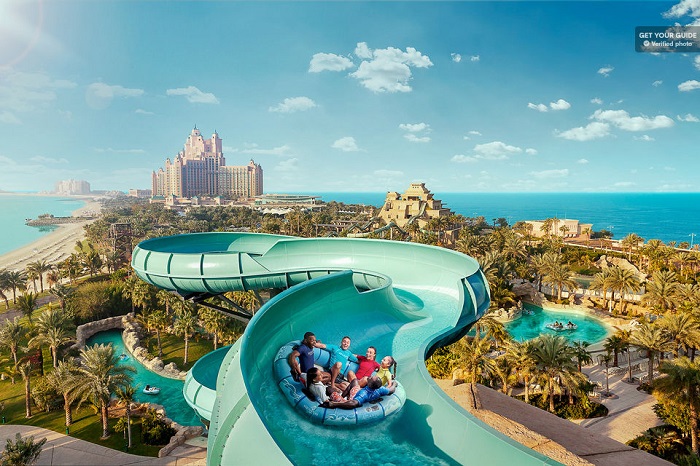 Opening Times of Dubai Aquaventure Waterpark Admission Ticket

| Duration | REVIEWS |
| --- | --- |
| The ticket is valid one day | (221 reviews) |
| Opening Times | Best Times |
| --- | --- |
| | The best days for visiting the Aquaventure are from Sunday to Thursday, which are official working days in Dubai. |
Highlights of Dubai Aquaventure Waterpark Admission Ticket
Admission ticket to the Aquaventure allows visitors to have fun at one of the top entertaining complexes in the Middle East.
Aquaventure has attractions for every taste, including roller coasters, water slides and lazy rivers.
The complex further disposes of areas lending themselves to adventure, fun and relaxing.
Poseidon's Revenge, Aquaconda Tunnel and Ziggurat are some top attractions of the themed park.
Splashers is the children's entertainment and play area.
Ticket holders also benefit from relaxing on Aquaventure Beach.
Is It Suitable for Me?
Whether you wish to hold your breath, feel an adrenaline jump or relax, the Aquaventure has something for you.
The entertainment complex is suitable for children, adults and elderly visitors.
The attraction caters to everyone yearning for fun and relaxation.
Your Experience With Dubai Aquaventure Waterpark Admission Ticket?
Have fun at an enormous complex full of rides, slides and falls.
Ride your way through the Aquaconda tunnel with various fishes swimming around you.
Feel the thrill while riding down a steep Poseidon's Revenge.
Enjoy a peaceful floating as you make your way down a lazy river.
Find yourself holding your breath as you are catapulted through lagoons infested by sharks.
Let your kids have fun in the Splashers.
Take roller coaster rides, descend down water slides and unwind on Aquaventure Beach.
What Dubai Aquaventure Waterpark Admission Ticket Includes?
Entry ticket to the Aquaventure Waterpark and Beach
Routes/Attractions
TIPS
If you wish, you can upgrade your ticket and relive the legendary Atlantis in the Lost Chambers Aquarium.
Being surrounded by sharks in the Shark Lagoon isn't unsafe at all.
Travelers Reviews about Dubai Aquaventure Waterpark Admission Ticket?
According to the existing reviews, the Aquaventure justifies its reputation of being one of the top entertainment facilities in this part of the world.
Travelers state that there is a variety of attractions suitable for everyone.
They also point out a high value of the Aquaventure admission ticket.
Many of them have visited the Waterpark and nearby beach a few or several times.
Visitors were quite satisfied with the temperature of the water and the number of available attractions.
Disabled Access
Aquaventure is a disabled-friendly complex.
Ticket Details
To enter the Aquaventure, you may show printed or mobile ticket. Depending on the provider of your choice, you may be eligible for a refund for a timely cancellation.
Things to Consider Before You Go
Bringing food and drinks into the Aquaventure isn't allowed.
Kids may enter the park if accompanied by an adult.
Visitors over 1.2 meters high need to have the adult ticket to enter.
Address / Pick up Location
Atlantis, Palm Jumeirah, Dubai