Cheap Dubai Miracle Garden Tickets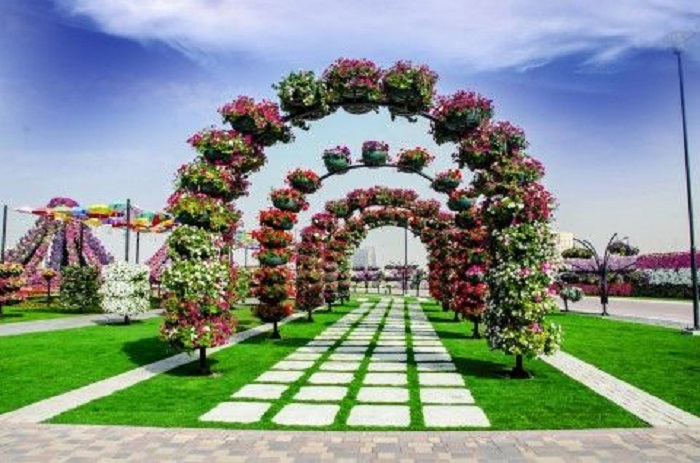 Opening Times of Dubai Miracle Garden Tickets

| Duration | REVIEWS |
| --- | --- |
| Around four hours | (6,259 reviews) |
| Opening Times | Best Times |
| --- | --- |
| Weekdays between 9 am and 9 pm; Fridays and Saturdays until 11 pm | In February and March because temperatures are the coolest then. |
Dubai Miracle Garden Tickets Discount Prices
We are comparing Dubai Miracle Garden Tickets Prices from leading ticket suppliers and Try to find you Cheap tickets prices on the market.
Compare Tickets Price with Tripindicator
N/A

From
68.00€
N/A
N/A

Highlights of Dubai Miracle Garden Tickets
Miracle Garden is a flowery fairy-tale land of the desert city of Dubai.
Exhibiting millions of flowers belonging to indigenous, exotic and rare species, the garden consists of elaborate floral shapes, patterns and structures.
One of the highlights of the Miracle Garden is the longest wall of flowers in the world.
Other descriptive objects made of flowers are the recognizable UAE landmarks, as well as those of the rest of the world.
Holders of the Miracle Garden admission ticket benefit of the complimentary pickup and drop-off service.
Is It Suitable for Me?
Visiting the Miracle Garden is a must for every traveler staying in Dubai.
The attraction caters to people of all ages.
Fans of art, photography and botany, in particular, should pay a visit to the garden.
Your Experience With Dubai Miracle Garden Tickets?
Explore the Miracle Garden, a Dubai wonderland and one of the newest top attractions of the desert city.
The complex displays a myriad of flowers, many of which belong to rare and exotic species.
More so, you will admire many flowery shapes, patterns and structures, such as villas, landmarks and objects in everyday use.
Witness the longest wall of flowers according to the Guinness World Records Book.
Take a look at some of the world's most incredible flowers
Make use of transfers from and to your hotel that are part of the admission ticket to the Miracle Garden.
What Dubai Miracle Garden Tickets Includes?
Entry to the Miracle Garden
Transfer service from hotels within the city limits
TIPS
While getting around, you will recognize worldwide-famous structures, such as the Egyptian pyramids, Dutch windmills and the Eiffel Tower, made of flowers.
Passenger jet is also among the highlights of the garden.
Travelers Reviews about Dubai Miracle Garden Tickets?
According to the reviews, visitors are very enthusiastic about the designs and the variety of flowers on display at the Miracle Garden.
Comments of some visitors imply that visiting the garden alone is worth the trip to Dubai.
Travelers further indicate that the high level of intricacy and high attention to detail feature every work of art.
Many visitors found themselves overwhelmed with such a verdant flowery wonderland in the middle of a desert.
Disabled Access
Miracle Garden is wheelchair accessible complex
Ticket Details
Printed and mobile tickets are valid for visiting the Miracle Garden. In the case of cancellation, you receive full reimbursement if you cancel the order at least 24 hours in advance of the selected date.
Things to Consider Before You Go
Bring enough water to keep yourself hydrated.
Have sunscreen at hand.
Address / Pick up Location
Al Barsha South 3, the city of Dubai, the UAE
Youtube videos of Dubai Miracle Garden Tickets
https://liveporn.fun/