Luxury Dubai Marina Cruise Dinner Deals
Tripindicator.com is comparing Luxury Dubai Marina Cruise Dinner prices from leading ticket suppliers, Try to find you the Cheap tickets prices.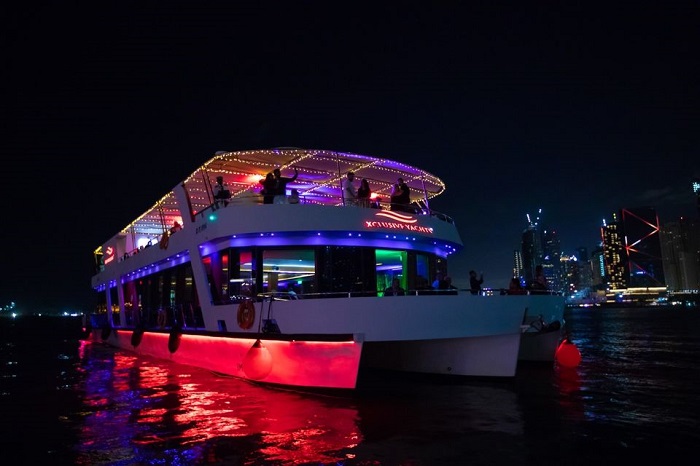 Opening Times of Luxury Dubai Marina Cruise Dinner

| Duration | REVIEWS |
| --- | --- |
| Around an hour and a half | (173 reviews) |
Highlights of Luxury Dubai Marina Cruise Dinner
A pleasant cruise with dinner in Dubai witnesses a striking transformation of the city during the night.
Travellers combine benefits of delicious dinner with several meals and the nighttime sightseeing.
Live music and cosmopolitan people make for a lively atmosphere on board the luxury yacht.
Travellers join the tour at the marina of Dubai, teeming with luxury boats and surrounded by modern skyscrapers.
The yacht has cooking stations that prepare celebrated specialities from around the world.
Is It Suitable for Me?
Luxury Dubai Dinner Cruise is the right thing to do for fans of exquisite cuisine.
People inclined toward entertainment should join this luxury cruise for a great experience.
Romantic people enjoy sailing by the illuminated city at night.
Your Experience With Luxury Dubai Marina Cruise Dinner?
Board a luxury yacht at the marina of Dubai, encircled by modern skyscrapers and dotted with yachts.
Enjoy a live entertainment as you sail past the sparkling city.
Treat your taste buds with a wide selection of tasty food, including tuna salad, hummus, soup with spices, artisan rolls, chicken, vegetables and cakes.
Examine illuminated landmarks of Dubai through glass walls of the yacht.
Listen to the live music and access the upper and lower decks of the boat.
Purchase alcoholic beverages at the licensed bar if you wish.
What Luxury Dubai Marina Cruise Dinner Includes?
A several-course dinner and live music
Soft drinks, coffee, teas and water without limits
Welcome drink on board the cruising yacht
Access to the open-air upper and air-conditioned lower deck for the top experience
TIPS
If you like saxophone music, don't miss this tour.
The activity is especially recommended for romantic couples.
Travelers Reviews about Luxury Dubai Marina Cruise Dinner?
Several travellers pointed out that the food is so delicious that there barely anything left regardless of large quantities.
Other participants underline that the photos of the city during the night are incredible.
Other point out that the atmosphere is very pleasant, music top-notch, and service professional.
For some reviewers, the dinner cruise was the highlight of their trip to Dubai and the UAE.
Albeit there were some complaints about the cruise, the overall rate implies that the activity offers an excellent value for money.
Disabled Access
The luxury dinner cruise is a suitable activity for guests suffering from disability issues.
Ticket Details
Show your paper or mobile voucher to board the yacht. It depends on the tour operator whether you are eligible for a refund in case of timely cancellation.
Things to Consider Before You Go
If you opt for a cruise with the pickup and drop-off service, pickups take place between 7 and 7:30 pm.
Smart casual is a mandatory dress code, so leave swimsuits at the hotel.
Bring your official ID.
If you arrive by car, parking at Pier 7 costs AED 100.
Address / Pick up Location
Pier 7, the Dubai marina, the UAE