London Pub Crawl and Nightlife Tour Deals
Tripindicator.com is comparing London Pub Crawl and Nightlife Tour prices from leading ticket suppliers, Try to find you the Cheap tickets prices.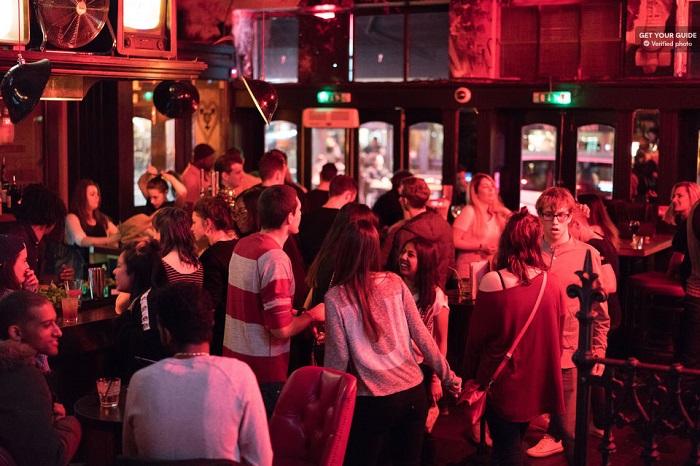 Opening Times of London Pub Crawl and Nightlife Tour

| Duration | REVIEWS |
| --- | --- |
| Around 7 hours | (1341 reviews) |
| Opening Times | Best Times |
| --- | --- |
| 7:30 pm or 8:30 pm depending on the tour provider | The tour is always the right thing to do regardless of the weather or time of the year. |
Highlights of London Pub Crawl and Nightlife Tour
London has a rich nightlife and the tour introduces some top nightlife areas of the bustling metropolis.
The guided tour reveals a few among most popular pubs and bars that promise a great entertainment.
Participants in the tour benefit of fast track entries to each of the venues on the itinerary, a free drink at every one of them and discounts for every subsequent drink.
Joining the tour eliminates admission fees, which grants big savings.
Is It Suitable for Me?
You should book the tour if you consider yourself a fan of nightlife since it introduces some leading nightlife venues of London.
The activity is highly recommended for sociable travelers that like to meet other people in a pleasant environment.
The tour is proof that the nightlife in London doesn't have to be expensive.
Your Experience With London Pub Crawl and Nightlife Tour?
Take a tour of the nightlife areas of London - Picadilly Circus, Leicester Square and Soho - and visit a few among best-rated nightlife venues.
Learn which spots are among the most popular bars and pubs in the city and have free drinks at each of them.
Avoid waiting in lines to enter the related nightlife venues and save dozens of pounds for admissions.
Enjoy discounts for every order after first drinks at every pub and bar.
Learn insider tips from a professional guide that come in handy for the rest of your stay in London.
What London Pub Crawl and Nightlife Tour Includes?
A knowledgeable guide specializing in London nightlife.
Free drinks at each of the venues you visit during the tour.
Discounts for further orders.
Skip-the-line entries.
TIPS
During the guided tour, you will have a chance to unwind at parties at some places.
At the related venues, you can find beers that cost a few pounds.
Travelers Reviews about London Pub Crawl and Nightlife Tour?
Former participants in the tour state that the activity is ideal for both individual travelers and groups.
The reviewers spoke highly of their assigned guides and rated the pub crawl tour as one of the must-do things in London.
They enjoyed meeting pleasant and friendly people and having affordable drinks.
Most of travelers that booked the guided tour had a great experience all night long.
Disabled Access
Contact your chosen tour operator for details regarding customers with mobility issues.
Ticket Details
Show a mobile or paper voucher to join the guided tour. Cancel the order 24 hours in advance or earlier to receive a full refund.
Things to Consider Before You Go
You need to show valid IDs to enter nightlife spots.
To join the pub crawl, you need to be at least 18 years old.
Dress casually, so no flip-flops or sportswear.
Address / Pick up Location
Soho neighborhood, London