Malaga Tapas and Wine Bike Tour Deals
Tripindicator.com is comparing Malaga Tapas and Wine Bike Tour prices from leading ticket suppliers, Try to find you the Cheap tickets prices.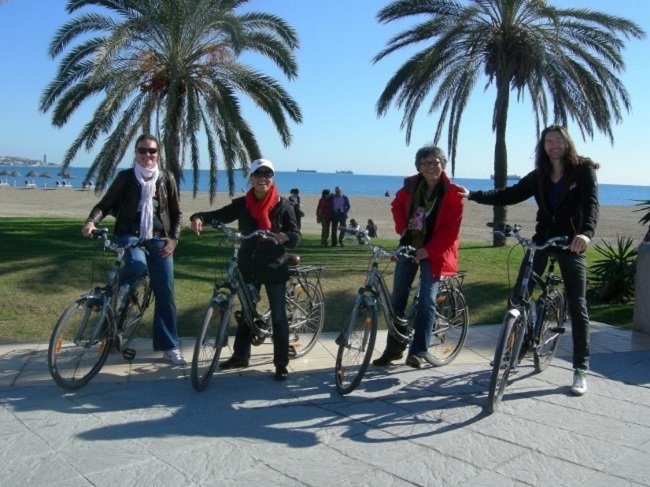 Opening Times of Malaga Tapas and Wine Bike Tour

| Duration | REVIEWS |
| --- | --- |
| 3 hours. | (15 reviews) |
| Opening Times | Best Times |
| --- | --- |
| Tours depart at 11:00am and 15:00pm. | We suggest taking the afternoon tour, that way you can head out for more drinks after and not feel too guilty about the early start! |
Highlights of Malaga Tapas and Wine Bike Tour
A three hour tour of Malaga by bike including wine and tapas tasting at local bars and bodega's.
This is both a culture and culinary tour that burns calories as you go.
Malaga is a relatively flat city which makes biking around a breeze!
This tour provides a great way to see the cities best landmarks, sights and monuments from an entirely different angle.
It provides a speedy way to navigate the city, all while uncovering Malaga's beauty, history and culture.
It's an opportunity to sample some of the cities finest tapas dishes and best local wine, all with the help and guidance of a hand local guide.
You'll get to visit some of the cities finest bars, restaurants and bodega's and learn the history of Spanish cuisine.
It's a great opportunity to widen your taste buds and sample different regional cuisine.
Is It Suitable for Me?
Great for stag do's and hen parties.
Perfect for travellers looking for a fun activity in the city.
Ideal for culture vultures.
Your Experience With Malaga Tapas and Wine Bike Tour?
Enjoy a guided tapas and wine tour of Malaga on a bike!
Cycle around the city centre, or the nearby village of El Palo, taking in the sights as you go.
Dine on mouth-watering tapas dishes and sip Spanish wines from local vineyards.
Stop off at the ancient Roman amphitheater, pay a visit to the Malaga Cathedral and swing by the Moorish fortress of Alcazaba.
Simply park up your bike, grab your camera and take a snap shot of the cities most beautiful buildings.
Stop at the harbour to admire the sea views and soak up the fresh air.
The tour then heads to Malaga's main marketplace where you'll alight your bike and head to some of the cities most bustling tapas bars.
Sample local delicacies, dine on rich tapas dishes and drink local wine all afternoon long!
What Malaga Tapas and Wine Bike Tour Includes?
Bike hire.
A wine tasting session at a bodega.
Bottles of water.
Tapas dishes.
Routes/Attractions
What Attractions will you see on this tour?:
Roman Amphitheatre.
Malaga Cathedral.
Alcazaba Fortress.
Malaga Market.
Harbour and Marina.
El Palo.
TIPS
Wear suitable clothing for cycling and comfortable shoes.
Make sure you apply suncream before setting off.
Travelers Reviews about Malaga Tapas and Wine Bike Tour?
The Bike Tour of Malaga with Tapas and Wine has earned over 1086 reviews and a 5 star rating on Tripadvisor.
Travellers agree that the tour was a fun way to get to know the city.
Other users noted that the knowledgable guides only added to an already great day out!
Disabled Access
This tour is not accessible for wheelchair users.
Ticket Details
Get Your Guide tickets can be mobile or printed but please print out your Viator ticket and bring it with you on the tour.
If you can no longer make the tour, please call your operator and make them aware. If you let them know seven days in advance you could receive a full refund.
Things to Consider Before You Go
This tour is very flexible so have a thing before hand about which landmarks you'd like to see and simply let your tour guide know on the day.
Address / Pick up Location
Meeting Point: Calle Vendeja 6, 29001, Malaga.