Central Park Sightseeing Bike Tour New York Deals
Tripindicator.com is comparing Central Park Sightseeing Bike Tour New York prices from leading ticket suppliers, Try to find you the Cheap tickets prices.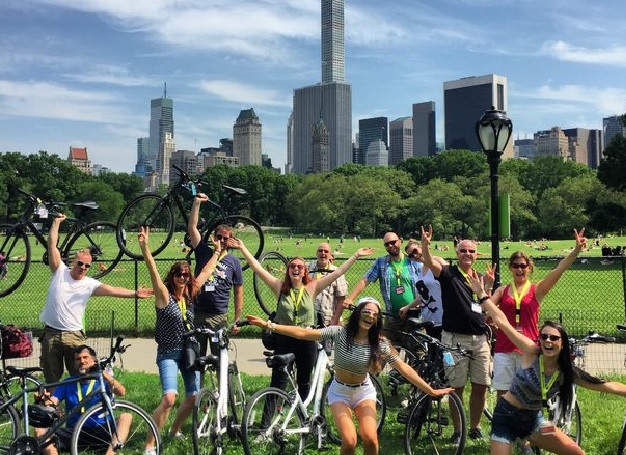 Opening Times of Central Park Sightseeing Bike Tour New York

| Duration | REVIEWS |
| --- | --- |
| The bike tour of Manhattan's Central Park lasts approximately 2 hours. | (84 reviews) |
Opening Times
Best Times

Tours depart at 9am, 11am, 1:30pm and, 4 pm.

The bike tour of Central Park is available daily throughout the year.
Each season adds a unique feature to this tour.
Spring and autumn are best in terms of temperature.
Highlights of Central Park Sightseeing Bike Tour New York
Combine history and leisure on this fun bike tour of the "Green Lungs of New York City."
The guided bike tour introduces various historic places, secret spots and filming locations of famous films and popular TV series.
The pace of the guided tour by bike is moderate and suitable for people with a moderate level of fitness.
During the tour you will visit many popular sites and points of interest which you local guide will bring to life with an engaging commentary.
See the Strawberry Fields (a tribute to Lennon), the Belvedere Castle, Shakespeare Garden, Jacqueline Kennedy Onassis Reservoir, the Cleopatra's Needle, the Swedish Cottage Marionette Theatre and more.
Is It Suitable for Me?
The tour is suitable for anyone wishing to take a relaxing ride or discover significant and off-the-beaten-path spots in Central Park.
The activity caters to all ages and fitness levels.
Your Experience With Central Park Sightseeing Bike Tour New York?
Ride the many bike paths which criss-cross the famous Central Park of New York.
Discover interesting, historic and hidden places as you peddle around the park.
Take advantage of your scheduled stops to snap some amazing holiday photos.
Listen to your knowledgeable tour guide and discover the story behind one of the most popular parks in the world.
Enjoy a leisurely paced tour of the park.
Take a look at various landmarks of Central Park as you bike along paved and unpaved trails.
Tour places where Breakfast at Tiffany's, Friends, When Harry Met Sally and other popular films and TV shows were filmed.
What Central Park Sightseeing Bike Tour New York Includes?
Professional tour guide.
Use of bicycle.
Equipment: helmet, basket and free city map.
Routes/Attractions
The Strawberry Fields
Belvedere Castle
Shakespeare Garden
Jacqueline Kennedy
Onassis Reservoir
Cleopatra's Needle
Swedish Cottage Marionette Theatre
TIPS
Central Park is an expansive park in downtown New York, boasting many paths, landmarks and filming locations.
If you get lost in Central Park, the first two numbers on any lamppost will let you know the name of the nearest street is.
Central Park is the perfect refuge during the hot summer months.
Travelers Reviews about Central Park Sightseeing Bike Tour New York?
What Travelers Say About it?:
The rate of this guided tour of Central Park is 4.4 on Get Your Guide, 4 on Viator and 4 on TripAdvisor.
Travelers that joined the bike tour of Central Park spoke highly about the guide, the service and the overall experience.
Several tourists with basic fitness levels stated that the tempo of the tour was perfectly adjusted to their abilities.
For the most part, bikers describe the guide as knowledgeable and fun, and that the tour well worth the time and the expense.
Disabled Access
Not suitable for wheelchair users or people with impaired mobility.
Ticket Details
You must show either paper or electronic voucher when you you're your tour guide.
If you choose to cancel your reservation then you may be charged a cancellation fee (this will depend on the refund policy of your tour provider).
Things to Consider Before You Go
The cycling tour of Central Park takes place regardless of weather conditions, so come prepared for the season.
Seats for babies and trailers for children are available on request.
Address / Pick up Location
Meeting Point: 5th and 6th Avenues (Get Your Guide and Viator) or at the 891 Amsterdam Avenue (Ticket bar).