Cheap New York City Deluxe Helicopter Tour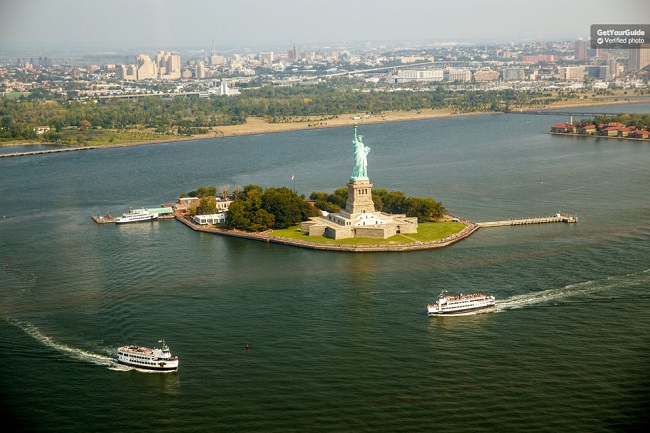 Opening Times of New York City Deluxe Helicopter Tour

| Duration | REVIEWS |
| --- | --- |
| There are a few sightseeing tours of the city of New York available for you to choose from. The shortest flight lasts between 12 and 15 minutes. The duration of the longer flight is between 18 and 20 | (542 reviews) |
Opening Times
Best Times

Helicopter flights operate between 9 am and 5:30 pm.
There are no flights on Sundays.

The helicopter sightseeing tour of Big Apple is available throughout the year.
Delays and cancellation are more common during the winter season.
New York City Deluxe Helicopter Tour Discount Prices
We are comparing New York City Deluxe Helicopter Tour Prices from leading ticket suppliers and Try to find you Cheap tickets prices on the market.
Compare Tickets Price with Tripindicator
Highlights of New York City Deluxe Helicopter Tour
The New York City Deluxe Helicopter Tour is an extraordinary sightseeing experience and an opportunity to see this sprawling US city from the air.
There are a few panoramic sightseeing options available, including the option to select the length of your flight and the route.
With an upgraded tour, you will get to spend more time in the air, have longer to appreciate the views or take a longer route to see more city attractions.
With this tour you are guaranteed to see iconic New York landmarks like the Statue of Liberty, the Empire State Building, Central Park, the Rockefeller Centre and the Chrysler Building.
Passenger on the New York tour by helicopter also benefit of the free multilingual audio commentary which will help you identify specific locations in the city.
Is It Suitable for Me?
The sightseeing tour of New York City is a spectacular experience.
If you are an adventurer, a photographer or simply someone who wishes to take a look at the iconic city from a unique perspective.
Don't miss to book this tour.
Your Experience With New York City Deluxe Helicopter Tour?
During the aerial tour of the city of New York by helicopter, you will experience the best city views you've ever seen. Choose the duration of the flight and which places in and around the city you would like to tour.
Enjoy unparalleled views and take incredible photos of the Statue of Liberty, the Rockefeller Centre, the Brooklyn Bridge, the Empire State Building and Central Park.
Listen to the onboard audio commentary while learn about the famous landmarks from your sightseeing helicopter.
What New York City Deluxe Helicopter Tour Includes?
15 to 30-minute Helicopter Flight (depending on option selected).
Multilingual onboards audio commentary.
Heliport fee (only if your booking was made with Get You Guide).
Routes/Attractions
Sight you can see from above:
Statue of Liberty
Rockefeller Center
Brooklyn Bridge
Empire State Building
Central Park
TIPS
Booking the flight around 2pm or 3pm allows you to avoid the direct sunlight that might prevent you to take the most amazing photos of the city of New York.
Also, consult the weather forecast a few days in advance in order to benefit the most of your helicopter tour.
Arrive early at the meeting point to listen to the pre-flight briefing.
Travelers Reviews about New York City Deluxe Helicopter Tour?
What Travelers Say About it?:
According to Get Your Guide's users, this tour deserves 4.8 out of 5-stars.
The overall rate of the tour on Viator and TripAdvisor is 4.5 out of 5.
People who took the New York City tour by helicopter were delighted with the experience.
They strongly underline that the experience is worth every last penny it costs.
They also mention that the performance of the crew was excellent.
According to the experience of certain participants, the front seat is not the best spot for observing the cityscape.
Disabled Access
Disabled access is available (there are staff at the Heliport to assist).
Please advise you ticket provider of your requirements in advance.
Ticket Details
You can show either paper or electronic voucher to take part in this activity.
Cancellation policies differ between ticket providers so make sure to check before making your booking.
Usually, cancelled tour can be refunded up to a specified number of days in advance.
Things to Consider Before You Go
Some tour operators will allow you to change the date and time of your reservation without charge.
You will have to include your body weight when making the booking (it is not possible for people weighing over 150 kg to join the helicopter tour.
Lockers for keeping your belongings during the flight are available.
You need to bring a valid government-issued ID.
Address / Pick up Location
Meeting Point: Downtown Heliport, Pier 6.
Youtube videos of New York City Deluxe Helicopter Tour
Compare Car Hire Prices from Avis | Hert | Sixt | Europcar | Budget | Enterprise...
Car Hire