Palma Aquarium Entrance Ticket Discount Prices
We are comparing Palma Aquarium Entrance Ticket Prices from leading ticket suppliers and Try to find you Cheap tickets prices on the market.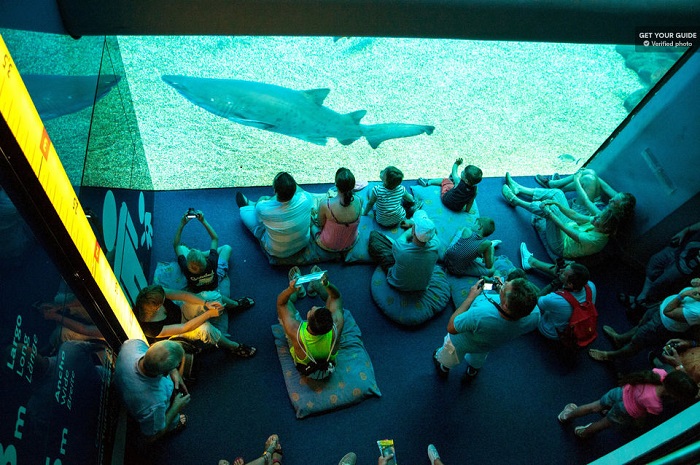 Opening Times of Palma Aquarium Entrance Ticket

| Duration | REVIEWS |
| --- | --- |
| Flexible | (102 reviews) |
| Opening Times | Best Times |
| --- | --- |
| | In general, just after the opening. |
Highlights of Palma Aquarium Entrance Ticket
Palma Aquarium is an entertaining and educational facility introducing sea life inhabiting various seas and oceans.
Visitors of the aquarium also have an opportunity to learn secrets of the deep seas and take part in fun and enlightening activities.
Around 8,000 underwater dwellers that belong to approximately 700 species inhabit the aquatic complex.
Among other sea life, travelers can examine sharks, eels, rays and corals.
For travelers yearning for adventure, the opportunity for diving among misunderstood sharks is available.
Animal feedings, workshops, and other educational programs take place regularly at the Palma Aquarium.
Is It Suitable for Me?
Both children and adults have much to look forward to when visiting the Aquarium of Palma.
Travelers interested in the underwater world should strongly consider paying a visit to the Aquarium.
If you are interested in nature, science and adventure, don't miss the Palma Aquarium.
Your Experience With Palma Aquarium Entrance Ticket?
Take an underwater journey around the world at the Palma Aquarium, inhabited by around 8,000 animals belonging to around 700 aquatic species.
Lay eyes on colorful fish and corals as you explore the premises of the large aquarium.
Learn about the marine life of the Atlantic and Pacific oceans and the Mediterranean Sea.
Head to the deepest shark tunnel in Europe to take a close-up view of these apex and largely-misunderstood predators.
Attend shark and eel feedings and let children play pirates on the pirate ship within the complex.
Take part in workshops and other educational programs, and dive among sharks and rays if you wish.
What Palma Aquarium Entrance Ticket Includes?
Entry in the Aquarium of Palma de Mallorca
TIPS
Fearsome reputation of sharks is largely inflated by the film industry.
According to certain statistics, you are 33 times more likely to be attacked by a dog than a shark.
Travelers Reviews about Palma Aquarium Entrance Ticket?
According to the majority of reviews, travelers have enjoyed their tour of the Palma Aquarium very much.
The reviewers' comments imply that the attraction has a lot to offer to both kids and grown-ups.
They have a positive opinion about the staff and dining options within the complex.
The existing reviews indicate that the Aquarium has many entertaining and educational activities on offer.
Overall, the attraction provides a great value for money and is a great place to spend a day out.
Disabled Access
The complex is wheelchair accessible.
Ticket Details
You need to show either a printed or electronic ticket to access the aquarium. Depending on the operator, you may be eligible for a refund in case of cancelation.
Things to Consider Before You Go
Visitors usually spend around three hours at the Palma Aquarium.
Underaged visitors need to be in the company of an adult.
Address / Pick up Location
Carrer de Manuela de los Herreros, 21, Palma de Mallorca, the Balearic Islands
Compare Car Hire Prices from Avis | Hert | Sixt | Europcar | Budget | Enterprise...
Car Hire