Paris Crazy Horse Cabaret Deals
Tripindicator.com is comparing Paris Crazy Horse Cabaret prices from leading ticket suppliers, Try to find you the Cheap tickets prices.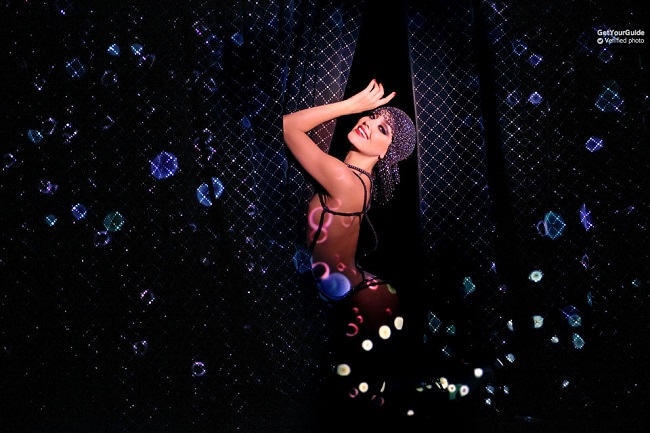 Opening Times of Paris Crazy Horse Cabaret

| Duration | REVIEWS |
| --- | --- |
| 90 Minutes | (2022 reviews) |
Opening Times
Best Times

Show Times:
7 pm, 9.30 pm, 12 am (Saturdays).
8.30 pm, 11 pm (Sunday to Monday).

The performance takes place at least twice per day throughout the year so select the time which is most convenient for your evening plans.
Highlights of Paris Crazy Horse Cabaret
The Crazy Horse House has been putting on top class cabaret performances for over 65 years so they certainly know how to put on a good show.
The 'Totally Crazy' show has been specially crafted to astound, amaze, but most of all, to entertain.
Famous name's such as Andree Deisenberg (Creative Director of The Crazy Horse Paris) and Stephane Jarny (the voice of Saturday Night Fever) have come together to work on this elaborate performance.
During this 90 minutes 'Totally Crazy' performance you can become entranced by the vibrant performance and talent.
The show will take you back to a time when Parisian businessmen, artists, criminals and holy men came together to see that Cabaret.
Is It Suitable for Me?
If you're a fan of stylish costume design, clever lighting tricks, fun choreography and talented performer then you are sure to enjoy the Crazy Horse Cabaret Show.
Aimed at those who want to enjoy an entertaining show in a classy venue.
Suitable for friends, groups and disabled visitors.
This show is not appropriate for families with children under the age of 16.
Your Experience With Paris Crazy Horse Cabaret?
Enjoy a magnificent sensuous show at one of the best cabaret venues in the French Capital.
Watch as classically trained cabaret dancers whirl, twirl, bend and strut their way across the stage.
Be blinded by sequins and dazzled by the vibrantly coloured costumes.
Let yourself be drawn into the mysterious and sexy world of the cabaret.
Be amazed by the infinitive lighting tricks, inventive choreography and clever stage design.
Listen to the music of the tap dancing duo and become mesmerised by the Belgian double act (Lolly Wish and Bangable).
Pick the show time that's best for you, have the option to include a bottle of champagne or upgrade to premium seats, and watch the best cabaret show of your life.
What Paris Crazy Horse Cabaret Includes?
Tickets to the Paris Crazy Horse Cabaret Show.
Champagne and Canapes (if selected).
Routes/Attractions
Crazy Horse Cabaret Show.
TIPS
This is a very popular show so we recommend booking your tickets well in advance particularly during the busy tourist season.
Likewise, we recommend arriving early to the venue so that you can get the best seat.
Travelers Reviews about Paris Crazy Horse Cabaret?
The Crazy Horse Cabaret Show has a 4 out of 5-star average rating on TripAdvisor and Viator.
Travellers who use this platform generally agree that this is a unique, fun and entertaining show.
Comments point out that there is some nudity in the performance but the show has been described as tasteful.
On leading websites such as Get Your Guide the show has received a 4.2 out of 5-star rating.
Some travellers indicate that the show is quite pricey for the level of seating provided, however, the majority of travellers say that it is worthwhile.
Disabled Access
The venue is accessible for wheelchair users.
Ticket Details
Tickets for this event must be presented in electronic or paper form at the entrance.
Tickets may be refundable but this will depend on the individual policy of your ticket provider, therefore we recommend checking the company website before making your purchase.
Generally speaking tickets are fully or partially refundable up to a specified number of days in advance.
You will need to exchange your voucher for an official entrance ticket at the venue's welcome desk.
Things to Consider Before You Go
No food or drinks are included in the ticket price.
Hotel pick up/drop off are not included.
The dress code for this show is smart-casual (no shorts, sneakers or sportwear).
Children under the age of 16 will not be permitted.
Address / Pick up Location
Meeting Point: Go to the welcome desk of the Crazy Horse Paris.
Address:12, Avenue George V, 75008, Paris.
Directions:
Bus: Take lines 42, 63, 72, 80, or 92 to the Alma-Marceau stop.
Metro: the nearest stat