Cheap Adeje: Aqua Club Thermal Spa Full-Day Entrance Ticket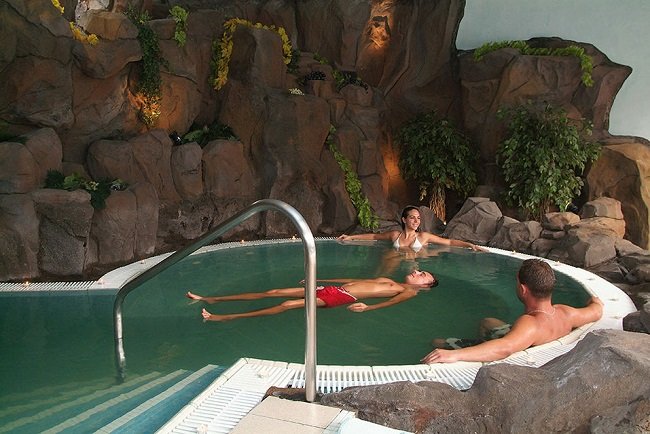 Opening Times of Adeje: Aqua Club Thermal Spa Full-Day Entrance Ticket

| Duration | REVIEWS |
| --- | --- |
| You may choose how much time to spend in the Thermal Spa complex of Adeje. | (16 reviews) |
| Opening Times | Best Times |
| --- | --- |
| The Aqua Club Thermal Spa in Adeje operates daily from 10am to 10pm. | A visit to this relaxing and rejuvenating complex is possible on any day and regardless of weather conditions. |
Adeje: Aqua Club Thermal Spa Full-Day Entrance Ticket Discount Prices
We are comparing Adeje: Aqua Club Thermal Spa Full-Day Entrance Ticket Prices from leading ticket suppliers and Try to find you Cheap tickets prices on the market.
Highlights of Adeje: Aqua Club Thermal Spa Full-Day Entrance Ticket
The urban spa in Adeje is a rejuvenating and stress-relief facility where you can relax and enjoy treatments that will improve your health.
The admission ticket to the thermal spa allows visitors to choose any of numerous rejuvenating and relaxing treatments the complex disposes of.
Besides Jacuzzis, there are Turkish Baths, relaxation pools, Temple of Showers, whirlpools, a mineral dew area and Finnish sauna available on-site.
A wide range of treatments featuring different temperatures (up to 90 degrees Celsius - Finnish sauna) help the improvement and the preservation of health.
Professional assistants are available to help you with anything you may be uncertain of.
Certain treatments include the use of essential oils.
Is It Suitable for Me?
This type of activity is highly beneficial to everyone's health, whether a visitor suffers from some illness or not.
If you are in need of a health treatment or simply to relieve yourself of any kind of stress, a visit to the thermal spa will do you good.
Your Experience With Adeje: Aqua Club Thermal Spa Full-Day Entrance Ticket?
You will have an endlessly relaxing and rejuvenating experience in the thermal spa complex in Adeje.
Unwind in the aqua club's many facilities, such as Temple of Showers, a relaxation pool, famous Turkish Baths and in many others.
Relieve yourself of stress of any kind in this highly-rated stress-relief facility.
The quality of the salt water will help you with certain health issues you may suffer from.
Learn the benefits of bathing in waters with varied temperatures.
What Adeje: Aqua Club Thermal Spa Full-Day Entrance Ticket Includes?
The ticket to the Thermal Spa complex in Adeje provides you a free access to any of 18 available thermal spa zones of the largest urban spa in Europe.
Professional guides are present on-site to assist you.
TIPS
The thermal spa complex is large enough for you not to feel congested in the pool or Jacuzzi.
Some facilities you will find on-site are the Gym Spa, sauna, floating pool and the Cold-dip pool.
There is enough to do to keep you occupied the whole day.
Travelers Reviews about Adeje: Aqua Club Thermal Spa Full-Day Entrance Ticket?
What Travelers Say About it?:
The average rate of this activity is 4.7 on Get Your Guide and 5 on Viator.
People that visited the Thermal Spa described the place as pleasant and perfectly clean.
They also have a high opinion about the employees, who proved to be very friendly and professional.
Disabled Access
At this moment, the spa doesn't cater to people with physical disabilities.
Ticket Details
Both electronic and printed vouchers are acceptable for a visit to the Aqua Club Thermal Spa.
If you cancel your order in a timely fashion, you will receive the full refund.
Things to Consider Before You Go
For a visit to the thermal spa complex, a child needs to be accompanied by an adult.
Massages aren't included in the price of the ticket, but are available for a surcharge.
Address / Pick up Location
The entry into the thermal spa complex is at Aqua Club Termal, Calle Galicia S/N, Torviscas Alto.
Youtube videos of Adeje: Aqua Club Thermal Spa Full-Day Entrance Ticket
Compare Car Hire Prices from Avis | Hert | Sixt | Europcar | Budget | Enterprise...
Car Hire
https://liveporn.fun/