As well as having plentifulwaterslides and amenities for the whole family, Aquapark Costa Teguise also boasts many other impressive features and facilities. Below you can find a list of the top 10 things to do in Aquapark Costa Teguise.
1. Kamikaze (and Super Kamikaze)
One of the best waterslides to enjoy at Aquapark Costa Teguise is either the Kamikaze or Super Kamikaze. These slides are similar in length and offer an adrenaline-fuelled ride into a base pool at the bottom! They're ideal for thrill seekers and you're sure to have an incredible time whizzing down them and causing a splash at the bottom.
Height restrictions: minimum of 1.20m
2. Turbolancha
The Turbolancha is just one of the spiral waterslides at Aquapark Costa Teguise and is ideal for those looking for a thrill, but a slightly less terrifying one than what Kamikaze provides!
Height restrictions: minimum of 1.20m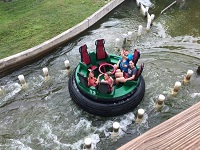 3. Rio Loco Rapids
The Rio Loco Rapids aren't quite as scary as they seem; they're a sort of lazy river that you float around on a rubber ring and you can enjoy swirling around in the water as you're carried around by the current.
Height restrictions: minimum of 1.20m
Weight restrictions: Max 100kg
4. Game Castle
The Game Castle isn't part of the waterslide area and is set just a little back from the pools and slides at the edge of the park. It's ideal for children under the age of 8 years old and is a great place for them to play if they're not a huge fan of the water.
5. Paintball
One of the incredible amenities that you'll find at Aquapark Costa Teguise is their Paintball facilities. It's the only indoor track in Lanzarote and you is an activity that's recommended for groups of visitors to the park who want to unleash their competitive side. You can choose from team duel, capture the flag, VIP, against all odds and last man standing; there's a vast variety of games to choose from to suit everyone's needs.
To use the Paintball facilities, you'll have to pay an extra €15 (€12 if you're a resident of the Canary Islands). The price of your Paintball ticket includes all the necessary equipment and 100 balls.
Age restrictions: 16+ years old

6. Cinema 10D
For a truly unforgettable experience during your time in Costa Teguise at Aquapark, you need to pay a visit to their very own cinema; Cinema 10D. Unlike a normal 3D or 4D cinema experience, at Cinema 10D, you'll experience 10 different sensations while you watch one of the vast selections of movie listings appropriate for the whole family.
The effects you'll experience at Cinema 10D include:
Tickling in the legs
Blow in the neck
Soap bubble
Snow
Waterjet
Air outbreak
Smoke
Shaking chairs
Laser
Twister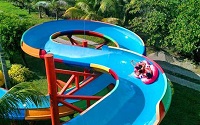 7. Aqualancha
Aqualancha is a very similar waterslide to the Turbolancha in that it spirals around a few loops and then casts you into the pool of water at the bottom!
Height restrictions: minimum of 1.20m
8. Children's Lake
The Children's Lake section of Aquapark is a large kids pool equipped with splash zones, a rocket feature and tiny baby slides suitable for much younger children.
Age restrictions: -8 years old
Height restrictions: -1.20m
9. Jacuzzi
The jacuzzi is situated close to the children's splash zone so while you relax and enjoy the hot bubbles, you can keep a close eye on the children.
Height restrictions: minimum of 1.20m
10. Aquaracer
For the competitive families paying a visit to Aquapark Cost Teguise, you're sure to enjoy racing each other down the waterslides on Aquaracer. There are multiple slides, all the same length which will send you whizzing into the pool below.
Height restrictions: minimum of 1m