The best thing about this Aqualand is that most of the rides are suitable for all ages and heights – which isn't always the case at other water parks. You're therefore guaranteed to have the time of your life even if you're traveling with toddlers.
Aqualand Tenerife Rides suitable for infants
The Dolphinarium
With its bright colours and the acrobatic displays by the dolphins, the dolphinarium is suited for all ages, but especially famous amongst kids. For an additional cost, you can also take a photo with the dolphins at the end of the show.
Wave Pools
The wave pool is tranquil and makes way for both young and old. Its heated and the depth descends from 0 to 1.80 metres.
Lava River
The lazy lava river allows you to cruise around the park in a rubber ring
Vulcano Spa & Jacuzzi
There is special kids heated pool which will keep your kids entertained as you enjoy the spa treatment.
Aqualand Tenerife Rides for children under 1.10 metres tall (more or less 5 years old)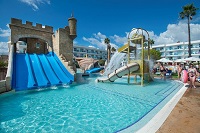 Pirate Island
An island for children, who can enjoy the best adventures in a pirate picturesque environment.
Water Castle
A great paradise for children, where you can safely enjoy a variety of slides, stairs, tunnels, taps ... and a huge bucket of water, which turns when you least expect it.
Forest Land
Attraction in the form of a tree and its branches turned into incredible slides. It transports you to the magic forest of our fantasy, where you will find even dragons.
Dragonland
Combines the presence of a good-natured Dragon, with jets of water and colorful slides, is the ideal place for the little ones to enjoy with total security of our land of the Dragon.
Aqualand Tenerife Rides for teenagers and adults (>1.25m)
Tsunami
More than 21 meters high and 180 meters long with a vertiginous descent towards a boomerang of 11 meters of height.
Ciclones
More than 21 meters high and 140 meters long, in which bowls of 12 meters in diameter are mixed with 360 degree turns and lighting effects.
Kamikaze
Two parallel high speed slides with a levels change and pronounced drop will leave you wanting more.
Tornado
A fantastic slide where the changes in rhythm, the strength of the water and the centrifuge will assure great fun
Rapids
A high speed experience with unpredictable twists and turns. With more and less pronounced steepness that will only add to the experience.