A Complete Guide to Aqualand Tenerife Rides, Tickets Prices
Located in Costa Adeje to the south of Tenerife, Aqualand is another brilliant waterpark that attracts those of all ages. It is home to the only dolphin show of its kind in the Canary Islands and was awarded the label of 'best dolphin show in the world', by the International Association of Marine Animal Trainers. It promises a great day out for all the family, especially children who will love the selection of slides, tunnels, play areas and swimming pools.
Among the many rides, the top favourites are the : Boomerang, Kamikaze, Super Slalom, Twister, Anaconda, Crazy Race and the Mini Park for the smaller members of the family.
To keep the adults entertained, Aqualand Costa Adeje has an open-air spa with its heated Jacuzzi and hydro-massage showers! So, rest on a sun bed beside the pools or slowly float down the gentle Lava River.There's no better place to relax and forget your worries.
As you work an appetite, you can pop by the restaurants, cafés and snack bars to grab a delicious bite. To know all about visiting Aqualand Costa Adeje read on!
Quick Jump links to Aqualand Water Park Tenerife
Best Aqualand Ticket Tenerife Options
Tour

Highlights

Price, Duration

Aqualand Costa Adeje Entrance Ticket in Tenerife

Full-day entrance ticket to Aqualand Costa Adeje in Tenerife
Prebook to plan ahead and save time
Enjoy the slides, rides, kids' play pools, and dolphin show at your leisure
Includes return shuttle bus transfers from select hotels and locations

Duration:1 Day
Price: from 28 Euros


Reviews: No reviews yet
Tenerife: Entrance Ticket to Aqualand Costa Adeje

Enjoy a day of spills and thrills at Aqualand Costa Adeje
Relax while the little ones enjoy themselves at their very own water playground supervised by experienced life guards.
Make you way to the dolphinarium to see bottlenose dolphins put on a magnificent show every day at 15:30

Duration:1 Day
Price: from 28 Euros


Rating: 3.6/5
Tips For Your Aqualand Tenerife Visit
There's a free Wi-Fi zone at Snack Bar Delfin. You can also take a picture with the park's mascot at the entrance, see the solarium and garden and have fun in the children's area. There is also a small area with free parking next to the park.
Unlike Siam Park, you can bring in your own food into this park at no extra cost. In fact, bringing your picnic is recommended while visiting Aqualand Costa Adeje because the restaurants inside are quite expensive.
The salt water, action of using slides and flumes can soon remove the sunblock from your body. Ensure you reapply a high factor cream on a regular basis to prevent sunburn.
Buying a combo ticket to Aqualand and Jungle Park works out economical and allows you to enjoy 2 fun days out with 1 ticket. This works especially well if you're traveling with kids as both the parks cater to the young ones.
There are 3 free buses every morning from Los Cristianos& Playa de las Americas and 3 returning buses in the late afternoon. Make sure you catch them!
If you're looking for other things to do in Tenerife, here's a tourist map that could come handy. There are Tenerife attraction tickets, free things to do in Tenerife and more here.
For all that's there to do in Canary Islands, check out our complete guide to Canary Islands here.
Aqualand Tenerife Height Restrictions
While aqualandtenerife is more relaxed as compared to Siam Park, the tickets are also based on height restrictions in order to avoid disappointment. You can buy a pass corresponding to your height and age and each ride has a clear denotation of which all age groups they allow.
Adult - 11 or more years old. And/or taller than 1.40m
Child - 5-10 years old. And/or 1.10m to 1.40m
Mini - 3-4 years old. And/or 0.90m to 1.10m
0-2 years old. And/or less than 0.90m: Free admission
Aqualand Tenerife Opening Hours
This waterpark is open all year round. Timings vary as per season and the rides close 30 minutes before the park's closing hours.
September to June: 10:00 - 17:00
July and August: 10:00 -18:00
Aqualand Attractions
The best thing about this Aqualand is that most of the rides are suitable for all ages and heights – which isn't always the case at other water parks. You're therefore guaranteed to have the time of your life even if you're traveling with toddlers.
Aqualand Tenerife Rides suitable for infants
The Dolphinarium

With its bright colours and the acrobatic displays by the dolphins, the dolphinarium is suited for all ages, but especially famous amongst kids. For an additional cost, you can also take a photo with the dolphins at the end of the show.
Wave Pools

The wave pool is tranquil and makes way for both young and old. Its heated and the depth descends from 0 to 1.80 metres.
Lava River

The lazy lava river allows you to cruise around the park in a rubber ring
Vulcano Spa & Jacuzzi

There is special kids heated pool which will keep your kids entertained as you enjoy the spa treatment.

Aqualand Tenerife Rides for children under 1.10 metres tall (more or less 5 years old)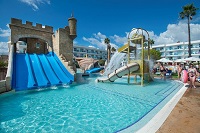 Pirate Island

An island for children, who can enjoy the best adventures in a pirate picturesque environment.
Water Castle

A great paradise for children, where you can safely enjoy a variety of slides, stairs, tunnels, taps ... and a huge bucket of water, which turns when you least expect it.
Forest Land

Attraction in the form of a tree and its branches turned into incredible slides. It transports you to the magic forest of our fantasy, where you will find even dragons.
Dragonland

Combines the presence of a good-natured Dragon, with jets of water and colorful slides, is the ideal place for the little ones to enjoy with total security of our land of the Dragon.

Aqualand Tenerife Rides for teenagers and adults (>1.25m)
Tsunami

More than 21 meters high and 180 meters long with a vertiginous descent towards a boomerang of 11 meters of height.
Ciclones

More than 21 meters high and 140 meters long, in which bowls of 12 meters in diameter are mixed with 360 degree turns and lighting effects.
Kamikaze

Two parallel high speed slides with a levels change and pronounced drop will leave you wanting more.
Tornado

A fantastic slide where the changes in rhythm, the strength of the water and the centrifuge will assure great fun
Rapids

A high speed experience with unpredictable twists and turns. With more and less pronounced steepness that will only add to the experience.
What to Wear to Aqualand Tenerife
Swimming costumes and shorts are best recommended with lots of sunscreen on the exposed skin. Boys can go shirtless if they please and if not, they are advised to wear jersey material tees. Whatever you wear, make sure they are either Lycra, Spandex or Elastane. These materials absorb very little water, and therefore dry very quickly.
As for footwear, make sure you wear flip flops. Walking around the park under the midday sun without flip flops can be quite uncomfortable, especially for your kids.
Aqualand Tenerife Restaurants
Aqualand Costa Adejehas one restaurant, one self-service, four fast-food outlets, two snack stands and one ice cream parlour. To make your dolphin show experience even more perfect, there is also a facility to purchase refreshing drinks and assorted ice creams at the dolphinarium.
Dolphin show timings
The dolphin show happens once a day, every day of the week.
Monday to Sunday: 15:30 (From 1st July to 28th August 12:45 + 15:30).
Aqualand Tenerife Ticket Prices
There are different categories of Aqualand tickets to choose from. Below are the prices for each, so choose and pick the one that suits your family best.
One Day Ticket
Adult - 27,00€
Child - 18,00€
Toddler - 11,00€
Senior - 18,00€
Two Day-Ticket
Adult - 39,00€
Child - 30,00€
Toddle - 16,00€
Senior - 30,00€
Family Pack (2 adults + 2 Children)- 90,00€ ( Note, this is available online only and cannot be brought on site)
Friends Pack (4 adults) - 108,00€ ( Note, this is available online only and cannot be brought on site)