A Complete Guide to Siam Water Park Tenerife
Whether you're looking for spills and thrills, relaxation or to bask in the sun, you can indulge in them all at the Tenerife Water Parks. Here's all you need to know about the 2 best waterparks in Tenerife : the Siam Park and Aqualand Park. For a quick summary, the Siam Park is mainly for those looking for an adrenaline rush and extreme water rapids. Aqualand on the other hand is a fun water park for families with many water themed pools for children.
Quick Jump links to Siam Water Park Tenerife
Best Siam Park Tickets Tenerife

Tour
Highlights
Price, Duration
Siam Park Direct Entry Ticket

Enjoy a fun day in the best waterpark in the world
Set your adrenaline racing on dozens of water attractions, including the Tower of Power vertical plunge
A destination for all, be assured a terrific day with a plethora of rides to choose from

Price: from 37 Euros


Rating: 5/5
Tenerife: Siam Park Tickets

Get your adrenalin fix with this full-day ticket to Siam Park Tenerife, a thrilling theme park that recreates the old Kingdom of Siam, relocated to the Canary Islands off the coast of Africa!
Experience the biggest man-made wave in the world
Towels inclusive (with a cash deposit of 5 euros)

Price: from 37 Euros


Rating: 4.6/5
Loro and Siam Park Twin Ticket

Visit Loro Park and Siam Park with a dual admission combo ticket
Witness a wide variety of animals at Loro Park and spend a day with animals
Enjoy a day of spills and thrills at the Siam Park
Combo tickets are good for 15 days from the time the first park is visited to go to the second park

Duration :15 days validity from first usage
Price: from 64 Euros


Loro Parque & Siam Park Combined Tickets

Visit Loro Paruqe, of the world's best known and most respected zoological gardens and witness the terrific parrot and orca shows
Spend another day at the Siam Park's water kingdom with spurts of adrenaline rush and unlimited fun
This combo ticket is a great way to save money while visiting the best of 2 attractions in Canary

Duration :14 days validity from first usage
Price: from 27 Euros


Rating: 4.9/5

About Siam Park Tenerife
Siam Park Tenerife, located in Adeje is the biggest waterpark in Europe. This park is home to an multitude of impressive water slides within its 185-square-kilometre grounds giving visitors plenty to do over a day's time. You can surf giant waves, slide at top speed from the highest heights or even cross through a shark-infested pool! With the highest artificial waves in the world; its three-metre-high wave is perfect for learning to surf! If you're looking to relax while your kids enjoy the rides, you have private Thai-style cabins which make for the perfect place to spend an indulgent day.
The Siam Park is Thai themed, with all of its 25 buildings being the largest collection of Thai-themed buildings outside Thailand. The architect of Siam Park, Christoph Kiessling, received permission from the Thai royal family to use the park's name and theme; but, to respect the family's wishes, he did not copy royal palaces, temples, or statues of Buddha in the park. Moreover, the park serves Thai food and even has a Thai floating market.
Siam Park Tenerife Interesting Facts
Siam Park in Costa Adeje, Tenerife, which named the best water park in the world by TripAdvisor 5 times in a row!
Siam Park is the world's first green water park. With the park's water heated to 25 °C (77 °F) it is the "first air conditioned outdoor aquatic park in the world". The water used in the rides is recycled by using it to water the park's plants. Siam Park also has the first natural gas plant in the Canary Islands.
The Siam Park houses the statue of the world's largest dragon.
It has the largest man-made wave in the world - about 3 meters (9.8 ft)
Lastly, it has the world's largest collection of Thai buildings outside Asia.
Siam Park Height Restrictions & For Whom Best Suited For?
The Siam Park Tenerife is best suited for couples, families with teenage kids; basically best suited for anyone above the age of 15. With a range of white knuckle rides, the Siam Park is for the one's looking for an adrenaline rush. While there are a good range of rides for children and toddlers, it is still not the ideal family waterpark as most rides have a strict height restriction which does not allow kids below 1.1m to partake.
Siam Park Rides - Top 10
Tower of Power
A vertical, transparent slide which sends riders through an area with sharks and stingrays, is similar to Leap of Faith at Atlantis Paradise Island.
Height Restriction : 1.40 m , 14 years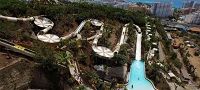 Singha
A water roller coaster boasting 14 different direction changes and unrivalled speeds
Height Restriction : 1.25 m
Dragon
A ProSlide Tornado with a light show inside the 20-meter (66 ft)-wide funnel
Height Restriction : 1.25 m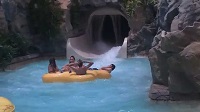 Volcano
A four-person ProSlide Behemoth Bowl slide with a laser inside which produces a flashing image of a dragon and catapults you into complete darkness as you plummet through the centre of a volcano.
Height Restriction : 1.25m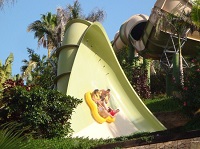 Kinnaree
Experience sharp corners and plenty of twists and turns as you speed down the 200-meter (660 ft) long ProSlide.
Height Restriction : 1.25m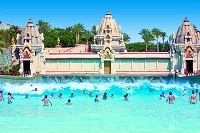 Wave Palace
A wave pool with an artificial white sand beach. At 3 meters (9.8 ft) high, its waves are the highest of any wave pool in the world. The park's surfing school also gives surfing lessons at the Wave Palace.
No restriction
The Giant
Twin ProSlide Cannon Bowls, one moving clockwise and one moving counterclockwise
Height Restriction : 1.25m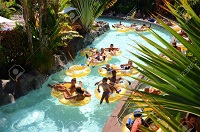 Mai Thai River
The world's longest lazy river, which also has the highest elevation of any lazy river at 8 meters (26 ft)
Height Restriction : 1.10m
Mekong Rapids
A river rafting ride with rapids and swirls on board inflatable rafts.
Height Restriction : 1.10m
Jungle Snake
In floats, singly or in pairs, you will float on a thin film of water as you slide through the bowels of the jungle.
Height Restriction : 1.10m - 1.25m
For babies, toddlers and younger children, there's an area called The Lost City which has much shallower pools , wooden walkways and water-filled monkey head fountain. The Wave Palace is also fun if you're visiting Siam Park with toddlers. The other kid-friendly area is called Sawasdee - a water jungle with slides and racers.
Wave Palace , Siam Palace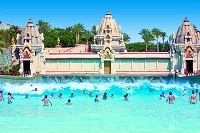 This one deserves a special mention, not just because it is a record breaking ride but also everyone's favourite! Surf lovers young and old love it and so do toddlers. It is one of the parks
proudest attractions and produces the biggest artificial waves in the world!.Rising up to a height of 3 metres, you can jump in and let the surf crash over you you can ride the surf or feel them breaking gently at your feet on our beautiful white sandy beach. Whichever you choose, this ride's a fun guaranteed.
Siam Park Opening Hours
The Siam Park is open from 10:00 AM to 6:00 PM from Monday - Sunday
What to wear to Siam Park Tenerife
Being a waterpark in Spain, the Canarian sun can come down harsh so be prepared to bear the heat while protecting your skin. Swimming costumes and shorts are best recommended with lots of sunscreen on the exposed skin. Boys can go shirtless if they please and if not, they are advised to wear jersey material tees. Whatever you wear, make sure they are either Lycra, Spandex or Elastane. These materials absorb very little water, and therefore dry very quickly.
As for footwear, make sure you wear flip flops or buy water shoes inside for 8 euros. The paths get very hot by midday and walking on them without footwear is simply painful. The water shoes are a great investment as you can wear them on the slides. For those with flip flops, you will have to take them off before every ride and leave at the bottom of the slide each time. This can be quite cumbersome.
Siam Park Restaurants
There are three snack-bars and two restaurants on site.
The snack bars namely Tea House, Sweet Siam and Beach Bar serve light snacks and savouries with the Beach Bar serving cocktails as well.
Those who want to go for the safe spread for a meal, you can try The Beach Club where you get ribs, roast chicken, pasta and even fresh fruit and vegetables.
The rest of the establishments serve thai cuisine, with the best one being the Thai House. It offers a buffet style spread at an affordable price. The ingredients are sourced locally and produced fresh daily.
Siam Park Ticket Prices
The Siam Park tickets are available in different combinations
The standard adult ticket costs - 37 Euros
The standard child ticket costs - 34 Euros
The Premium adult ticket costs - 54 Euros
The Premium child ticket costs - 38 Euros
The Siam Park Ticket + Lunch for adults cost - 51 Euros
The Siam Park Ticket + Lunch for child cost - 33 Euros
The VIP all access adult ticket costs - 121 Euros
The VIP all access child ticket costs - 121 Euros
Free entry for children under 3 years old and special prices for children from 3 to 11.
For twin children, there is free entry for those aged under 6 years old and special prices for twins from 6 to 11.
Tips For Your Siam Water Park Visit
Being the world's most popular waterpark, fast track tickets that allow you to skip the line are highly recommended. If not, you'll spend 45 to 1 hour standing in queues for each line! If budget is not a constraint, you can also buy deluxe tickets including fast passes which let you skip every queue except for the Tower of Power.
To ensure your safety, all loose items must be left back before stepping in for a ride - flips flops, sunglasses, phones essentially everything that's not your swimsuit is a hazard. If you wear spectacles, contact lenses are highly recommended as even prescription goggles are forbidden! (you'll be asked to strap them to your wrist while riding).
For safekeeping, there are locker buildings around where you can rent a small locker for €3 a day and a big locker for 5€ (plus 5€ deposit). Once you give your key back, you'll get the deposit back. Also, the key is attached to an adjustable wristband so there's no danger of you losing it on the rides.
There is a free bus that takes you directly to Siam Park. There's normally one every 30 minutes and you can also take the bus back to your resort at the end of the day.
You cannot bring food into the park. Except for water, no eatables are allowed inside. If you want to bring in your food/ drinks you'll be charged € 3 to store your food and drink during your visit to the park and you can enjoy it in the picnic area alone.
One hack for getting the best rides done first would be to do the Mekong Rapids, follow the stairs up and slide down Kinaree so you can go back into the park.
It is advisable to bring along a waterproof pouch to store your phone. Although you cannot carry it along on the ride, you can take your phone on the beach and take pictures around the park.
The best time to visit the Siam Park Tenerife would be during the month of May. Being shoulder season, there are no queues and the weather ranges around 25-30°C making it ideal for spending the day under the sun.
The height restrictions at Siam Park are very strictly enforced, hence make sure you check your child's height in order to ensure a day of fun for them as well. Most rides require a minimum height of 1.1m, a couple for 1.25m. Only the Lost City, Sawasdee and Wave Palace have no minimum restrictions and and if you've got a thrill seeker, the Tower of Power is for 1.4m and 14 years + only.
If you're looking to skip the queues at Siam Park without paying extra you could buy the twin ticket for Siam Park and Loro Park Zoo. That way, if you visit the animal park first, you can flash your ticket to get straight in to the water park. If you've bought yours directly from Siam Park, there's also a separate line to go in. However, don't try to squeeze both attractions on the same day though, they're at opposite ends of the island.
Have you ever tried to figure out the solution for the Rubik's Cube? With this tutorial you will solve it quickly.