There are numerous incredible rides and attractions located throughout the Aqualava Waterpark, take a look at some of the very best below! Everything you'll find in the Aqualava Waterpark is ideal for children and adults of all ages and is kept to an incredibly high standard of cleanliness and the slides, pools and chill out zones are all well-maintained.
Aqualava Beach
Aqualava Beach is home to the salt water wave pool where you'll be able to float and relax, as well as enjoy splashing around and jumping in the waves. The salt water wave pool is also entirely unique to Lanzarote, so you're getting a real treat when playing and swimming in the sea-like water!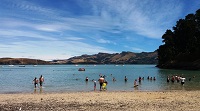 Corsair Bay
Corsair Bay is home to two main waterslides; the AquaRamp and TimiSlide. It's also the perfect place for little ones to enjoy as the shallow water has been adapted to accommodate younger children.
There's also a giant octopus feature that resides in Corsair Bay so be aware of it dropping huge amounts of water on top of you at the most unexpected moments! Inside Corsair Bay, you'll also find a water-based castle complex where young ones can ride down the slides and cause a splash in the water below.
Magma River
Also known as El Rio Lento, the Magma River can be navigated using the double or individual floats inside Aqualava Waterpark. The floats are included as part of your entrance ticket price and you're sure to enjoy leisurely winding your way around the giant river, complete with hidden twists and turns, bridges and cave-like surroundings.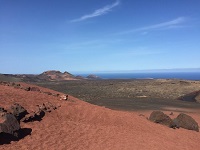 Timan Fire
The Timan Fire area of Aqualava Waterpark is home to five adrenaline-inducing waterslides including Aqua Tube, Aqua Slide, Aqua Owl, Aqua Hole and Aqua River.
Each of these five slides have a minimum height requirement of 1.20m and all come with their own individual twists and turns. Each slide results in a mighty splash into the collective pool at the bottom, where you can jump straight out and head back up again!
Chill out zones
While these areas aren't rides or attractions themselves, they do provide you with the opportunity to relax and unwind in the Spanish sun, all the while keeping an eye on the kids, without having to be in the middle of the slides, rides and attractions yourself!
Professional photographer
During your time at Aqualava Waterpark, you're likely to come across the professional in-house photographer who will help to capture the special moments of your time in the park.