Lisbon Surf Experience Deals
Tripindicator.com is comparing Lisbon Surf Experience prices from leading ticket suppliers, Try to find you the Cheap tickets prices.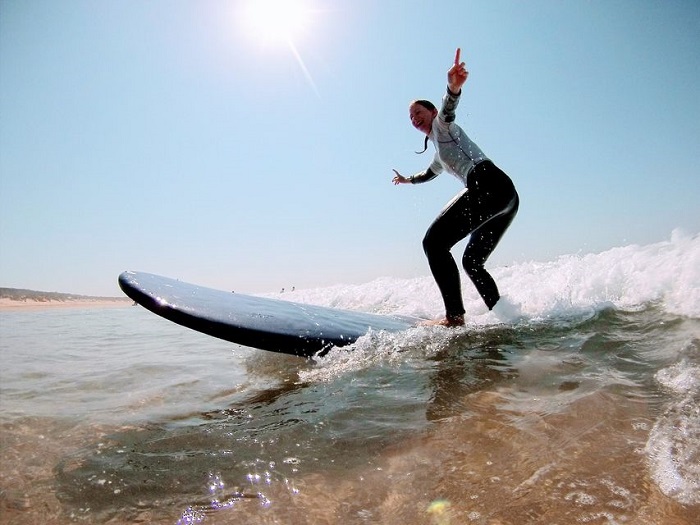 Opening Times of Lisbon Surf Experience

| Duration | REVIEWS |
| --- | --- |
| From four to eight hours | (104 reviews) |
| Opening Times | Best Times |
| --- | --- |
| | Late winter and early spring are the best times for surfing in Portugal and Lisbon |
Highlights of Lisbon Surf Experience
Lisbon Surf Experience is a half- or full-day trip from Lisbon in which travellers discover the best nearby spots for surfing.
As they travel to the surfing locations between 10 and 30 minutes away, participants admire the landscapes, Tagus River and the Atlantic.
Participants choose the spots according to their wishes and skills, as well as the surfing gear.
One of the surfing locations is the fossil cliffs of Caparica, a geological phenomenon carved by the ocean waves and erosion.
Participants can also choose a video footage option, which they can examine later in order to improve their surfing skills.
Is It Suitable for Me?
Given that you are a fan of surfing and water sports, you will love joining the activity.
Whether you are a beginner or expert, Lisbon Surf Experience is the right thing to do.
This activity is tailor-made for everyone yearning for entertainment.
Your Experience With Lisbon Surf Experience?
Choose a surf spot based on your skills and wishes.
Travel south of Lisbon across the 25 de Abril Bridge and admire the attractive landscapes.
Choose the surfing board that suits you best and have fun while riding the waves of the Atlantic Ocean.
Surf by the fossil cliffs of Caparica, shaped by waves and erosion during a very long time.
Discover white-sand beaches located some 30 minutes from Lisbon at most.
You can order video footage for an additional fee to evaluate your surfing skills and make improvements later.
What Lisbon Surf Experience Includes?
Transfers from Lisbon
Complimentary surf equipment and assistance by a certified and friendly guide
Mandatory insurance
TIPS
Consider buying a surf watch, which checks the time between the neighbouring waves.
Watching the video is a great way of improving your surfing skills and techniques.
Travelers Reviews about Lisbon Surf Experience?
According to the reviews, the surf experience from Lisbon is a highly anticipated and enjoyable activity.
Beginner surfers received instructions that enabled them to learn the basics quickly and improve their surfing skills considerably until the end of the activity.
Consequently, most of them spoke highly about the instructors in their reviews.
Several participants underline that the Lisbon Surf Experience is a great activity for everyone who wishes to try something new.
The rates of the surf experience by people that booked the tour are top-notch without any serious complaint.
Disabled Access
Lisbon Surf Experience isn't suitable for people with disability issues.
Ticket Details
Mobile and paper vouchers are a valid means for joining the excursion. For cancellations no later than 24 hours before the beginning of the activity you receive a full refund.
Things to Consider Before You Go
The activity isn't suitable for people with back or heart problems and pregnant women.
You should be in good physical shape to ride the waves.
Specify the height and weight of all the participants during the booking procedure.
Address / Pick up Location
Lisbon Zoo, Praça Marechal Humberto Delgado, 1549-004