Milan Hop On Hop Off Bus Map
Which Milan Hop on Hop off is Best for You?
Tripindicator is providing an Unbiased Comparison of Milan hop on hop off bus tour services & get our experts advice on choosing suitable hop on hop off Milan for you, please click on the following compare Milan bus tours image.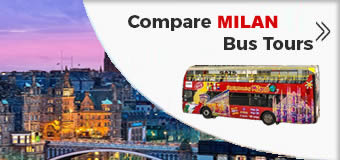 Tripindicator is comparing Best Milan Hop on Hop off Bus tours with Combo ticket options available in the Milan
1. Milan Hop-on Hop-off Bus
2. The Last Supper & Hop-on Hop-off Bus
Compare Bus Price with Tripindicator
N/A
N/A
N/A
From
60.00€
3. San Siro Tour & Hop on Hop off Bus
Compare Bus Price with Tripindicator
N/A
N/A
N/A
From
39.00€
Milan is the capital city of Lombardy. It is one of the most interesting places to visit in the world and has been getting attention from tourists who are attracted by its fantastic art galleries and museums, fun nightlife and infinite shopping opportunities.
Milan Sightseeing Hop on Hop off buses moves through different routes on the maps highlighting main sights in the city like the Museum of Ancient Art, San Maurizio Church on the red route, Piazza and Palazzo Lombardia, Pirelli Skyscraper and Milan Duomo on the blue route as well as Parco del Portello and AC Milan Museum on the green route. Make sure you download a copy of Milan Hop-On Hop-Off Bus map as soon as you have gotten your ticket so as to make the most of your tour.
You can save yourself the stress of jumping trains and cab which is more expensive, or boarding train with the fear of getting lost because you do not know how to navigate the city. You can get a copy of the Milan walking tour map provided below to help you know how you can find your way around the city. It is readily accessible on any device which you can print to have a handy copy.
Milan Hop on Hop off bus tour is an ideal option for you if you want to get the best returns on your money. The comfort of these double-decker buses is nothing compared to what you get from taxis and train services –with an audio guide provided, you can understand your tour better.
With several buses arriving regularly at stops, you can spend as much time as you want at your desired stop and continue your tour on the next available bus without having to pay any extra fare. With your Milan tourist map at your disposal, you will not miss out on top attraction spots around the city during your tour.
Getting a copy of Milan metro map along with you on your Hop on Hop of bus tour gives you more information about the city and prevents you from getting lost
See below free and downloadable hop on hop off Milan maps
Top Tours & Tickets
Compare Car Hire Prices from Avis | Hert | Sixt | Europcar | Budget | Enterprise...
Car Hire