Hitler and the Third Reich Munich Walking Tour Deals
Tripindicator.com is comparing Hitler and the Third Reich Munich Walking Tour prices from leading ticket suppliers, Try to find you the Cheap tickets prices.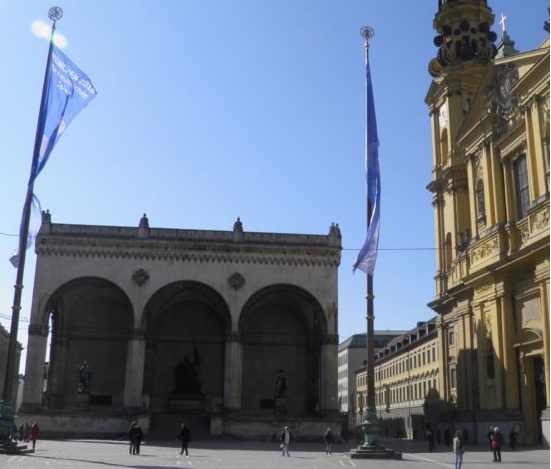 Opening Times of Hitler and the Third Reich Munich Walking Tour

| Duration | REVIEWS |
| --- | --- |
| 2.5 Hours | (915 reviews) |
Opening Times
Best Times

Departs at 11.30 from October to March.
Departs at 8.45 and 15.00 from April to October.

This tour operates all year.
Visit outside of the peak summer season or take the early morning tour to avoid crowds.
Highlights of Hitler and the Third Reich Munich Walking Tour
Munich was not always the modern liberal city that you see today, in fact, during the early part of the 20th century it was known for being the Capital City of the Nazi Movement.
During this 2.5-hour walking tour an experienced local guide will take you back into that dark period of Munich's history to discover how the movement was able to form and grow.
Your guide will take you to some of the former beer halls and building that Adolf Hitler used to make is earliest speeches, and where fascist groups would meet to discuss and eventually form the Nazi Party.
Your guide will give a detailed and honest account for the oppression and atrocities which took place during the Third Reich, hear about the twisted Nazi ideology, the Kristallnacht and the tyranny against Jewish residents and political opponents.
Many of the building built during the Nazi era managed to survive the destruction of war and bombing, so you will have the chance to see authentic Nazi Architecture, including a building which once served as the headquarters to the Nazi Party.
You will also stop to visit the City Monuments to the people who suffered and lost their lives or livelihoods at the hands of Hitler and the Third Reich.
Is It Suitable for Me?
The Hitler and the Third Reich walking tour is perfect for history lovers and for anyone wanting an in-depth tour of Munich which focuses on the events and effect of the Nazi Movement.
The tour guides will deliver an unglorified recount of life in Munich under Hitler's dictatorship, so this is for people who want an authentic and sensitive tour.
This tour is suitable for individuals, small groups, and older children.
Your Experience With Hitler and the Third Reich Munich Walking Tour?
Dip into a sinister part of Munich's history to understand the devastating effects of the Second World War.
Learn about the progression of the Nazi Party in Bavaria from a local historian tour guide.
See major landmarks in the history of the Third Reich including the former Nazi Headquarters, the spot where the urban battle of Beer Hall Putsch took place, and the original buildings where Hitler made his first speeches.
Explore Third Reich architecture and official monuments to WWII and Holocaust victims.
What Hitler and the Third Reich Munich Walking Tour Includes?
2.5 Hour Third Reich themed walking tour.
Expert English speaking tour guide.
TIPS
Combine the Third Reich walking tour with a guided visit to Dachau for a comprehensive understanding of the impact of WWII and the Third Reich, these two tours into a full-day tour from April to October.
Travelers Reviews about Hitler and the Third Reich Munich Walking Tour?
Munich's Hitler and the Third Reich Tour has been rated by over 600 people on TripAdvisor, which is in partnership with Viator, and has a 5-star rating.
Travellers frequently say that the tour is well organised and run by enthusiastic tour guides, this is common among all tours operated by Radius Tours as the company employ all local resident guides.
Overall travellers say that this is an informative tour which they would recommend.
Disabled Access
Not wheelchair accessible.
Ticket Details
Vouchers and confirmation will be received via email.
Please print your ticket or have it ready to show on your smart phone.
Tickets are refundable up to 48 hours in advance. Viator will charge a 50% cancellation fee for any cancellations made between 3 and 6 days in advance.
Things to Consider Before You Go
You should be at the Radius Tours Office at least 15 minutes in advance.
A moderate amount of walking will be required so please be prepared with comfortable shoes.
Address / Pick up Location
Meeting Point: At the Radius Tours Office, inside Munich Central Station, Hauptbahnhofplatz, opposite tracks 32-34.