Big Apple Helicopter Tour of New York Deals
Tripindicator.com is comparing Big Apple Helicopter Tour of New York prices from leading ticket suppliers, Try to find you the Cheap tickets prices.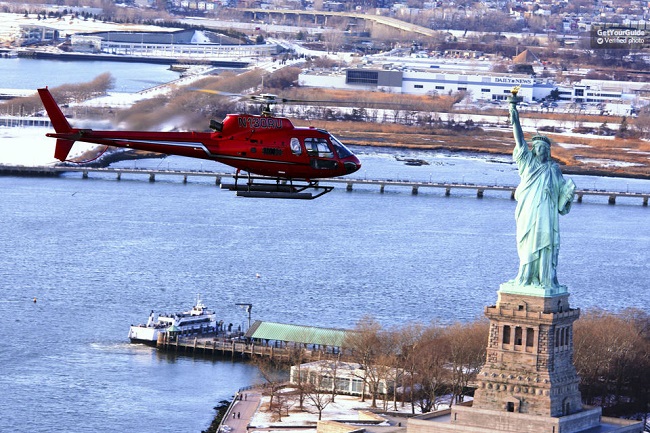 Opening Times of Big Apple Helicopter Tour of New York

| Duration | REVIEWS |
| --- | --- |
| 12 to 15 minutes | (1280 reviews) |
Opening Times
Best Times

Flight operating hours are between 9 am and 6.30 pm daily.
Flights take place every half an hour within these operating times.

The Big Apple Helicopter Tour offers flights throughout the year.
There are no flights on 25 December or 1 January.
Highlights of Big Apple Helicopter Tour of New York
Meet with your pilot and fellow passengers on pier 6 of the East River and get prepared to cross this particular activity off your bucket list.
This tour is for the bravest of New York's visitors.
And those willing to put themselves hundreds of metres above the ground to get that perfect birds-eye shot of the beloved Big Apple, will be rewarded with the most magnificent views.
From your window seat, you'll be able to look down to Time Square, across the Financial District to Brooklyn Bridge, the Bronx and even to the neighbouring state of New Jersey.
Is It Suitable for Me?
Perfect for people who like to get up high and enjoy fantastic birds-eye city views.
Ideal for adrenaline seekers too.
The flight is suitable for all visitors (weighing under 159 kg), this includes disabled visitors and children.
Your Experience With Big Apple Helicopter Tour of New York?
Fly up...up...up…and over the iconic New York Skyline.
Look down to see the Lady Liberty saluting beneath you and gaze across downtown Manhattan to the Rockefeller Building, the Empire State Building, the George Washington Bridge and many other city landmarks.
You'll have the pleasure of sharing your helicopter with an experienced pilot and a handful of other excited passengers.
As you take in the wide city views you can try to spot each important building, monument, or boulevard.
Use your 12 to 15-minute flight to enjoy the feeling of flying and to take the best photo of New York you'll ever see.
What Big Apple Helicopter Tour of New York Includes?
12 to 15-minute tour by helicopter over New York City Centre.
Helicopter Security and Faculty Fee (only if tickets are purchased with Get Your Guide)
Routes/Attractions
Sight you will se from the helicopter:
Battery Park
Wall Street
World Financial Centre
Empire State Building
Chrysler Building
Woolworth Building
Met Life Building
Ellis Island
Hudson River
George Washington Bridge
TIPS
Don't forget to bring a valid ID, you will need to show this at the entrance of the heliport.
Also, make sure that your cameras are fully charged as you will want to take pictures during the flight.
During the winter months we recommend leaving yourself some extra time as flights can be delayed due to bad weather.
Travelers Reviews about Big Apple Helicopter Tour of New York?
Passenger have said that the Big Apple Helicopter Tour is a great experience and defiantly a bucket list activity.
Comments say that the views of Central New York are unrivalled and that you can see across the state to New Jersey.
The helicopter experience has an overall 4.5 out of 5-star rating from TripAdvisor users and a 4.4 out of 5-star rating passenger who purchased their tickets with Get Your Guide.
Disabled Access
Wheelchair access is available.
Ticket Details
After booking the flight you will need to reconfirm (my email or call) the preferred time and date for your flight.
Tickets will be sent to your email address.
You can print your ticket or bring an electronic version on your smartphone.
Depending on your ticket provider you will need to make your cancellation at least 24 to 72 hours in advance in order to receive a full refund.
Any cancellations made after the cut off time (as specified by your tour provider) will not be refunded.
Things to Consider Before You Go
Please be aware that, with the exception tickets purchased from Get Your Guide, the price of the tickets does not include the $40 per person helicopter security and facility fee, this will be payable to heliport supplier onsite.
You must arrive at least 45 minutes in advance of your scheduled flight time for security checks and a safety briefing.
All passengers must go through airport-style security checks the enter the heliport building.
Cases and handbags will not be permitted on the helicopter.
You will be permitted to take your personal camera onboard (it must first pass security checks).
Helicopters are shared between 5 to 6 passengers.
In severe weather conditions your flight may be cancelled and rescheduled.
Address / Pick up Location
Meeting Point: Pier 6, located near the Brooklyn Bridge on the East River.
Address: 6, East River Piers, 10004, New York.
There are 3 helicopter suppliers on this pier, you booking confirmation will tell you which office to go