Ultimate guide to Pena Palace Sintra & Park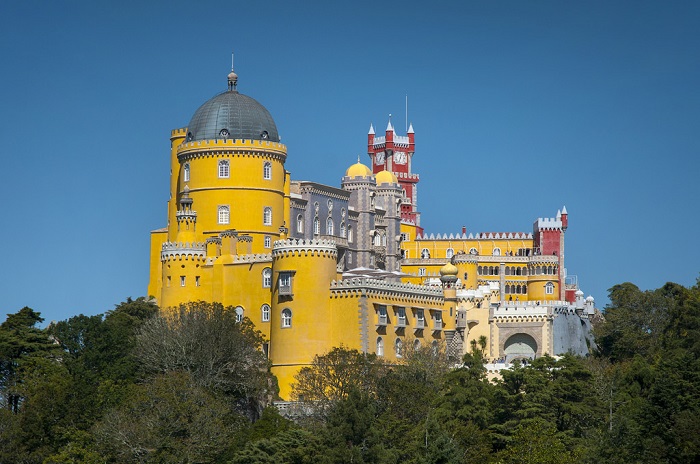 A quaint town picturesquely perched on the mountains near Lisbon, Sintra is one of the seven wonders of Portugal and quite naturally a tourist magnet. So beautiful is this former royal summer residence town that Lord Byron has waxed eloquence about it's blessed beauty in his famous poem - Childe Harold's Pilgrimage. In this UNESCO Heritage town stands the famous Palacio Nacional da Pena, commonly known as the Pena Palace Sintra.
The Palacio Nacional da Pena, a 19th century castle is is one of the finest tourist attractions of Portugal and flaunts a hedonistic mix of vividly painted terraces, decorative battlements and mythological statues, all of which stand at stark contrast to the lush greens Parques de Sintra that encircles the Pena Palace.
To know all about visiting the Sintra Pena Palace and Parks, here's your all inclusive guide. Plan your visit efficiently with Tripindicator!
Quick Jump links to Pena Palace Sintra & Park
Pena Palace History Under a Minute
The Pena Palace we see today is an adaptation of a 16th-century monastery and partly an imitation of a medieval fortress, that was built for Queen Maria II by her young German consort, Ferdinand II. King Ferdinand II was completely blown by the stunning views from the Neuschwanstein castle in Bavaria he wished to build a similar flamboyant complex in Sintra. His only design input was that the palace should reflect an opera with a magical feather palace aura, and so it was!
To further enhance the beauty of the Palace, Ferdinand II commissioned the Parque da Pena, a series of gardens and walking paths that incorporated more than 2,000 species of flora, hidden pathways, ornate features and stunning view points.
Why you must Visit the Pena Palace Sintra?
Sintra is a just 30 minutes away by train from Lisbon and costs less than £2 to get to! When a treasure lies so close to Lisbon and takes nothing to reach there, why not?
Not only is the Palace a star attraction here, but all of Sintra is brimming with UNESCO World Heritage sites (in fact, Sintra as a whole is a UNESCO World Heritage site). So, strap on your best shoes and spend a whole day exploring all of Sintra.
To visit The Palace and Parks, you have a combo ticket which costs less than individual tickets. Enjoy the luxury of exploring both on a shoestring budget!
There are so many fascinating stories about the Pena Palace Sintra, it's hard to believe so much took place in one Palace. Make sure to take an audio guided or expert guided tour to know all about the Palace during your visit.
After visiting the Pena Palace Sintra, you can visit the Moorish Palace which is a short walk from the exit gates. This way, you cover 2 fabulous Portuguese Palaces on one trip! Moreover, the Moorish Palaces flaunts the best view of the Sintra town. Pop your head out of the Castle Walls at the Moorish Palace and get uninterrupted views of the town, Pena Palace and the other palaces and parks in Sintra.
Pena Palace Opening Hours
High season ( summer) - 9:30 AM to 8:00 PM | Low season ( winter) : 10:00 AM to 6:00 PM
Best Time to Visit the Pena Palace Sintra
Summers see the maximum crowd in Portugal, hence expect massive tourist hordes in the Pena Palace Sintra. Weekends are busy throughout the year, so schedule your visit for a weekday to enjoy a visit with less shoulder-rubbing.
The best time of the day would ideally be around the opening time, 9:30 or so. This is because tourist groups start arriving around 11 AM after which it is complete mayhem. There is dip in crowds around 5:00 PM as most people leave around this time to explore the rest of Sintra. A smart move would be exploring Sintra for the first half of the day and spending the last leg of your day in Pena Palace. That way, you can roam around the gardens without the sun right above your head and even watch the sunset from up the hills.
Best Views of Pena Palace Sintra
To get your instagram worthy view of the Pena Palace and its breathtaking surrounding,s climb up to the e Cruz Alta (High Cross) and let you heart skip a beat! Located at the highest point of the Sintra Hills at 529 meters, you can get to the cross after an easy ascent in the forest. A well-marked path will lead your way to the most scenic panorama in Sintra, from where you can see as far as Lisbon on clear days. Don't miss this one during your Pena Palace Sintra visit.
Visiting Parques de sintra
Parques de sintra, also known as the Pena Park Sintra is what the phrase right out of fairytale truly means. With magical forests, hidden lakes fluttering with white swans, black swans, muddy winding paths, gorgeous waterfalls, archway bridges, rare species of flowers, trees and more ; Parques de Sintra seems an Enid Blyton book setting. There's lots to walk and explore, so make sure you keep an hour and a half of your schedule to aimlessly wander through this magical park.
The most interesting part of the Parques de Sintra is the Queen's Fern Garden (Feteira da Rainha). It is a collection of trees brought in from different parts of the world - Magnolias, Japanese Cryptomeria, Chinese Ginko, American Sequoia, Cypress, Red Cedar and many others. Walking around this part of the garden is simply surreal!
Reaching Pena Palace Sintra
Going from Lisbon to Sintra
By Train (40 minutes)
From Estacao do Rossio, Estacao de Entrecampo or Estacao do Oriente you can take a train to Sintra Station. Buying round trip tickets for the train works out cheaper. From the station, you can hop onto Scotturb Bus 434 which will take you the Pena Palace.,
By car (20 min):
Take the IC19 from Lisbon. When you arrive Sintra's historic centre, you'll see a signboard showing the way to Pena (3.5 km). The GPS coordinates are: 38º 47' 16.45" N 9º 23' 15.35" W.
Going from Sintra Historic Center to Park & National Palace of Pena
The Park & National Palace of Pena has two entrances, the main gate to the palace and a second gate to the park. You can reach these entrances by either walking uphill, taking a carriage horse, a bus or by driving up yourself.
Walking Uphill :
The walk from the footpath of Casa do Valle should take you about 45 minutes and the route takes you to the Park gates. From here you can grab a combo ticket for both, or simply redeem your online ticket. You can roam around the park and then a 15 minute walk lands you in front of the Palace gates.
Taking a Horse Carriage:
While the horse and carriage way is the most romantic mode of transport, we do not support animal cruelty in any form and would not recommend this unless you have mobility issues. Better still, for those with mobility issues, hiring a taxi or taking the bus is still a better option. The Horse carriage also happens to be the most expensive mode of transport.
Hopping on the Bus :
Bus number 434 will take you up the hills of Serra de Sintra for 5 Euros ( round trip) , but be warned it is for those with a strong stomach and great nerves. If you get motion sickness, you should skip the winding bus ride. Also, in the summers, even if there are 3 buses an hour, you may have to wait a long while for the bus. You can catch this bus from the Sintra train station or from the foothills.
Driving your Car uphill :
If you choose to drive up in your own car, there are free parking places both before and after both the gates. Follow the buses uphill and you'll reach the parking spot. The roads are winding and steep, so make sure you have a skilled driver taking you uphill
Tips For Your Pena Palace Sintra Visit
If you are interested in visiting the Moorish Castle after your Pena Palace visit, buy a combined ticket to save money. Even if you cannot see them both on the same day, the ticket is valid for a month.
There is a coffee shop and a restaurant at the Palace. Hydrate and fuel yourself as you please.
While photography is not allowed inside the Palace, you can go all out from outside and in the Pena Palace Park.
The best way to walk uphill is via the Villa Sassetti path. You can get a free map from any of the tourist centers in the town and navigate yourself up. This is the most picturesque route, with least crowds.
Best Pena Palace & Park Tickets
Tour

Highlights

Price

1. Pena Palace & Park Skip-the-Line Ticket

Visit the wonderful Pena Palace
Enjoy the beauty of Sintra
Admire the natural beauty of Pena Park
Entrance ticket to the Park and Pena Palace
Save time and skip the Line

Duration:1 day
Price: from £14

Reviews:4.2/5

2. Sintra and Cascais Small-Group Day Trip from Lisbon

Enjoy a guided tour of Sintra, one of the most stunning spots in Portugal
Visit Pena Palace and Queluz palaces, Sintra village, and Cabo da Roca, Castle of the Moors ,Guincho Beach. Azenhas do Mar, Cascais and Estoril on this 4 hour tour.
Transport by air-conditioned minivan
Local guide

Duration: 8 hours
Price: from £52

Reviews:43225

3. Sintra, Cabo da Roca and Cascais Full-Day Tour

Experience romantic Sintra and visit Pena Palace and the gardens
Tour Quinta da Regaleira and feel the mysticism (optional)
Stop at the westernmost point in Europe at Roca Cape
See Cascais, once the holiday destination of European aristocracy
Enjoy a hassle free tour with skip-the-line access
Professional guide
Insurance (according to Portuguese law)
Pick-up and drop off at your central Lisbon hotel or apartment

Duration:8 hours
Price: from £49.6

Reviews:4.8/5

4. Best of Sintra and Cascais Full-Day Tour from Lisbon

Explore the fairytale palaces and gardens of Sintra
Discover nooks and corners of the magical Pena Palace
Go to the westernmost point of mainland Europe
Explore the buzzing seaside resort of Cascais
Drive through the narrow lanes of the Sintra Hills
Marvel at the windswept villages of the Estoril Coast
Professional Guide
Skip the Line Entrance ticket to Pena Palace
Pick-up and drop off service from Lisbon Hotel

Duration:8 hours
Price: from £48

Reviews:4.8/5

5. Sintra Full Day Sightseeing Tour

Explore Sintra with an expert guide
Visit the best preserved medieval Royal Palace in Portugal
Drive along the stunning Estoril Coast
Go to Europe's westernmost point
Skip the Line Entrance ticket to Pena Palace
Pick-up and drop off service from Lisbon Hotel
Wifi enabled Van for traveling around

Duration:8 hours
Price: from £65

Reviews:4.7/5

6. Sintra: Full-Day Tour from Lisbon with Wine Tasting

Tour 18th-century Pena Palace, one of the 7 Wonders of Portugal
Discover the historic center of Sintra village
Take in the views from Cabo da Roca, the westernmost point in continental Europe
Enjoy a stroll along the streets of charming Cascais
Hotel pick-up and drop off
Pena Palace admission ticket
Wine tasting
Bottled water

Duration:8 hours
Price: from £79

Reviews:4.8/5

7. Half-Day Sintra Tour from Lisbon with Transfers

Enjoy a guided tour of Sintra, one of the most stunning spots in Portugal
Visit Pena Palace and Queluz palaces, Sintra village, and Cabo da Roca, Castle of the Moors ,Guincho Beach. Azenhas do Mar, Cascais and Estoril on this 4 hour tour.
Hotel pick-up and drop off

Duration:4 hours
Price: from £39

Reviews:4.9/5

8. Sintra Small-Group Tour from Lisbon with Pena Palace and Quinta da Regaleira

Explore Sintra on a full-day trip from Lisbon
See the eclectic architecture of Pena Palace and allow yourself to be charmed by the scenic gardens and lakes of the Quinta da Regaleira.
Experience the city's landmarks accompanied by commentary from your local guide
Visit Cabo Roca, the westernmost point in mainland Europe
Eat lunch in a traditional Portuguese restaurant
Round-trip transportation from Lisbon hotels
Transport by air-conditioned minivan
Live commentary on board
WiFi available in the minivan
Entrance fee at Pena Palace and Quinta da Regaleira
Guided tour inside the monuments
Local pastry (travesseiro or queijada)

Duration:9 hours
Price: from £100

Reviews:4.9/5

9. Private Sintra Tour from Lisbon with Portuguese Traditional Lunch

Private Sintra day trip from Lisbon
Admire the Romantic architecture of the colorful town of Sintra
Visit the Pena Palace and Sintra National Palace on a self guided tour.
Stop by the Palace of Queluz and admire the views from outside
Spend a few hours taking in the crisp breeze at the coast from Cascais
Authentic Portugese Lunch
Bottled water
Hotel drop-off and pick up
Transport by air-conditioned minivan
Tickets to monuments NOT included

Duration: 8 hours
Price: from £79

Reviews:4.7/5

10. Sintra Full Day Sightseeing Tour

Explore Sintra with an expert guide
Visit the best preserved medieval Royal Palace in Portugal- The Pena Palace, on a self guided tour
Drive along the stunning Estoril Coast
Go to Europe's westernmost point
Wi-Fi inside van Pick up and drop off service

Duration:8 hours
Price: from £65

Reviews:4.7/5