Rome Hop On Hop Off Bus Map
Rome is the Capital city of Italy in the Western-Central part of the Italian Peninsula. This medieval city is one of the most visited cities in the world. The city of Rome is filled with a lot of attraction sites that are worth exploring such as St. Peter's Basilica or the Pantheon amongst many others and a Rome sightseeing Roma bus map will make your trip easy and less stressful.
The city of Rome is a busy city, getting your way around may not be as simple as you think especially if you're a first time visitor. Your inability to communicate well in the Italian language will limit your movement around the city especially locating your choice attractions destination. You will require a copy of Rome hop on hop off bus tour map to give you an understanding of how to navigate the city.
Rome Hop on Hop off sightseeing buses moves from the bus terminal at Largo Di Villa Peretti through different routes on the map with highlights on main sights. Some of the top attraction sites in Romes includes the Colosseum, Roman Forum, Palatine Hill, Circo Massimo, Vatican city Piazza Venezia, Fontan Di Trevi and Piazza Barberini.
With your Rome Metro map on your hand, you can be sure you will not miss out on top attraction spots around the city when boarding one of the various Hop on Hop off buses. With Hop on Hop off bus tours, you will have time to explore the city without having to pay for extra fares apart from your ticket – some Hop on Hop off bus tickets also offer walking tours which help you to explore the city better.
Rome Hop on Hop off buses are comfortable, all operators use a double deck open top buses – each passenger gets a disposable audio device for communication with a minimum of six language translations.
Hop on Hop off buses in Rome are convenient and affordable, it is advisable you get a copy of the Rome tour map printable to have a more impactful tour.
The two main Hop on Hop off bus tour providers in Rome are;
1. I Love Rome
2. Roma Cristiana
3. Rome Big Bus
4. Sightseeing Roma Bus Tour
Which Rome Hop on Hop off is Best for You?
Tripindicator is providing an Unbiased Comparison of Rome hop on hop off bus tour services & get our experts advice on choosing suitable hop on hop off Rome for you, please click on the following compare Rome bus tours image.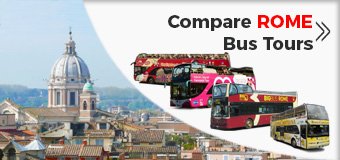 Tripindicator is Comparing Best Rome Hop on Hop off Bus tours with Combo Ticket options available in the Rome
2. Sightseeing Roma Bus Tour - (1,600 Reviews)
4. Rome Hop on Hop off Bus with Skip-the-line Vatican Museum and Sistine Chapel Tour - (4,306 Reviews)
5. Rome Hop on Hop off with Skip-the-line Colosseum Tour - (5 Reviews)
See below free and downloadable hop on hop off Rome bus maps:
Top Tours & Tickets
Compare Car Hire Prices from Avis | Hert | Sixt | Europcar | Budget | Enterprise...
Car Hire