Sydney Hop On Hop Off Bus Map
Sydney, is a top destination for many tourists and year in year out, tourists troop in to see the numerous attraction sites alongside their rich heritage. A visit to Sydney is definitely one you shouldn't miss out from in your lifetime.
While enjoying the fun of Sydney top attraction sites, taking in the very rich air and a peek at the rich culture, do well to take hold of a Sydney tourist map so as not to get lost in their intertwined streets.
Your best bet for touring this city and enjoying your day at your pace would be the Sydney Hop on Hop of bus tours. This bus option helps you to visit top sites like the very popular Sydney Opera House, relax a little and move to Art Gallery of NSW and feed your eyes. The best part of the bus tours is the freedom and ability to enjoy yourself at a pace of your own without having to pay extra fare.
If you are going to take a walk at the Palm Beach or the Lane Cove National park then I will advise you lay hold of a Sydney walking tour map so you don't get lost or confused with the multitude.
The double decker buses are very comfortable and go through two major routes which are the red route and the blue route. The world's famous Bondi beach and the eastern bays are on the blue route while landmarks like Sydney Opera house and the Sydney harbor bridge are in the red route.
With the hop on hop off bus tours in Sydney, you can be guaranteed to have a spoil time but having a tourist map will not only stop you from getting lost but will aid easy navigation in the city.
Which Sydney Hop on Hop off is Best for You?
Tripindicator is providing an Unbiased Comparison of Sydney hop on hop off bus tour services & get our experts advice on choosing suitable hop on hop off Sydney for you, please click on the following compare Sydney bus tours image.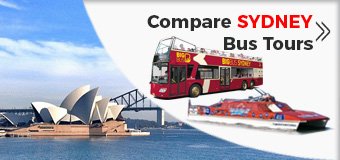 Tripindicator is Comparing Best Sydney Hop on Hop off Bus tours with Combo Ticket options available in the Sydney
2. Big Bus Sydney with Bondi Beach Bus Tour - (718 Reviews)
N/A

From
29.00€
N/A

N/A
See below free and downloadable hop on hop off Sydney maps
Top Tours & Tickets
Compare Car Hire Prices from Avis | Hert | Sixt | Europcar | Budget | Enterprise...
Car Hire