A Complete Guide to Van Gogh Museum Artworks, Shop & Tickets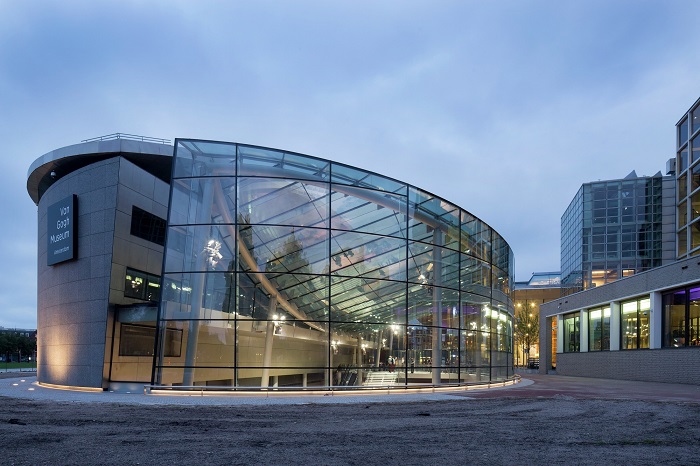 This bright and airy space, the Van Gogh Museum, holds the largest collection of artworks by the renowned artist Vincent Van Gogh in the world. if you appreciate art or adore the painter, then this place is definitely worth a visit. The museum also has a massive collection of works done by Van Gogh's contemporaries, followers, friends, and artistic predecessors. You will be surrounded by a huge number of Impressionist and Post-impressionist arts.
I dream my painting and I paint my dream." Vincent Willem Van Gogh
"Through their experiences of suffering and pain as well as their ability to see beauty in the smallest things, they were able to render that personal experience in their art."
Quick Jump links to Van Gogh Museum, Amsterdam
Van Gogh Museum Ticket & Tours Prices
Off to Amsterdam to see the city and all the beautiful things it has to offer? The Van Gogh Museum must be one of your many stops. The museum is a must-see when you are in the city. It is the repository of some of the world's most important works of art. There are plenty of free things to do in Amsterdam and although the museum charges an entrance fee, the amount is well worth it to gaze at the many paintings there. We have rounded up the best deals for you so pick one.
what is it

Price, Duration

1. Super Saver Skip-the-Line Private Guided Tour: Rijksmuseum& Van Gogh Museum

What is It?

5-hour skip-the-line private tour combo of Amsterdam's Rijksmuseum and Van Gogh Museum
Enjoy priority access to the Rijksmuseum and explorethe art highlights
Trace the story of Dutch art from the Middle Ages and see Rembrandt's Night Watch and Vermeer's The Milkmaid
Avoid the mainlines at the Van Gogh Museum and explore the must-sees on show
See van Gogh's last painting, Tree Roots and Trunks, and other luminous works
Learn the techniques and secrets behind the art works froman expert guide
Enjoy undivided attention from a private guide, with personalized commentary
Highlights Include: (if artwork is not on loanor being restored etc.) Rembrandt master works The Night watch The Jewish Bride The Syndics of the Drapers' Guild Vermeer's The Milkmaid 19th century library 17th century doll houses, globes, shipreplica, and Delft ceramics Large Collection of Van Gogh Self Portra its Early And Obscure Works Objects From Van Gogh's Studio Sun flowers The Potato Eaters The Bed room Yellow House Wheat field with Crows

Includes :

Skip the line private museumtour
Professional tour guide exclusively for you
_Tour includes allentrance fees
Wheelchair-friendly

Price: €115

Duration: 5.5hours




Reviews :

'Excellently experience with Victoria, ourguide. Madethe visit interesting, as well as educational'

'The guided tour of the Van Gogh and Rijksmuseumwas exceptional.'

2. Amsterdam City Canal Cruise & Van Gogh Museum

What is It?

Amsterdam canalcruise and admission ticket to the Van Gogh Museum
Enjoy a 75-minute cruise on Amsterdam's UNESCO World Heritage site canals
Admire elegant 17th-century houses, bridges and churches from the water
Explore the world's largest collection of works by Vincent van Gogh at your own pace
View mast erpieces such as Sunflowers and works by greats such as Monet and Manet
Two Amsterdam must-dos in one day

Includes:

Holl and Casinoadmission
Entrance ticket to the Van Gogh Museum
Sight seeing cruise

Price: €32.30

Duration: 8hours




Reviews :

'Canal cruise could have been better. Van Gogh was amazing'

'Fascinating tour and the museum was absolutely wonderful.'

3. Amsterdam: Van Gogh Museum Ticket& City Canal Cruise

What is It?

Save time and money with a combined canal cruise and Van Gogh Museum ticket
Cruise along the canals of the bohemian De Pijpdistric
Admire the canals, bridges, and merchant houses of Amsterdam on a 75-minute cruise
See master works by the great artist in hisnative country

Includes:

Ticket forthe Van Gogh Museum
Cana lcruise
Audio guide for canal cruise
Entrance to Holl and Casino

Price: €32.73

Duration: 3 Hours




Reviews :

'Great for first time in Amsterdam. Saves money and time'

'Delivered.'

4. Van Gogh Museum&Rijksmuseum Tour, Canal Cruise &Lunch

What is It?

Get fasttrack admission to the Van Gogh Museum and Rijksmuseum
Enjoy a light lunch at the Rijksmuseum
Explore the Van Gogh Museum and Rijksmuseum with a private guide
Get freeentrance to the Diamond Museum at the Coster Diamond spolishing factory
Take a 1-hour cruise through the UNESCO-listed canal district in Amsterdam

Includes:

Private guide in the Van Gogh Museum and Rijksmuseum
Fasttrack entry to the Van Gogh Museum and Rijksmuseum
1-hour canal cruise including GPS audio guide in 19 languages
Light lunch at the Rijksmuseum
Entrance to the Diamond Museum

Price: €109

Duration: 8hours




Reviews :

'Fabuloust our guide.Ilse ha san extra ordinary wealth of knowledge'

'Wonderful time with a guide who had an in-depth knowledge of the location, the people, and the history.'

What is It?

Skip the lines waiting to enterthe Van Gogh Museum
Step back in time and experience the evolution of Van Gogh's art
Enjoy a perfect introduction to the artist with a knowledgeabl guide

Includes:

Skip-the-line access
Professional local tour guide
Entrancefee

Price: €79

Duration: 2hours




Reviews :

'Excellent experience that enrichedour visit with personal attention.'

'Our tour guide was amazing.'

6. Skip-the-Line Van Gogh Museum& Red Light District Tour

What is It?

Forget long queues with skip-the-line Van Gogh Museum entry, including a museum ticket and guide
Learn all about the Dutch master and the stories behindh is most significant works
Explore the Red Light district in all its glory

Includes:

Skip the line admssion to the Van Gogh Museum
Professional art historian/guide
Walking tour

Price: €17

Duration: 3 hours




Reviews :

'Our guide was extremely personable and knowledgeable.'

'Superb guide. Wonderful museum.'

7. Nuenen 2-Hour Van Gogh Experience

What is It?

Experience van Gogh's time in Nuenen throughthe wonders of audio-visual technology
Explore The Outdoor Museum with its many reminders of the artist
See The Potato Eaters come to life in a multi-media presentation

Includes:

Entrancefee

Price: €7.50

Duration: 2 hours




Reviews :

'A journey to theartist'sworld.'

'It was such a great experience.'

8. Amsterdam: Skip-the-Line Private Van Gogh Tour

What is It?

Don't wait, with your skip-the-line ticket
Walk in the foot steps of Van Gogh
Admire the best of his master pieces up close
Benefit from the intimacy of a private tour

Includes:

Private tour
Local guide
Entrance ticket

Price: €72

Duration: 2hours




Reviews :

'Wolfang is a wonderufl guide. Thanks.'

'Excellent, knowledgeable guide with good English.'

9. Van Gogh Museum&Rijksmuseum Skip-The-Line Tour

What is It?

Skip the lines waiting to enter the Van Gogh Museum and Rijksmuseum
Step back in time on a tour through thehistoryof Dutch art and civilization
Learn about the Dutch Golden Age from your art historian guide

Includes:

Skip-the-line admission to the Van Gogh Museum and Rijksmuseum
Professional art historian/guide
Walking tour

Price: €139

Duration: 5.5 Hours




Reviews :

'A great tour with a wonderful guide.'

'Tea was knowledgeable and a delight to work with.'

10. Amsterdam Super Saver: Van Gogh Museum& City Sightseeing Hop-On Hop-Off Bus

What is It?

Time daccess entrance ticket to the Van Gogh Museum in Amsterdam
Trace Van Gogh's troubled life story through his works
See monumental artworks including Sunflowers and The Potato Eaters
Discover the city's top sights with an included 24-hour hop-on hop-off bus ticket
Hop on and off at top Amsterdam attractions such as Anne Frank House and Vondel park

Includes:

Timed access Van Gogh Museum entrance ticket
24-hour hop-on hop-off bus ticket
Audio commentary in 16 languages

Price: €37

Duration: 1 day




Reviews :

'The bus went to all places we wanted to see.The Van Gogh Museumwas impressive'

'I picked up the tickets as mentioned on my viator booking confirmation.'
15 Facts About Van Gogh Museum
The museum opened on the 2nd of June 1973.
The museum's collection is the largest collection of Van Gogh's paintings and drawing in the world.
The museum is located at the Museum Square in the borough Amsterdam South, close to the Rijksmuseum, the Stedelijk Museum, and the Concertgebouw.
The collection includes world famous paintings such as the Almond Blossom, and The Potato Eaters.
In 2016, the museum welcomed 2.1 million visitors and was the 2nd most visited museum in the Netherlands.
It is the 25th most visited museum in the world.
In 1991, in one of the largest but shortest-lived art thefts, twenty paintings were stolen from the museum.
In 2002, two paintings were stolen from the museum, the View of the Sea at Scheveningen and the Congregation Leaving the Reformed Church.
The main building of the museum was designed by Gerrit Rietveld and opened in 1973.
Architect KishoKurokawa's exhibition wing was completed in 1999.
The museum's permanent collection is displayed in the main building designed by architect Gerrit Rietveld.
The new entrance building of the museum was opened on the 5th of September 2015. It is the largest glass structure in the Netherlands.
The story of the artist's art is told throughout the galleries.
The museum also exhibits sculptures by Auguste Rodin and Jules Dalou, as well as paintings by Edouard Manet and Claude Monet.
The museum offers a program for visually impaired visitors.
What is the Van Gogh Museum Famous For?
The Van Gogh museum is famous for the priceless works of art contained within its walls. Dedicated to the artistry and creativity of one of the most renowned artists in the world, Vincent Van Gogh, it has an immaculate collection of significant paintings, sculptures, and correspondence.
Opened in June 2, 1973, the museum consists of two buildings. Dutch architect Gerrit Rietveld designed the main structure while the new Exhibition Wing was designed by Japanese architect KurokawaKisho. Both buildings have an open design that puts great emphasis on allowing natural light in and geometrical forms.
Highlights of the Van Gogh Museum – Famous Artworks & Exhibits
The Van Gogh Museum houses some of the most important works of the artist of the Impressionist area. Although all works are available, there are some that outshine and are more popular than the others and they are the following:
The Potato Eaters
The Potato Eaters is an oil painting painted in April 1885 in Nuenen. It depicts the harsh reality of country life, so the peasants in the picture have bony, working hands, as well as coarse faces. The artist wanted to show that they have used their very own hands to till the earth and honestly earn their food.
Bedroom in Arles
Bedroom in Arles was given to each of three similar paintings by Vincent Van Gogh. The painting depicts the artist's bedroom at 2, Place Lamartine in Arles, France, also known as the Yellow House. The artist himself prepared the room with simple furniture and with his own work displayed on the walls.
Sunflowers
One of Van Gogh's most famous paintings, Sunflowers was painted in Arles in 1888 and 1889. There is a total of five large canvasses with sunflowers in a vase with three shades of yellow and nothing more. Using the painting, the artist demonstrated that it was possible to create an image with several variations of a single color, without losing any eloquence. The sunflower paintings were significant for the artist because to him they communicated gratitude. He hung the first two in the room of his friend, the painter Paul Gauguin who once lived with him in the Yellow House.
Almond Blossoms
Almond Blossoms is the name of a group of numerous paintings made in 1888 and 1890 by Van Gogh in Saint-Remy and Arles. The artist's favorite subjects were large blossoms of Almond trees against a blue sky. It was painted to celebrate the birth of his nephew and namesake, the son of his brother, Theo and sister-in-law Jo.
Irises
Irises is one of a series of paintings executed at the Saint Paul-de-Mausole asylum in Saint-Remy-de-Provence, in the last year before his death in 1890.
Garden with Courting Couples
Van Gogh referred to this painting as 'the painting of the garden with lovers.' On the painting you will see the lovers strolling under the young chestnut trees and sitting along the winding paths. Van Gogh applied small brushstrokes of varying length in different directions.
Self-Portrait as a Painter
The artist represented himself in this self-portrait as a painter, holding paintbrushes and a palette behind his easel. He showed himself as a modern artist through the use of a new painting style with bright and almost unblended colors. It was the last work Van Gogh ever produced in Paris: the city which had exhausted him both physically and mentally.
What to Expect from the Van Gogh Museum
Maintaining one of the world's largest collections of work of the world's most popular artist, the Van Gogh Museum is one of the most visited places in the world and understandably so, how can you miss such a delightful and significant place? If you are planning to be one of the almost 2 million visitors who want to gaze at the paintings annually, you have to be prepared. So, what can you expect when you go to the museum?
The museum has a permanent collection which features the works of Van Gogh. The permanent collection has over 200 paintings and 500 drawings which also boasts of works of art by other artists. Van Gogh's work is organized chronologically into five periods each, representing a different period of his life and work: The Netherlands, Paris, Arles, Saint-Remy, and Auvers-sur-Oise.
Van Gogh Museum Rooms and Floors
The museum consists of two buildings: The Main Building and the Exhibition Wing. The glass Entrance Hall connects the two buildings. The Main Building houses the museum's permanent collection, which displays Van Gogh's works, as well as his contemporaries. The Exhibition Wing hosts temporary exhibitions which changes from time to time. The museum is open 365 days a year.
Rietveld Building
This is the main structure of the museum and features the permanent collection. The building has a rectangular floor plan and has four different stories. On the ground floor are a shop, a café, and the introductory part of the art exhibition.
Main Building Level 1 – Van Gogh 1883-1889
Van Gogh's Models
Painter of Peasant Life
Back to Basic
New Perspectives
Modern Art in Paris
Artist Friends
Artistic Flourishing
Dreaming of Japan
Main Building Level 2 – Van Gogh Up Close
A Life in Letters
Family Treasures
Family
Artistic Exchange
Friends
Friends in Pont-Aven
Van Gogh at Work
Van Gogh – Draughtsman
Main Building Level 3 – Van Gogh 1889-1890
Painting Against All Odds
Impassioned Nature
Van Gogh Inspires
Kurokawa Wing
The Kurokawa Wing is used for major temporary exhibitions. The building has an oval floor and is three stories high. The entrance to the Kurokawa Wing is via an underground tunnel from the Rietveld building.
Exhibition Wing 1
Sampo Japan Nipponkoa Gallery
Exhibition Wing 0
Exhibition Wing -1
How to Get to the Van Gogh Museum
The Van Gogh Musuem is easily accessible by public transportation and it is the most budget-friendly way to get there.
Traveling by public transport
From Central Station, take tram 2 (towards NieuwSloten) or 5 (towards Amstelveen Binnenhof) to the Van Baerlestraat stop
From Station Amsterdam Zuid/WTC, take tram 5 (towards Central Station) to the Van Baerlestraat stop
Take tram 3 or 12 to the Van Baerlestraat stop or bus 145, 172 to the Museumplein stop
The Best Times to Visit the Van Gogh Museum
Van Gogh Museum is one of the most popular museums in Amsterdam and in the world. Visitors can expect long queues during high season which is from April to May, and July to August. However, you will be able to avoid the line all year round is your book skip-the-line tickets online.
Weekends are the busiest days and the waiting time can take at least an hour. If you would like to avoid crowds, you can go during weekday mornings or after 3:00 pm. Pick a sunny day for your visit because waiting lines to museums tend to be longer when it is raining.
Try to avoid the following dates because they attract more tourists:
August
New Year period
Queen's Day & Liberation Day week (last week of April to first week of May)
Plan your Visit to the Van Gogh Museum
If you will be traveling to Amsterdam anytime soon, it is important that you plan your trip. Aside from checking fun things to do in Amsterdam and Amsterdam walking tours, you also need to prepare for your visit to the Van Gogh Museum.
Buy tickets ahead of time
We mean more than just buying regular tickets ahead of time. It makes more sense to purchase skip-the-line tickets so that you can make the most of your visit and not have to wait hours to get inside.
Explore the museum with guided tours
People often ask if it is worth it to pay for guided tours and we say yes! With guided tours you get an in-depth understanding of the museum, the works of art inside its walls, and the artist himself. Informative guides can make your visit a more pleasant and educational one.
Leave your big bags in lockers
In case you are going to the museum before checking in to your hotel or after you check out from your hotel, you can leave the bags either at the lockers. This is because large bags are not allowed inside the museum. There is also a free coat check and a mandatory backpack and umbrella check-in policy. Anything bigger than a handbag has to be checked in.
How Get the Most of the Van Gogh Museum
Deciding to visit the Van Gogh Museum also means deciding to spend your money. Fortunately, this does not mean that all you can do is hope for the best. There are a few things you can do to ensure that you get the most of your visit to the Van Gogh Museum.
Book your tickets online
We cannot stress enough how important it is to book your tickets online because doing so will save you time, unless you fancy standing on line for at least an hour. You cannot just turn up to any attraction, buy a ticket and walk in. There will always be a crowd.
Avoid peak days and times
It goes without saying that if you want to make the most of your visit to the museum, you have to avoid peak days and times. No matter when you go, the museum is going to be busy. However, it goes without saying that peak times such as weekends result to longer lines and longer waiting time.
Be patient
Unless you are a very lucky person, the museum is always going to be busy, so you need a lot of patience if you want to get in. You also need a lot of patience once you are walking through the museum, so you do not miss any work of art. You often have to wait for other visitors to move out of the way before you can see works of art up close, especially for more popular paintings such as Sunflowers.
Be prepared
Be prepared for Amsterdam's inclement weather. The museum is deceptively big, and it is built upwards, like most Dutch buildings. There are lots of stairs and you will be on your feet for most of the time so wear comfortable shoes and clothes. Pay special attention to spots where it is allowed to take photos and spots where it is not allowed to take photos.
Is the Van Gogh Museum Accessible?
The Van Gogh Museum boasts of excellent accessibility for people who rely on walking aids or wheelchairs. Visually impaired visitors also get to enjoy informative texts accompanying exhibits into a booklet printed using large fonts.
You've Visited the Van Gogh Museum, What Now?
After visiting one of the most important museums in the world, the Van Gogh Museum, what do you do next? Amsterdam has plenty of other tourist attractions to offer and of course, since you are already in the city, it is only right that you visit them, as well. Hopefully the museum visit will also give you a brand new appreciation of the arts.
Ticket Prices for the Van Gogh Museum
Tickets are only available online and there is only a limited number of tickets for each time-slot.
Adults - €19
0 to 18 years old – Free
I Amsterdam City Card – Free
Opening Times of the Van Gogh Museum
The Van Gogh Museum in Amsterdam is open daily:
9:00 am to 5:00 pm (10:00 pm on Fridays)
High season (usually Easter to early November) closing time is at 6:00 pm (10:00 pm on Fridays)
9:00 am to 7:00 pm Summer holidays (mid-July to early September) closing time at 9:00 pm on Saturday and 10:00 pm on Friday
Things to Do Around the Van Gogh Museum
Amsterdam is a lively and happening place. There are fun things to do in Amsterdam and if you are in possession of the I Amsterdam Card, there are plenty of opportunities for you. Aside from the Van Gogh Museum, there are other places worth visiting such as the following:
A writer's home and a biographical museum dedicated to Jewish wartime diarist, Anne Frank, the building is located in central Amsterdam. Visitors to the museum get to experience her story through videos, quotes, photos, and original items displayed.
An iconic museum that has been through 10 years of rebuilding, refurbishing and renovating, the Rijksmuseum first opened its doors to the public on the 13th of April 2013. It has a world-famous collection presented in 80 galleries with 8,000 objects that show Dutch history and art through 800 years.
A concert hall in Amsterdam, Netherlands, the Royal Concertgebouw was designed by Adolf Leonard van Gendt, who was inspired by the Gewandhaus in Leipzig. Construction began in 1883 and the hall opened in 1888.
An urban park with a space of 47 hectares, Vondelpark is the largest city park in Amsterdam. It welcomes more than 10 million visitors annually and its where people go to walk their dogs, jog, listen to music, people-watch, roller-skate, and just relax.
Micropia is a museum in Amsterdam which aims to distribute information about microbes. Opened in 2014, it claims to the first of its kind.
Amsterdam is a place that is worth at least one visit. The city welcomes 18 million visitors annually because there are many things to see and discover. Take advantage of the Amsterdam hop-on hop-off bus and check the best Amsterdam boat tours to make your visit more enjoyable.
The Rubik's Cube seems to be an impossible puzzle but it's easy to solve it using algorithms.