Cheap Mozart & Strauss Concert in Kursalon Vienna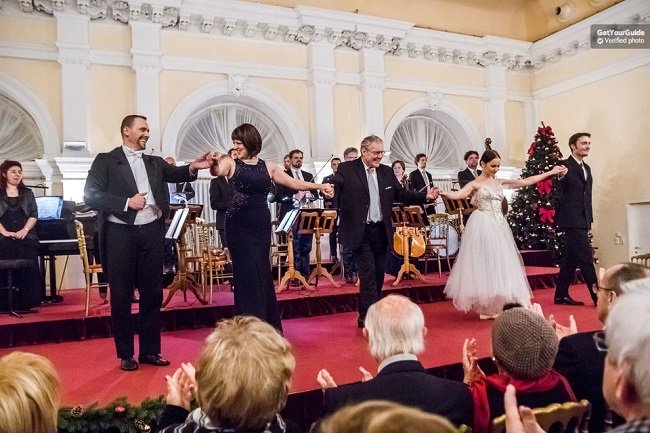 Opening Times of Mozart & Strauss Concert in Kursalon Vienna

| Duration | REVIEWS |
| --- | --- |
| 90 minutes. | (639 reviews) |
| Opening Times | Best Times |
| --- | --- |
| Runs daily from 20:15 – 22:00 (includes an intermission). | The concert is busiest on weekends and booking mid-week helps avoid the crowds. |
Mozart & Strauss Concert in Kursalon Vienna Discount Prices
We are comparing Mozart & Strauss Concert in Kursalon Vienna Prices from leading ticket suppliers and Try to find you Cheap tickets prices on the market.
Compare Tickets Price with Tripindicator
From
45.40€

N/A
N/A
N/A

Highlights of Mozart & Strauss Concert in Kursalon Vienna
The Salonorchester Alt Wien (the orchestra of Old Vienna) is made up of talented musicians, opera-singers and soloists.
The orchestra has been delighting its audiences, for over 15 years, with the most beautiful melodies.
The concerts unique programme of compositions feature pieces by Austrian composers Johann Strauus and Wolfgang Amadeus.
Strauus was a world-renowned Austrian composer of light music and is particularly famous for his waltzes, polkas and quadrilles.
Similarly, Mozart is considered one of the greatest composers to ever have lived and created over 24 operas during his life time.
Expect to be charmed all evening long by the class of VIenna and the talented musicians, opera singers and ballet dancers.
The concert is performed in the historical Kursalon building that features three grand halls; Lehar Hall, Strauss Hall and Schubert Hall, each as impressive as the last.
Your evening will be spent in the Strauss Hall, which has space for 700 guests and features elegant chandeliers, a beautiful inner balcony and grand doors that lead out the terrace.
Is It Suitable for Me?
Culture vultures and music lovers alike will delight at this evening Mozart performance.
Not advised for small children as they may become restless.
Your Experience With Mozart & Strauss Concert in Kursalon Vienna?
Dress up to the nine's and spend the evening at a classical concert.
Enjoy a 90 minute classical concert performed at the famous Kursalon Concert Hall located in Stadtpark, Vienna.
Take your seats and enjoy one of the best classical performances in the city as the Salonorchester Alt Wien (the orchestra of Old Vienna) take to the stage.
Spend the evening listening to famous waltzes, polkas and duets all from the works of Mozart and Strauss.
Emerse yourself in the Vienna's charm and class in the very hall where Stauss once directed his orchestra.
What Mozart & Strauss Concert in Kursalon Vienna Includes?
Concert ticket.
Transportation, drinks and snacks aren't included.
Cloakroom use is an optional extra (€1).
TIPS
Arrive 30 minutes early to ensure you have time to head to the bar, purchase snacks and find your seat before the concert begins.
Travelers Reviews about Mozart & Strauss Concert in Kursalon Vienna?
The Mozart and Stauss concert at the Kursalon is rated 4 stars on Tripadvisor with many customers saying the concert hall boasted an excellent setting, the evening provides a glamorous night out and the acoustics were impressive.
Disabled Access
The Kursalon Vienna Concert Hall is accessible for wheelchair users but please advise your tour provider in advance.
Ticket Details
Both printed and mobile vouchers are accepted.
Bookings made through Get Your Guide may be cancelled up to 24 hours in advance for a full refund.
Things to Consider Before You Go
There's a formal dress code so make sure you pack your formal wear!
Address / Pick up Location
The Kursalon, 33 Johannesgasse, Vienna, 1010.
Youtube videos of Mozart & Strauss Concert in Kursalon Vienna
Compare Car Hire Prices from Avis | Hert | Sixt | Europcar | Budget | Enterprise...
Car Hire