Pisa Local Food and Drinks
Numeroundici
When all of the emphasis is on the food, it has to be good and that's exactly the case here. No fancy tables, no chairs, not even any waiters. Don't expect luxury, you'll be clearing and setting the table before joining the locals on long benches whilst eating arguably the best food in Pisa. Chefs are the only employees, which keeps costs down and gives you a quirky experience. But worry not, you will be rewarded for your efforts with the amazing food.
Must Try Dishes: The menu is updated regularly, but you cannot go wrong with freshly made pasta or the fish of the day, caught, cooked and served to you on the same day.
Contact Details
| Phone | Address |
| --- | --- |
| +39 050 272 82 | Via San Martino 47, Pisa |
Opening Times
Price
Opening Timing
5-15?


Monday-Friday 12:00-23:00
Saturdays 19:00-23:00
Sundays and public holidays closed



Pizzeria Il Montino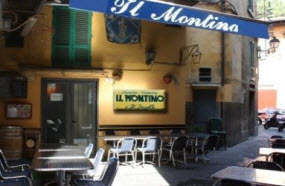 A favourite with locals, Montinowas Pisa's first pizzeria, all the way back in 800 AD! Today, the Montinio serves some of Pisa's best pizzas and focaccias, to either eat in the restaurant or take away and enjoy in a park.
Must Try Dishes: If you're looking for something other than pizza try Cecina, an appetizer (which they also call ceci) which is essentially a chickpea pancake – a must have whilst in Pisa!
Contact Details
| Phone | Address |
| --- | --- |
| +39 050 598 695 | Via Monte 1, Pisa |
Opening Times
Price
Opening Timing
1-8?


10:30-15:00 Monday-Saturday
17:30-22:30 Mondy-Saturday
Closed Sunday



Ristorante Il Campano
A reasonably inexpensive restaurant in the heart of Pisa, free from tourists! The unassuming facade leads most to walk straight past the restaurant. Inside you will be treated to wallsfull with photos showing Pisa before the war and you will have a great opportunity to brush up on your Italian as it's mostly locals that eat here.
Must Try Dishes: A classic Italian dish, recreated all over the world, Bruschetta, is the perfect starter to your meal and contains a surprising mix of croutons!
Contact Details
| Phone | Address |
| --- | --- |
| +39 050 580 585 | Via Domenico Cavalca 19, Pisa |
Opening Times
Price
Opening Timing
3-23?


12:30-15:00 Thursday-Tuesday
7L30-10:45 Thursday-Tuesday
Closed Wednesday



Caffe Pasticceria Dolce Pisa
In Pisa it's pretty rare to find a café so close to the Leaning Tower that is filled with locals, rather than tourists! The crisp rustic interior of Dolce Pisa provides the perfect haven for some coffee and cake after a busy day to unwind and recharge. Take home some perfectly wrapped hampers for your loved ones to share the amazing food Pisa has to offer!
Must Try Drinks: With such incredible cakes and pastries, it would be a crime to only get a coffee. Depending on what time of the year you go, there may be seasonal products, such as Santa cookies or religious figures on cupcakes.
Contact Details
| Phone | Address |
| --- | --- |
| +39 050 563 181 | Via Santa Maria 83, Pisa |
Opening Times
| Price | Opening Timing |
| --- | --- |
| 1-4? | 7:20-20:00 Daily |
Orzo Bruno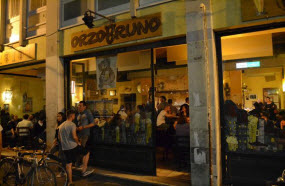 A local brewery popularly frequented by locals. Pisa and Italy may not be known for craft beers, but as you will learn here, they should be! Ask for seasonal recommendations while you're there and enjoy the free snacks!
Must Try Drinks: Try something different and get the Montemagno, a honey beer which absorbs the aroma of the honey but does not become overly sweet, as Orzo Bruno says, it is a "complex and balanced" beer which is definitely worth trying.
Contact Details
| Phone | Address |
| --- | --- |
| +39 050 578 802 | Via Case Dipinte 6/8, Pisa |
Opening Times
Price
Opening Timing
2.60-10?


Sunday-Thursday 19:00-01:00
Friday, Saturday 19:00-02:00



Filter Coffee Lab
To reenergize the Filter Coffee Lab is the perfect place! Not only do they serve incredible coffee tea and cold drinks but also some tasty pastries, desserts and brunches to eat in or take with you.
Must Try Drinks: The café prides themselves on their macchiato's, an espresso with a little bit of milk.
Contact Details
| Phone | Address |
| --- | --- |
| 339 723 18 71 / | Via Santa Maria 47, Pisa |
Opening Times
Price
Opening Timing
1-4?


07:30-18:00 Monday-Friday
Closed Saturday
8:30-18:00 Sunday