1. Frankfurt Attraction Card
(4 Reviews)
The Frankfurt Card offers the best experience to tourists who wish to see the beauty of one of Germany's most adorable cities and its financial hub. Explore Frankfurt and see the headquarters of the European Central Bank and many other top attractions. With the 1or 2-day Frankfurt Card, tourists enjoy free public transportation to and from Frankfurt airport, discounts and special offers at restaurants, attractions, tours, museums and many more. Tourists can choose between a single person card (individual card) or the group card which gives a group of 2-5 persons' access to all the benefits that come with the Frankfurt Card. See sights and attractions such as the Titus Thermen pools, Palmengarten (Botanical Gardens) and explore the city onboard the Main River cruises while saving money and enjoying your time.
Key points of Frankfurt Card
Complimentary sightseeing tours included
Frankfurt Card Discounts
Frankfurt Card Get Your Guide ratings and reviews
How much is The Frankfurt Card?
Frankfurt Card Attractions
Frankfurt Card Verdict
Is the Frankfurt Card right for me?
Where to buy Frankfurt Card tickets?
Compare Tickets Price for Frankfurt Card
We are comparing the Frankfurt City Passes Prices from leading online Tours and Ticket suppliers.
2. RheinMain Card
Discover the amazingness of the regions around Frankfurt and its diversity with the RheinMain Card. This card offers discounts at cultural establishments and over 40 recreational sights, and attractions. Tourists get to enjoy unlimited access to RheinMain Transport Association (RMV) all through the areas it operates in. Visit museums, take a guided tour of the Opel factory or relax in the sauna to ease off with your 2-day RheinMain Card. The Rhein-Main Card can be bought as an individual ticket (single) or a group ticket (for up to 5 persons) regardless of age.
Key Points of RheinMain Card
Complimentary Sightseeing Tours Included
RheinMain Card Discounts
How Much is a 1/2/3 Day RheinMain Card?
RheinMain Card Attractions
RheinMain Card Verdict
Is The Rhein-Main Card Right for Me?
Where to Buy RheinMain Card Tickets?
Compare Tickets Price for Rhein Main Card
We are comparing the Rhein Main Card Prices from leading online Tours and Ticket suppliers.
The ESN Card-Frankfurt
1. Benefits: The ESN Card gives you a reduced entrance fee on various over-the-top parties (Docrock party-Entrance fee 4€ (instead of 6€) and access to the VIP Lounge;We are together-50% discount on entrance), along with a 30% discount on Grill Hause, a famous restaurant in Frankfurt.
2. Cost and validity of card: The ESN card can be bought for 5 euros, if you are an international student. It is valid for a total of twelve months, giving you plenty of time to decide and look around.
3. Special features: Not only restaurants and parties, the ESN card gives you a discount on trips, bars and even the hairdresser! The special discounts are applicable to the following:
Circus (Bleichtsraße 46)-Get beer for 2,50 € instead of 3,50 € and 50% discount on all music events
Hit Happens Party at Zoom Club (Brönnerstraße 5)-Entrance fee 3 € all night
HAIRDRESSER-unVerschäMtFriseure (Am Fischstein 47)
Haircut for Men 10 € instead of 15 € &Haircut for Women 15 € instead of 20 €
To check out details of the ESN and methods of purchasing, go to the following link:
FRANKFURT BLUE BUSES CARD
1. Benefits: An ultimate chance to explore Frankfurt city with hop on and hop off blue busses tickets. These buses have specific 14 stops and runs after every 30 minutes from the start point. It covers am any historical and amazing spots around the Frankfurt city. One can stop over at their stops and enjoy the places nearby till they intend to catch the next blue bus. It's a complete package for tourists covering from the former coronation city of German Emperors, the modern European Banking Center, famous old city hall, the Cathedral, and St. Paul's Church, the Old Opera and the banking quarter with its skyscrapers, the old Hauptwache and shopping center Zeil, the big towers of the former city wall to the museum banks and many more. Those who love exploring new places will economically enjoy the whole city for whole day long validity.
2. Transportation applicable: Blue double Decker cabriole buses only
3. Price & Validity: Available throughout the year -Price per adult $21.29 and Price per child $11.36. It is valid for one day only.
4. Online purchase: It can be purchased online.
Museumsufer Ticket - Attraction Discount Pass
1. Benefits: Tourists can explore more than 34 different museums around Frankfurt at discounted rates using this card created especially for museum sightseeing. The Museumsufer ticket can also be used for all exhibitions taking place in the city.
2. Attractions valid: The Museumsufer ticket is valid for museums including Altana Kulturstiftung in Sinclair-Haus, Deutsches Filmmusuem, Porzellan Musuem, Kindermuseum, Frankfurter Goethe-Haus, Museum Giersch, Weltkulturen Museum, Archeological Museum Frankfurt, Caricatura Museum Frankfurt, Stadel Museum, Ikonen Museum and Frankfurter Kunstverein among many others.
3. Price and validity: The individual ticket is available for 18 Euros, the family ticket (2 persons) plus kids under 18 years of age can be purchased for 28 Euros. A special concessionary ticket is available for 10 Euros. Discounts on the card can be availed for children 6-18 years of age, students, unemployed individuals, people involved in social services and disabled individuals. The validity is 24-48 hours as per the requirements of the tourist.
4. Benefits of purchasing online: The ticket can be booked online to avoid delays and time wastage.
RMV-WOCHENKARTE - Travel Discount Card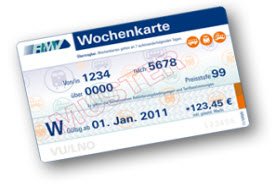 1. Benefits: The RMV-Wochenkarte e-ticket can help you save money as you start using it. With RMV card you can travel as much as you can on low prices and you can accompany one person free in evening and on weekends. It can be transferable too what more could one ask for? It is so economical that you can't resist without buying it and enjoying for whole one week. Using this card you can travel first class level travelling around the city Frankfurt. You may also be given chance to travel for free after 19.00 hr accompanied or either with all your children (aged 6-14years) on any day.
2. Transportation applicable: For all RMV modes of transportation like train, tram, bus, underground and S-Bahn services.
3. Price & Validity: Prices are available on site upon mentioning areas to travel. It is valid for a week until close of operations.
4. Online purchase: Available upon mentioning destinations to be covered.