Athens Hop On Hop Off Bus Tour Map
Which Athens Hop on Hop off is Best for You?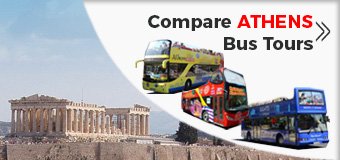 3. Athens Hop-On Hop-Off Red Bus with Piraeus and Beach Rivera
4. City Sightseeing Bus Piraeus and Athens
7. Athens Tourist Bus - Hop On Hop Off 48 Hs
8. Athens Shore Excursion: Athens and Piraeus Hop-On Hop-Off Bus Tour
If you are a big fan of rich history and culture then you just might have a rethink and add Athens at the top of your Itinerary. Athens is Greece's capital and the soul of ancient Greece. Athens, being one of the world's oldest city makes it a top tourist site which makes navigation quite difficult especially for new comers.
During your tour to Athens, one of the first things you should lay your hands on is the Athens tourist map so as to easily locate top attraction sites and also avoid getting lost in this ancient city.
We advise you make use the Athens hop on hop off bus tours during your stay so as to cut down on cost and also visit more attraction spots in your own time such as the Acropolis museum, National gardens, or you can take a walk to Hike Mount Lycabettus –if you are taking a walk, then a walking tour map will do you so much good.
At very little cost, you can join the bus tours to explore some of the free fun spots in Athens. The buses go through different routes and has several stops to ensure you can always hop in whenever you want.
Make sure to visit some of the iconic and ancient spots like the temple of Zeus, Temple of Poseidon, the beautifully lit Mars hill at night, or the Agora Athens central market. Whatever place you visit in this city, you can be sure to have maximum fun.
The double decker buses provided for transportation are very comfortable and allows you see the city in style also giving you the freedom to jump off at your desired spot and go shopping at the Monastiraki flea market.
Do ensure you never get over engrossed and forget your Athens tourist map as it is the surest means of finding your preferred attraction spot and also your guarantee against getting missing.
The two major Hop on Hop off bus tours providers in Barcelona are
Athens City Sightseeing Bus Tour
Athens Open Bus Yellow Tours
Sights of Athens Blue Bus Tours
See below free and downloadable hop on hop off Athens maps