Budapest Gala Concert + Dinner & Cruise Deals
Tripindicator.com is comparing Budapest Gala Concert + Dinner & Cruise prices from leading ticket suppliers, Try to find you the Cheap tickets prices.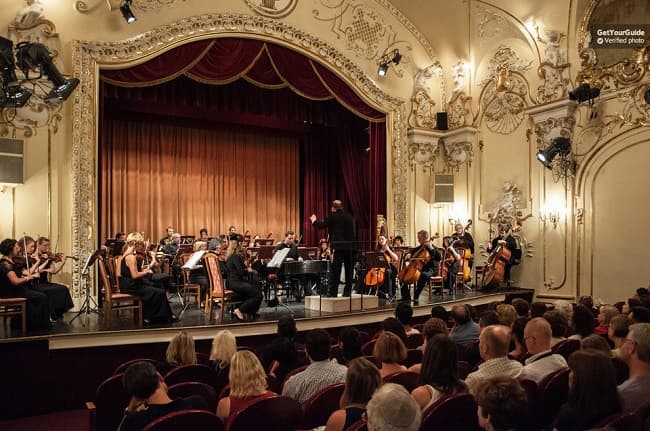 Opening Times of Budapest Gala Concert + Dinner & Cruise

| Duration | REVIEWS |
| --- | --- |
| 3 hours. | (27 reviews) |
| Opening Times | Best Times |
| --- | --- |
| Concert time: 20:00. Cruise time: 22:00. | The cruise runs year round though may be effected by bad weather in the winter. |
Highlights of Budapest Gala Concert + Dinner & Cruise
Three hours of evening entertainment including a Gala Concert, Danube Cruise and dinner.
The Danube Palace houses theatre performances, musicals and opera concerts all year round and the Gala concert offers an insight into Hungarian music.
The concert is performed by members of the Danube Symphonic Orchestra and the Ballet Ensemble of Budapest Operetta Theatre.
Expect to here traditional Gypsy music, classical opera and Hungarian folk music.
The cruise offers an evening to remember, sailing down the famous Danube River.
The Banks of the River Danube are actually listed as a UNESCO World Heritage site and are packed with historical sites, monuments and buildings.
Is It Suitable for Me?
Ideal for fans of classical music.
Perfect for romantic couples.
Great for culture seekers.
Your Experience With Budapest Gala Concert + Dinner & Cruise?
Spend the evening at the Danube Palace listening to classical music at one of the cities most popular concerts.
Experience Hungarian entertainment for 1 hour 45 minutes.
Head to the bar during the intermission for refreshments.
After, you'll be escorted to the cruise ship which you'll climb aboard and head down the Danube River.
Enjoy a welcome drink of your choice before being seated for dinner.
After you've finished dining on Hungarian delights, cooked by Chef Molnarka Peter, head up to the top deck to feel the fresh night air.
Take in the panoramic views of the city at night.
What Budapest Gala Concert + Dinner & Cruise Includes?
Gala concert ticket.
Danube Cruise ticket.
Dinner on the boat.
Routes/Attractions
Danube Cruise:
National Parliament.
Buda Castle.
Danube River.
Varket Bazar.
Market Bridge.
Rakoczi Bridge.
Viagod Concert Hall.
TIPS
Don't forget your camera to snap some pictures on the cruise!
Travelers Reviews about Budapest Gala Concert + Dinner & Cruise?
The Budapest Gala Concert + Dinner & Cruise has recieved 30 reviews and a 4.5 star rating on Get Your Guide.
Disabled Access
This tour is accessible for wheelchair users.
Ticket Details
Printed or mobile voucher accepted.
Tickets booked through Get Your Guide and Tiqets can be cancelled for a full refund 24 hours in advance.
Things to Consider Before You Go
Please arrive at the Danube Palace at least 20 minues before the concert start time.
Address / Pick up Location
Danube Palace, Zrinyi u. 5, 1051, Budapest.