Ultimate Guide to Casa Batllo Barcelona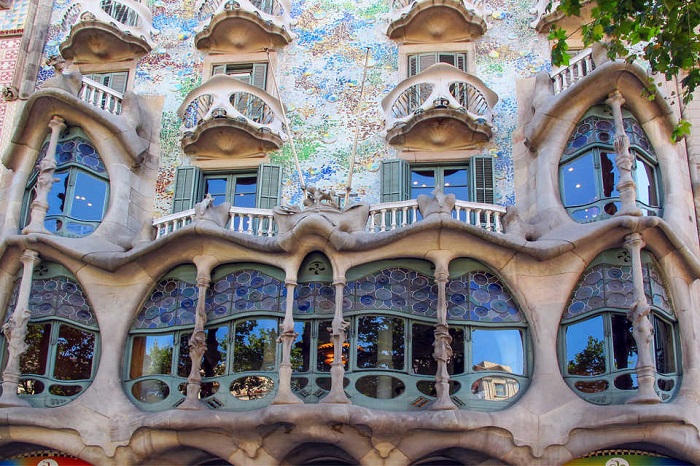 One of Gaudi's masterpieces, Casa Batlló is a building located in central Barcelona. Casa Batlló was completed in 1904 and is considered one of the city's best examples of Catalan modernism.
Casa Batlló is a rated the 4th best attraction in Barcelona, according to Trip Advisor. You can take a short tour of Casa Batlló on any day of the year, at a time of your choosing between 9am and 9pm. Visits are flexible and self-led so you can explore this incredible house at your own pace. Suitable for all kinds of travellers, Casa Batlló is a particularly good choice for those short on time. The area around Casa Batlló is alive with cafés, shops and restaurants to keep you busy after your visit. There are many tour operators offering visits to Casa Batlló that could save you money and time. We've listed our favourite below.
Quick Jump links to Casa Batllo Barcelona
Best Casa Batllo Tickets & Tours
Tour

Highlights of the tour

Price

1. Casa Batllo Entrance Ticket with Smart Guide

See inside the magical Casa Batllo, one of Gaudi's colourful 19th century modernist style houses.
Enjoy an interactive experience with a 45 minute virtual reality smart guide available in Spanish, Catalan, Chinese, English, French, German, Italian, Japanese, Korean, Portuguese, or Russian.
Learn about the Modernisme' art movement, about Gaudi himself, and discover the secrets of Casa Batllo.
Access to 5 areas including rooftop access to see the famous slain dragon.
See works by other Modernisme artists too.
Make use of the mobile tickets to speed up entry.

2. Casa Batllo: Fast-Track Early Bird Entry

Access the magical modernist Casa Batllo at 8.30am, prior to regular entry.
Avoid the queues and hoards of other tourists making the most of these quiet photo opportunities.
See Casa Batllo come to life before your eyes with a 45 minute interactive virtual reality smart guide.
Access 5 areas of the house at your own pace including rooftop access to see the slain dragon.
Learn about the Modernisme' art movement, about Gaudi's creativity, and bourgeoisie life.
Also see works by other Modernisme artists.

3. Casa Batllo Gold ticket (VIP access)

Get fast-track entry into Gaudi's magical Casa Batllo.
Explore the eccentric 20th century house with a 45 minute interactive virtual reality smart guide.
Get special access to the private drawing room which is modeled on an early 20th-century dining hall where you can relax for a while,soaking up the architecture or taking a look through a vintage newspaper.
Access the rooftop area with the famous slain dragon.
Dress up in a vintage costume and take home a souvenir photo free of charge.
Get fast-track access in the gift shop.

4. Casa Batllo Theatrical Visit

Enjoy a guided tour of Gaudi's colourful Casa Batllo by a costumed guide.
Actors playing Gaudí or Mrs Ramoneta (the family's maid) will guide you around the house on a fun and educational tour.
Learn details about Gaudi's life, the modernist movement, the construction of the building, and life in the early 20th century.
Enjoy free time after the tour to explore the house at your own pace, taking any photos you missed.
Get free WI-FI access throughout the house.
Fast-track entry is included in the ticket price.

5. Casa Batllo Magic Nights

Visit Casa Batllo, one of Gaudi's modernist masterpiece houses at night.
Enter the house and enjoy a 45 minute long interactive virtual reality smart guide tour.
Finish the evening with an hour long open-air concert on the roof terrace listening to either Pop, rock, jazz, blues, or flamenco.
Marvel at the city views at sunset and once the sun has set and the city lights have all turned on.
Sip on a free drink and let the music wash over you.
Make use of the free wifi, making your friends jealous as you live stream the concert and share photos of the house.

6. Casa Batllo & Casa Mila Exterior Only Guided Tour

Admire Gaudi's most eccentric colourful and curvy houses from the outside on a 1.5 hour guided tour.
A knowledgeable guide will tell you about the fascinating life and career of Gaudi so that you can understand his background and the meanings behind the buildings.
Learn how Gaudi was inspired by nature when desiging Casa Mila.
Admire the mosaic made of broken ceramic tiles at Casa Batllo
Small group sizes (maximum 10 people) ensure a personal and friendly experience.
Tours offered several times per week in a range of languages (Spanish, English, French, German, Italian).

7. Casa Batllo and Sagrada Familia

See 2 of Gaudi's modernist masterpieces on a 3.5 hour guided tour.
Go inside Casa Batllo and enjoy a guided tour showing you the legendary staircase and rooftop terrace with the chimneys depicting a slain dragon plus much more.
Take a guided tour around the Sagrada Familia with free time at the end to explore more at your own pace and/or visit the museum.
Discover hidden details that you'd miss without a guide and learn about the technical innovations that made Gaudi so revered.
Get transported between Casa Batllo and the Sagrada Familia passing other Modernista buildings on the way.
Skip the line entry for both venues is included in the price.

8. Skip-the-Line Casa Batllo & Casa Mila La Pedrer

Discover the most important (and crazily stunning) houses designed by Gaudí; Casa Batllo and Casa Mila (La Pedrera).
Learn all about the life and works of Gaudí from aknowledgeable and passionate guide.
Spend 1.5 hours exploring Casa Mila (La Pedrera) which includes access to the Gaudí exhibition, and the roof terrace.
Spend 1.5 hours at the crazy and colourful Casa Batllo with 5 areas to explore including the slain dragon on the roof.
Walk along the beautiful avenue of Passeig de Gracia between houses and see other modernist architecture along the way.
The radio guide system ensures you don't miss a word that your guide says whilst out on the beautiful yet bustling city streets.

9. Master Gaudi – 4 locations in 1 day

See the best of Gaudi's works in 1 day with a guided tour to Casa Batllo, Casa Milà, Sagrada Família and Park Güell.
Admire Casa Batllo from the outside before taking a guided tour inside in which you'll visit 5 areas including the iconic staircase and slain dragon chimney pots on the roof.
Take a guided tour through Casa Mila (La Pedrera) to see the restored 20th century apartment and iconic roof terrace with chimney pots shaped like chess pieces.
Get a guided tour of Sagrada Família and learn all about the design and building of Gaudi's most ambitious project.
After Sagradia Famillia a private coach will whisk you to Park Güell where you can marvel at the magical mosaics within Gaudi's own playground.
Skip-the-line tickets for each venue ensure no time is lost queuing at the ticket office.

10. Gaudi Bike Tour

See the highlights of Gaudi's Modernist architecture on an electric bike tour with guide.
Stop outside the Casa Batllo, Casa Mila (La Pedrera) Sagrada Familia and other lesser known 19th century buildings with time to take photos as your guide explains what you're seeing.
Ride through the beautiful Parc de la Ciutadella.
Peddle down the streets taking in the sights of the Born district, Gracia quarter, and along Passeig de Sant Joan.
Learn the history of the buildings you are seeing and how Barcelona's buildings compare to those of other European cities from your guide.
Electric bikes along with bike lanes make for an easy and safe journey.
Why Visit Casa Batllo Barcelona?
Casa Batllo was opened to the public in 1995 and has become one of the most visited attractions in Barcelona. Around 1 million people visit Casa Batllo each year to marvel at one of Barcelona's most stunning UNESCO World Heritage sites. To many, Casa Batllo is Gaudi's most imaginative work. Its fairytale inspiration lends the whole building an air of magic and mystery. A visit to Casa Batllo involves not only a tour of the building but a museum where you will learn about Gaudi and the history of Casa Batllo. You will also be given a smartphone guide that adds an audiovisual element to your visit. Finally, Casa Batllo has a gift shop, voted one of the best stores in the world by Travel + Leisure magazine and is surrounded by delightful cafes and designer boutiques
Anything created by human beings is already in the great book of nature.
-Antoni Gaudi
Casa Batllo Architecture
The building that became Casa Batllo was built in 1877. Gaudi began his stunning renovation in 1904 and work was completed in 1906.
The local name for Casa Batllo is Casa deis ossos, "House of Bones". The façade of the building is covered with broken ceramic tiles that create a colourful mosaic. Casa Batllo's most defining features is its curved roof that resembles a dragon's back.
As Gaudi once remarked, there are no straight lines in nature and as a result there are no straight lines on Casa Batllo. Stone pillars seem to twist and curve like bones and the undulating balconies seem to rise and crash like waves. Inside, the natural theme continues with every feature calling to mind some element of the natural world like caves, forests and plants.
Materials used to build Casa Batllo include stone, metal wood and ceramics.
The Casa Batllo Barcelona Experience
Expect your visit to Casa Batllo to be busy with other tourists. Casa Batllo is one of the most visited tourist attractions in Barcelona.
We advise you book your tickets ahead of time. With your tickets in hand you won't have to queue in the long lines at the ticket office. You don't need to print tickets bought online providing you can show an eticket.
Casa Batllo is open from 9am to 9pm. You don't need to set a specific time or date in advance with your tickets so you can keep your sightseeing flexible.
Touring Casa Batllo you get to see one of Gaudi's most beautiful works from inside and out. The building has a museum in which you can learn the story of Gaudi, his style and life in Casa Batllo in days gone by.
On arrival you'll be handed an audio visual guide in the form of a smartphone. You can point the smartphone at different places inside the building to reveal short animations about the history of the house. The tiled courtyard is a highlight. The guide is included in the price of your ticket. Guides are available in English, Spanish, Catalan, French, German, Italian, Portuguese, Russian, Chinese, and Japanese)
Casa Batllo is one of the most beautiful sights in the city of Barcelona and worth spending at least an hour exploring.
Is Casa Batllo Right for Me?
Casa Batllo is the perfect destination for anyone spending time in Barcelona with an interest in history, art or architecture. As it only takes an hour or so to see Casa Batllo in its entirety and the building is located in Central Barcelona you can easily fit it into your day. If you're in Barcelona on a weekend break or a longer stay, Casa Batllo is a good choice. Some travellers have noted that the cost of entry is a little high. If you're on a tight budget, you might consider visiting the building from the outside only.
How to Get to Casa Battlo Barcelona
Casa Battlo's address is as follows
Casa Batllo, Passeig de Gracia, 43, 08007 Barcelona, Espana
Metro
The easiest way to get to Casa Battlo is to take the metro. Take the Green Line, L3, to Passeig de Gracia metro stop. Exit the station at the Calle Arago-Rambla Catalunya. From here, Casa Battlo is only a 30 second walk!
Bus
It's also possible to take public buses to Casa Battlo.
To the Passeig de Gracia / Arago stops, take the 7, 22, 24, V15
To the Valencia / Passeig de Gracia stops, take the 20 or H10
Parking
Casa Battlo is located on one of Barcelona's most famous shopping streets. The attraction does not have its own car park but there is parking available in the local area. Barcelona-tourist-guide.com is a great resource for finding parking and they recommend you book a spot ahead of time.
Is a Night Casa Battlo Tour Available?
Yes. Casa Batllo hosts "Magic Nights", open air concerts on the roof terrace of the building. The evening begins at 8pm and includes a smartguide so you can explore the building yourself. The ticket price includes two drinks.
Casa Batllo Tickets Prices
Casa Battlo's has three types of tickets, blue, silver and gold.
Blue – entrance fee is €24.50 and includes a smartguide.
Silver – entrance fee is €30.50 and includes a smartguide and skip the line privileges
Gold – entrance fee is €34.50 and includes a smartguide, skip the line, VIP access, access to a private hall and a vintage photograph for every visitor.
Seniors, Students and Juniors (under 18) can take €3 off the price of each ticket.
Free tickets are available to the following:
Children under the age of 7 and members of the Super 3 Club who display their card at the ticket office. In both cases they must be accompanied by an adult.
Teachers accompanying groups (1 for 20 people).
Tourist guides accompanying groups.
Chaperones for blind people.
Journalists displaying a Barcelona PressCard.
Members of ICOM-ICOMOS.
Below is our pick of the best Casa Batllo tickets and tours on the market.
Which Barcelona City Passes include Casa Batllo?
There are four Barcelona city passes available but only one of them includes free entry to Casa Battlo.
1) Barcelona Card – NO.
However, it does offer discount on Casa Batllo tickets and free public transport for the period the card covers. This pass is good value for money if you intend to visit many tourist sites as it offers FREE entry to 20 major attractions including Barcelona's major museums.
Buy the Barcelona Card and see a list of FREE attractions here.
2) Barcelona City Pass – NO.
Barcelona City Pass covers timed entry to two attractions, Sagrada Familia and Park Guell. It does offer 20% off the cost of Casa Battlo tickets. Barcelona City Pass also includes a free hop-on-hop-off city pass.
Buy the Barcelona City Pass here. (This pass can only be purchased online).
3) Articket Barcelona Museum Pass – NO.
This pass cover's Barcelona's six major art museums.
Buy Articket Barcelona Museum Pass here.
4) Barcelona Pass – YES!
The Barcelona Pass offers free entry to 20 attractions including Casa Battlo and a hop-on-hop-off bus ticket. The pass is valid for 2-3 days and suitable for anyone intending to visit several of Barcelona's main attractions.
Things to do Near Casa Battlo Barcelona

Casa Amatller
Located right next door to Casa Batllo, this building was designed by Josep Puig i Cadafalch. It's free to visit this building which is as attractive as Casa Batllo, in its own less flamboyant way. There is a café inside, Faborit Café with a gorgeous outside terrace and a chocolate shop for gifts.
A Gaudi Walking Tour
A number of agencies, like Barcelona Discover Walks, offer short Gaudi walking tours. During the tour you will explore Gaudi's other famous masterpieces, Casa Mila and the Familia Sagrada, one of the most stunning landmarks in the world.
Plaza de Cataluña
One of Barcelona's most famous sites, the Plaza de Cataluña is a huge open space in the centre of the city. The plaza is the place the 19th century Eixample district and the older part of the city meet.
Shop on Passeig de Gracia
Barcelona's biggest shopping district, Passeig de Gracia is home to high-end designer stores and charming boutiques.