Barcelona Contemporary Art Galleries
There are lots of eclectic museums for art lovers to visit in Barcelona. This colourful and vibrant city is not only famous for its fascinating artwork and architecture but also because of the wide range of artwork in the city centre, particularly in the various museums and art galleries. Besides, the city is where some of the world's most famous artists and designers are from. Indeed, there's a plethora of museums that art lovers can savour while in Barcelona and here are the best amongst them.
1. Museu Picasso
The Picasso Museum features the amazing works of master painter Pablo Picasso. It presents the various creative masterpieces of the artist from when he was living in Barcelona in his youth and attending art school. If you are a big fan of Picasso, then this museum should be on top of your list. This is where you'll find out more about his life as a painter. And if you're interested to know where he got his inspiration from at a young age, take time to visit the Lonja de Mar, the art school where he took up art.
TIPS:To save money, schedule your visit during free of charge times, which is every Thursdays from 6 PM to 9: 30 PM and every first Sunday of every month from 9 AM to 7 PM.
Address:Carrer Montcada, 15-23, 08003 Barcelona
2. Museu Nacional D'Art de Catalunya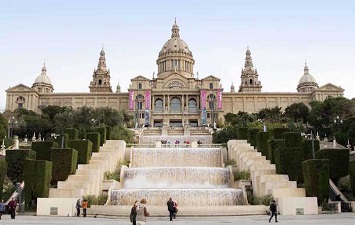 The National art museum of Catalan is home to Catalan's national artwork and was established in 1934. It showcases a wide range of art pieces from the Romanesque to Modern Art. Another great thing about this museum is that it sits in the Montjuic hill, which opens to the scenic views of the Barcelona skyline. As one of the largest museums in the country, you'll find a massive collection of artwork in this museum, including the works of popular Catalan painters and artists like Tiziano and Gaudi.
TIPS:Come as early as possible. Take note that the ticket offices will close 30 min before the museum closes. To avoid hassles, book your ticket in advance.
Address:Palau Nacional, Parc de Montjuïc, s/n, 08038 Barcelona
3. Camp Nou
Camp Nou is the country's most visited sports museum. It's the home stadium of the world renown FC Barcelona team whose players have earned numerous FIFA awards. Exploring the Camp Nou museum will take you right in the middle of the soccer field and the stadium itself that has a seating capacity of 99,354, making it the largest stadium in Spain. You also get to discover a special area dedicated to Leo Messi, one of the most popular players of the FC Barcelona team. A trip to the museum will also take you to learn about the history of the team as well as the stadium, which was built in 1954.
TIPS:Staffs may take your photo in front of a screen while holding a Barca shirt and wearing a football scarf. If you don't fancy this, simply ignore and walk past them.
Address:C. d'Aristides Maillol, 12, 08028 Barcelona
4. Fundació Joan Miró Museum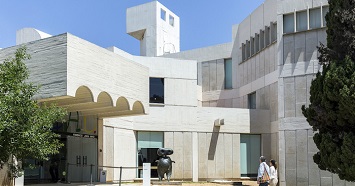 This museum is located at Parc de Montjuic and opens to the stunning view of the city. But aside from the stunning city view, the museum is also home to an impressive collection of artworks by Spanish painter, Joan Miro. Established in 1975, the museum is filled with lots of colourful artwork that speak of primary tones, as seen in most of Miro's paintings. Exploring the museum, you'll also discover several impressive modern sculpture works, as well as carpets and wall hangings.
TIPS:If you want to explore more of Joan Miro's work, check out the Parc de Joan Miro at the hill of Sants district, near the Plaza Espanya.
Address:Parc de Montjuïc, s/n, 08038 Barcelona
5. Gaudi House Museum
If you're a big fan of Antoni Gaudí, one of the greatest Spanish architect and designer, then the Gaudi House Museum is one museum that you shouldn't miss while in Barcelona. In fact, you'll find his artistic influences in almost every corner of the city. From buildings, lampposts, houses, cathedrals, floor tiles, and more, Gaudi's work is everywhere in Barcelona. But if you want to learn more about the artist's life and works, make sure you visit the Gaudi House Museum, a place which he used to call home from 1906 to 1925.
TIPS:It's recommended that you first see the Park Guell's Monumental Zone and the Sagrada Familia before you visit this museum. That way, you'll first see the amazing things that Gaudi was capable of and you will understand the importance of this house turned museum.
Address:Park Güell, Ctra. del Carmel, 23A, 08013 Barcelona
6. European Museum of Modern Art (MACBA)
Anyone who has an interest in the culture and the arts will surely love visiting the European Museum of Modern Art or MACBA. Featuring more than 5,000 works in its collection, the museum is one of Barcelona's best. The building itself is remarkably impressive, with its vast size and striking colour. There are a number of exhibitions and programmes inside the museum that art lovers can take part in. The vibrant area around the MACBA building provides for a perfect spot for people watching. Lining the building are cosy cafes with outdoor seating, a perfect place to relax after a whole day of exploring the city of Barcelona.
Being home to some of the best artists and designers of all time, it's no wonder why Barcelona is considered an art lovers' paradise. But aside from these museums, there are several other exciting places to check out in the city and booking the Best Barcelona city passes is the best way to get a glimpse of these attractions.
TIPS:The museum's ever-changing exhibitions means you can always go back time and time again if you wanted to see something different.
Address:Plaça dels Àngels, 1, 08001 Barcelona