Edinburgh Underground Vaults Streets Tour Deals
Tripindicator.com is comparing Edinburgh Underground Vaults Streets Tour prices from leading ticket suppliers, Try to find you the Cheap tickets prices.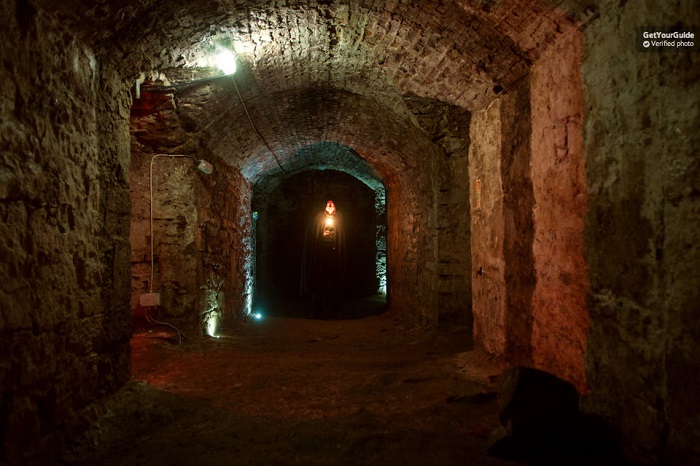 Opening Times of Edinburgh Underground Vaults Streets Tour

| Duration | REVIEWS |
| --- | --- |
| 1 hour | (401 reviews) |
| Opening Times | Best Times |
| --- | --- |
| Tours take place daily at 1pm, 3pm, 5pm or 9.30pm and 10.00pm depending on booking agent. | If you want to get the biggest thrill, take the night tour – It's spookier and for adults only! |
Highlights of Edinburgh Underground Vaults Streets Tour
Edinburgh is a city with a chilling past - Treason, terror, torture, hauntings, and hangings – It's the stuff of nightmares!
In the Old Town, the area that once housed the slums and the red light district your story-telling / fact-telling guide will take you around the creepiest streets before taking you down below ground to the haunted vaults of the city.
As you move through the empty rooms you'll learn about the squalid living conditions of the 1700's and the terror, torture, and treason that took place.
This tour does not employ any 'scare tactics' in the form of actors to jump out on you or wax figures, instead it relies on the fine art of historic story telling.
Is It Suitable for Me?
If you love ghost stories and are intrigued by hangings and hauntings, torture and terror, this walking tour is for you!
History fans will also enjoy this tour, so long as they can stomach the grisly past!
Children under 5 are not permitted on any of the tours and the night tours (9.30pm and 10pm) are for adults only.
Your Experience With Edinburgh Underground Vaults Streets Tour?
Meet your tour guide (who will be dressed up in a cloak) at the allocated meeting point in central Edinburgh then make your way, with the group, along the cobbled streets of Edinburgh's Old Town as you begin to learn about the dark past of this historic city.
On street level, as you explore the narrow alleys and shadowed streets you'll learn about the hangings and hauntings of Edinburgh. Feeling suitably chilled (and that being in no way due to the weather!) you'll then enter the Blair Street Underground Vaults (by torchlight if taking the night tour) where goosebumps are sure to form as you hear the horrible history that's half fact, half ghost-story myth about the murders, torture, and treason as told by your master storyteller guide.
What Edinburgh Underground Vaults Streets Tour Includes?
A 1 hour guided walking tour.
Entrance to the Underground Vaults.
Chilling ghost stories from a master storyteller.
Routes/Attractions
Edinburgh Old Town – Alleys off of The Royal Mile
Blair Street Underground Vaults
TIPS
Wrap up warm, even in Summer – It's cold underground!
Travelers Reviews about Edinburgh Underground Vaults Streets Tour?
Travellers talking about this tour on GetYourGuide, Tiquets, and TripAdvisor give it good ratings and reviews, almost everyone saying that it's the guides, who are master storytellers, who make this tour memorable.
In their own words, travellers have said "Edgar in his black cape was the quintessential host both on and under the closes of Edinburgh: he knows (and loves) his stuff and took us back in time in a mildly creepy but altogether appropriate and highly entertaining manner. Cannot recommend the tour enough."
"Seeing the vaults themselves was an excellent experience, but it was made all the more special by our guide Sam - his vivid, enthralling, occasionally unsettling, recounting brought to life tales of Edinburgh's grizzly past."
A few people did not find the tour scary enough for them, perhaps thinking that their would be actors to jump out on them instead of real-life horror stories.
Disabled Access
Ticket Details
Paper tickets and e-tickets are accepted
Things to Consider Before You Go
Dress appropriately, it's cold underground!
Arrive at the meeting point 15 minutes before the start time.
Address / Pick up Location
Meet at The Mercat Cross, Central Edinburgh