Malaga Hop-on Hop-off Tour Bus Deals
Tripindicator.com is comparing Malaga Hop-on Hop-off Tour Bus prices from leading ticket suppliers, Try to find you the Cheap tickets prices.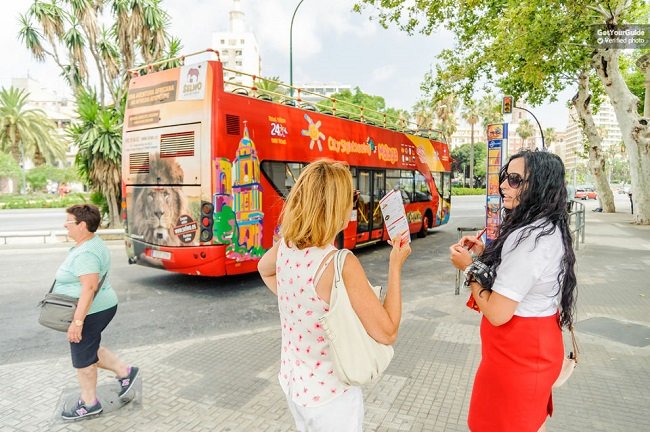 Opening Times of Malaga Hop-on Hop-off Tour Bus

| Duration | REVIEWS |
| --- | --- |
| 24 hours. | (246 reviews) |
| Opening Times | Best Times |
| --- | --- |
| | The hop-on hop-off buses run all year round but it's they're at they become particularly busy in the summer months and over the weekends. |
Highlights of Malaga Hop-on Hop-off Tour Bus
This hop-on hop-off city sightseeing bus ticket allows you to ride on an open-top, double-decker bus, and make unlimited stops around the city for 24 hours.
There are two lines, the red line and green line, and there are 19 stops in total with buses departing from each every 30 minutes.
It's the best way to explore the city at your own pace and take in all the best sights.
It offers an affordable and safe mode of transport around the city.
An ideal way to enjoy multiple Malaga attractions, and make the most of your visit, from the comfort of your bus seat. This bus ticket helps to combat complicated transport methods.
It's a great way to learn about the cities history, culture and architecture as the tour comes with an audio guide headset. An efficient way to explore the highlight of Malaga in just 24 hours.
Malaga is packed with beautiful gardens, wonderful architecture and a rich history and it's worth jumping off the bus at every stop to soak up the most of it.
It's an easy way to visit the Malaga Cathedral, Alcazaba and the Castillo de Gibralfaro.
Is It Suitable for Me?
Ideal for first time visitors to Malaga.
Suitable for those with limited time in the city.
Great for families looking for an easy mode of transport.
Your Experience With Malaga Hop-on Hop-off Tour Bus ?
Explore Malaga at your own pace by jumping on board the hop-on hop-off bus and alighting at any of the stops around the city.
Fly past beautiful streets, leafy boulevards and flora filled gardens, jumping off wherever you fancy!
Visit the La Manquita and wander around the medieval fortress before heading over to the Picasso Museum.
Hop off the bus to visit the ancient Teatro Romano, the Museo Carmen Thssen and the Centro de Arte.
Learn about the city as you go by plugging in to the onboard audio guide.
Admire Malaga from the comfort of your seat.
Choose between sitting on the lower deck or enjoying the panoramic views from the top deck which features an open roof.
Have a fun packed day exploring the sights you want to see and tailoring the day around your itinerary.
What Malaga Hop-on Hop-off Tour Bus Includes?
24 hour bus ticket.
Unlimited rides on the cities hop-on hop-off buses.
Multi-lingual audio guide onboard.
Free walking tour.
Free entry into the Museo Automovil, Museo Carmen Thyssen and Museo Picasso.
Routes/Attractions
What Attractions will you see on this tour?:
Red Line:
Renfe / Vialia Train Station
Centro de Arte
Puerto Alborania Museum
Plaza de la Marina Main street
Paseo del Parque Auditorio
Centro Pompidou Málaga
Paseo de la Farola La Lighthouse
Playa de la Malagueta Beach la Malagueta
Plaza de Toros Bull Ring
Castillo de Gibralfaro Castle
BasĂ­lica de Sta. MarĂ­a de la Victoria Church
Plaza de la Merced
Museo Carmen Thyssen
Avenida AndalucĂ­a
Green Line:
Bus Station
Renfe / Vialia
Automobile Museum
Botanical Garden
Malaga Football Museum
TIPS
Rise early on the day of your tour to ensure you get the most out of your bus ticket.
Take a look at the bus routes ahead of time to plan your day.
Travelers Reviews about Malaga Hop-on Hop-off Tour Bus ?
The Malaga Hop-on Hop-off bus has earned over 143 reviews and a 4 star rating on TripAdvisor.
Travellers agree that the bus is an excellent and efficient way to explore the cities best attractions.
Other users noted that the ticket was well worth it as it provided an easy form of transportation between attractions and landmarks.
Disabled Access
This tour is accessible for wheelchair users.
Ticket Details
All tickets must be printed out to be valid.
Tickets booked through Get Your Guide can be fully refunded if cancelled within 24 hours. Tickets booked through Viator can be cancelled for a full refund 7 days in advance.
Things to Consider Before You Go
Pick out the top five attractions you'd like to visit in the city and create an itinerary for these using the bus routes.
Save time by pre-planning your routes.
Check when the last bus runs.
Address / Pick up Location
Meeting Point: The tour can be started at any of the bus stops around the city.