Cheap Milan: Brera Art Gallery Entrance Ticket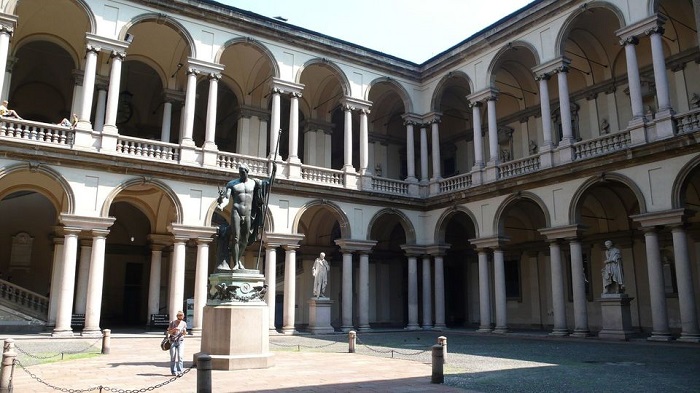 Opening Times of Milan: Brera Art Gallery Entrance Ticket

| Duration | REVIEWS |
| --- | --- |
| Around two hours | (5087 reviews) |
| Opening Times | Best Times |
| --- | --- |
| 8:30 am to 7:15 pm from Tuesday to Sunday | At the beginning and by the end of the opening hours |
Milan: Brera Art Gallery Entrance Ticket Discount Prices
We are comparing Milan: Brera Art Gallery Entrance Ticket Prices from leading ticket suppliers and Try to find you Cheap tickets prices on the market.
Compare Tickets Price with Tripindicator
Highlights of Milan: Brera Art Gallery Entrance Ticket
Brera Art Gallery is one of the leading art galleries in Italy and Europe.
It exhibits paintings and sculptures of various leading Italian and Flemish artists that span the period from the Middle Ages to the recent past.
Some highlights of the Brera Art Gallery are "The Kiss," "The Marriage of the Virgin" and "Virgin and Child."
Besides Raphael, Hayez and Bellini, the authors of the aforementioned paintings, the art venue exhibits works of art by Tintoretto, Tizian, Caravaggio, Rubens and Rembrandt among other renowned artists.
The ticket with the scheduled entry allows its holders to bypass lines at the museum's entrance.
Is It Suitable for Me?
A visit to the Brera Art Gallery is a must-do activity for devotees of European art.
Italian and Flemish art enthusiasts in particular should pay a visit to the Brera.
Your Experience With Milan: Brera Art Gallery Entrance Ticket?
Breeze past the lines at the Brera Art Gallery with your ticket with the scheduled entrance.
Examine works of art by many leading European artists from the 13th to the 20th century.
See masterpieces of Italian and Flemish painters and sculptors, including Raphael's "The Marriage of the Virgin" and Hayez's "The Kiss."
Among other maestros, you will see masterpieces of Rembrandt, Rubens, Tizian, Veronese, Caravaggio and Tintoreto.
Walk the premises of the former convent of the Humiliati order.
Immerse yourself into the Italian Romanticism.
What Milan: Brera Art Gallery Entrance Ticket Includes?
Ticket with the reserved entrance
Access to permanent and temporary exhibition of the Brera Art Gallery
TIPS
When visiting the Brera, don't miss its botanic garden, established in the second half of the 18th century by Empress Maria Theresa.
Restoration Laboratory is another noteworthy attraction of the Brera Art Gallery.
Travelers Reviews about Milan: Brera Art Gallery Entrance Ticket?
Travelers agree for the most part that the Brera Art Gallery has an interesting and noteworthy art collection.
Some comments indicate that the location of the art venue should be better advertised, but admiring the collection is worth this small inconvenience.
The reviews further indicate that the art collection is rich, spanning the period of several centuries.
Travelers who booked this skip-the-line ticket underline its high value.
A number of visitors stated that the Brera is among a few finest art galleries they ever visited.
Disabled Access
Brera is a wheelchair-friendly venue
Ticket Details
You can present a paper or electronic voucher to gain the entrance to the art gallery. All purchases are final and no refund is granted for cancellations.
Things to Consider Before You Go
Address / Pick up Location
Youtube videos of Milan: Brera Art Gallery Entrance Ticket
Compare Car Hire Prices from Avis | Hert | Sixt | Europcar | Budget | Enterprise...
Car Hire
https://liveporn.fun/