Around 800 objects are on display at the Rijksmuseum across more than 100 rooms and galleries, so it's easy to feel overwhelmed once you're inside. To tackle this cultural behemoth, start with a few highlights and go from there:
1) The Night Watch, Rembrandt (1642)
The star of the Rijksmuseum collection, The Night Watch is a large-scale scene depicting a group of military getting into formation. The full title of the painting, Militia Company of District II under the Command of Captain Frans BanninckCocq, gives us more detail but this is far from a static portrait. The Night Watch is known for its incredible use of dark and light and interesting symbolism. One of the almost life-size figures in the painting is said to be modeled on Rembrandt's late wife.
2) The Milkmaid, Johannes Vermeer (1654-58)
This is Vermeer's only painting of a domestic servant and depicts the woman in a kitchen, possibly making bread pudding. Vermeer's use of color is enchanting in this work with heavily saturated blue and yellow dominating the canvas.
3) Portrait of a Couple, Franz Hals (c.1622)
The smiling, relaxed couple in this stunning portrait is thought to be Isaac Massa and Beatrix van der Laen. In an era when wedding portraiture was typically very formal, this painting was seen as scandalous.
4) Self Portrait, Vincent van Gogh (1887)
Van Gogh painted a number of self-portraits during his troubled life. Each depiction is different and reveals something of the painter's mental state at the time of painting. Influenced by Gaugin and Monet, this portrait uses deep, heavy brushstrokes.
5) The Threatened Swan, Jan Asselijn (c1650)
The Threatened Swan depicts a life-like swan rising up to protect its nest against a dog. At one time the painting was understood as a political allegory. The swan was said to represent Johan de Witt, grand pensionary of Holland, defending the country against outsiders. However, Asselijn painted The Threatened Swan long before de Witt came to power.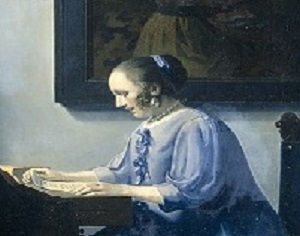 6) Woman Reading a Letter, Johannes Vermeer (c. 1663)
One of Vermeer's most recognizable paintings, Woman Reading a Letter depicts a young woman standing in front of a window. The window is not shown, but Vermeer's outstanding rendering of the effect of light on surfaces makes it appear visible. The lapis lazuli blue used for the woman's clothes and grey coloring of her skin was revolutionary at the time of painting.
7) Girl in a White Kimono, George Hendrik Breitner (1894)
Between 1893 and 1896, Breitner painted the same girl, sixteen-year-old Geesje Kwak, thirteen times. Each time, Kwak wore a different colored kimono and posed in a different position. This is arguably the most enchanting painting of the series and features Geesje in a white embroidered kimono.
8) Square Man, Karel Appel (1951)
One of the most interesting modern works in the Rijksmuseum, Square Man was completed six years after the end of the Second World War. The man depicted has a head almost as large as his body, made up of large blocks and lines of color. The man has his arms spread and his genitals exposed like an animal splayed out for dissection.
9) The Merry Fiddler, Gerard van Honthorst (1623)
Another masterpiece of the Dutch Golden Age, van Honthorst'sThe Merry Fiddler is a joyous work. A close portrait of a man wearing rich, Italian clothes, The Merry Fiddler is startlingly lifelike. The happy fiddler appears from behind a portrait and leans towards the viewer, invited them to chink his glass.
10) Girl in a Large Hat, Caesar Boëtius van Everdingen (c. 1645 - c. 1650)
Girl in a Large Hat is understood as a painting with erotic undertones. A girl in a large sun hat holds a bowl of fruit up near her left shoulder and looks down. Van Everdingen probably intended for this painting to hang high up on a wall to allow his subject to gaze down on those looking up at her.