South Tenerife Tandem Paraglide Flight Deals
Tripindicator.com is comparing South Tenerife Tandem Paraglide Flight prices from leading ticket suppliers, Try to find you the Cheap tickets prices.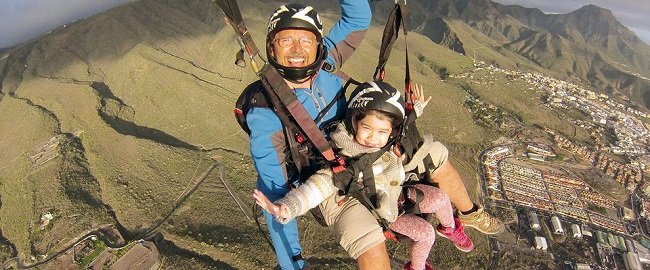 Opening Times of South Tenerife Tandem Paraglide Flight

| Duration | REVIEWS |
| --- | --- |
| The duration of the tandem paraglide flight over the southern part of the island of Tenerife is between 20 and 30 minutes. | (238 reviews) |
| Opening Times | Best Times |
| --- | --- |
| You can book the tandem paraglide flight any time between 10am and 4pm. | You will have the best tandem paraglide flight on a clear day, although flying over clouds also has its advantages. |
Highlights of South Tenerife Tandem Paraglide Flight
The tandem paraglide flight over southern part of Tenerife Island is a highly entertaining and thrilling activity.
It allows you to perceive and admire the beauty of the island from quite a different perspective than you got yourself used to.
Once you fly in the sky and reach the height of around 750 meters, you will memorize the magnificent landscapes for the entire lifetime.
From the bird's perspective, views encompass the blue infinity around Tenerife, neighbouring islands, rock formations and some outstanding attractions of the island.
Among the latter are Ifonche Natural and Rural Park, Roque del Conde and other attractive places and landscapes of South Tenerife.
Is It Suitable for Me?
This type of activity is especially entertaining for people who like adventures.
However, tandem paragliding is ideal for everyone who doesn't suffer from the height fright because it reveals the magnificent nature of South Tenerife.
Your Experience With South Tenerife Tandem Paraglide Flight?
On this entertaining flying activity, you will discover how beautiful Tenerife Island is from the bird's perspective.
During the flight, you will reach the height of around 750 meters and get yourself fascinated by with the diversity and beauty of this attractive Canary island.
See many beautiful landscapes and points of interest of the island, including Ifonche Natural and Rural Park, Barranco del Inferno ravine and various rock formations.
What South Tenerife Tandem Paraglide Flight Includes?
This entertaining activity includes pickup and drop-off service from selected hotels in southern areas of Tenerife Island.
The assistance of the highly-experienced instructor is part of this flying experience.
Security helmet is a part of the complimentary equipment.
TIPS
The tandem paragliding is a great way for anyone who has a fear of heights to overcome this fear while having a great time.
This entertaining activity offers memorable views of the surrounding area from the height of several hundred meters.
Travelers Reviews about South Tenerife Tandem Paraglide Flight?
What Travelers Say About it?:
This activity has the 4.3 rate on Get Your Guide and the 5 rate on Viator and TripAdvisor.
Most travelers describe this activity with superlatives.
"Amazing" and "fantastic" are just a few of them used to describe Tandem Paragliding over Tenerife.
Disabled Access
The tandem paragliding isn't suitable for people with disabilities.
Ticket Details
You can enclose either electronic or paper voucher to take part in this activity.
You can count on the full reimbursement in the case of a timely cancellation.
Things to Consider Before You Go
Weather conditions affect the flight, so your instructors may postpone the paraglide flight if those are unfavorable.
If the instructor must cancel the flight, you can choose an alternative date for the flight or receive the full refund.
Pregnant women and people suffering from problems with their backs shouldn't take part in this activity.
Address / Pick up Location
Before the paragliding commences, you will be transferred to the flight location from your hotel.