Florence Contemporary Art Galleries
Art and history seem to go together in Florence. After all, this Italian city is the birthplace of Renaissance! So if you're heading to Florence soon, make sure you check out some of the city's best museums and galleries. A tour to these places will take you back in time where you get to discover how the city's art and culture have evolved throughout the centuries. From sculpture, painting, architecture, history, and even fashion, here's a list of some of Florence best museums and galleries.
1. The Uffizi Gallery
You can never leave Florence without visiting the Uffizi Gallery. In fact, this should be on top of your list of places to visit in the city. This famous museum is home to the amazing masterpieces of Michelangelo, Raphael, Giotto, Botticelli, and other famous artists of all time. It's a massive museum and you may need to spend an entire day exploring it if you wanted to view everything. This museum is also home to the Vasari Corridor that runs from Palazzo Vecchio and across the river at Ponte Vecchio, before taking you to Palazzo Pitti. This place was used only by royals and diplomats for banquets during the early times and is now converted to a museum.
TIPS:If you don't have the luxury of time to spend in the museum whole day, do a research before your visit. Grab a map and identify in advance those art collections that you wanted to see. The museum is massive and it can get overwhelming if you are pressed for time.
Address:Piazzale degli Uffizi, 6, 50122 Firenze FI
2. Galleria dell'Accademia
This is another popular museum that one should not miss during a visit to Florence. It's because this is the home of Michelangelo's world famous masterpiece, the David sculpture. It's not really as grand and massive as the Uffizi Gallery, so you should be able to see everything in half the day. Come early morning where there's less crowd. You should be able to explore everything, including Michelangelo's paintings and sculptures for about 2 – 3 hours.
TIPS:Although most visitors would come here to view the David sculpture, the exhibits upstairs are also worth viewing. The exhibit has plenty of amazing pieces that are definitely worth checking out.
Address:Via Ricasoli, 58/60, 50122 Firenze FI
3. Museo Opera del Duomo
The Museo Opera del Duomo newly opened museum that's dedicated solely to the rich and long history of the building, planning, and reconstruction of the Cathedral of Santa Maria del Fiore, Florence's most famous landmark. If you love architecture, history, politics, and religion, then this is the best place to visit. Don't forget to check out the museum within the church right below the main floor. It's filled with interesting collections showcasing the church's history and also includes artefacts belonging to the royal Medici family.
TIPS:The museum is quite large with 25 rooms spread over three floors so you may need to spend a day if you wanted to see everything.
Address:Piazza del Duomo, 9, 50122 Firenze FI
4. Ospedale degli Innocenti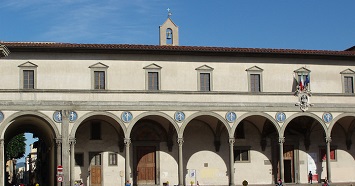 This museum is located in the heart of the city and has been newly renovated. The museum's name means "Hospital of the Innocents", and is called as such because the buildings beside it used to be an orphanage run by priests and nuns. It showcases an impressive collection of Renaissance paintings, artefacts, and art pieces. This is one of the buildings designed by renowned Italian designer, Filippo Brunelleschi, a key figure in Italian architecture and is recognised as the first modern engineer in the world.
TIPS:Consider hiring a guide that will walk you through the museum and tell you all of the amazing backstories of the collections and the museum itself.
Address:Piazza della Santissima Annunziata, 12, 50121 Firenze FI
5. Gucci Garden
Fashion lovers should definitely check out the Gucci Garden Museum. If you wanted to learn more about the history of Gucci house of fashion, then you should include this museum in your list of places to visit. Exploring this museum, you'll be taken to several decades of designs and bar witness to the amazing evolution of fashion and growth of the Gucci brand over the years. After visiting the museum, treat yourself for a stylish lunch at the Gucci restaurant just across the museum.
Address:Piazza della Signoria, 10, 50122 Firenze FI
6. National Archeological Museum of Florence
If you've already had enough of the Italian Middle Ages, then head over to the National Archeological Museum of Florence. It's home to an impressive collection of Greek, Roman, Egyptian, and Etruscan arts and artefacts. This museum might be off the beaten path, but it's definitely worth checking out. On your way, you could encounter a lot of interesting buildings and sights. This sprawling museum consists of both outdoor and indoor galleries filled with interesting pieces of artefacts for everyone to enjoy.
Address:Piazza della Santissima Annunziata, 9b, 50121 Firenze FI