Milan Contemporary Art Galleries
Milan is an exciting hub of art and design. As one of the world's fashion capitals, the city is privileged enough to observe the thriving scene of fashion, design, and art. If you're an art lover, Milan is a city where you can definitely lose yourself. It has a great deal to offer when it comes to inspiring art galleries, impressive design showrooms, and fantastic art museums. Below is a list of the best Milan art museums and galleries that are worth a visit.
1. Casa Milan Museum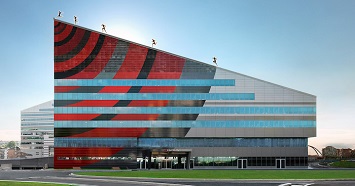 Casa Milan Museum
TIPS:To save money, purchase a ticket that will allow entry to both the stadium and the museum, such as the Casa Milan Museum Tickets
Address:Via Aldo Rossi, 8, 20149 Milano MI
2. The Last Supper
Leonardo da Vinci's The Last Supper is perhaps, the most famous painting in Milan. This painting is tucked away in a wall of a refectory that's connected to the Basilica di Santa Maria delle Grazie. The painting is a depiction of the scene from the bible, where Jesus Christ was having a last supper with his disciples. This iconic painting is so popular that advance booking is recommended. Unlike the other attractions and museums in Milan where you can just show up and purchase your ticket, you need to book your visit in advance if you want to view the Last Supper. Booking the Last Supper Skip-The-Line And Best Of Milan Tour Ticket is highly recommended.
TIPS:In order to safeguard the most precious painting, visitors are only allowed to stay inside the museum for 15 min with only a maximum of 25 visitors at a time. So plan your visit well and book your tickets in advance, check out the Last Supper Skip-The-Line Ticket
Address:Piazza di Santa Maria delle Grazie, 20123 Milano
3. Pinacoteca di Brera
Set above the country's most prestigious art school, the Pinacoteca di Brera is an art museum that every art lover will surely love. This modern art museum and gallery is home to Milan's collection of the Old Masters, where most of it has been taken by Napoleon from Venice. Some of the most notable works that can be found in this museum are those from Caravaggio, Bellini, Veronese and Tintoretto. It houses Italy's main collections of Renaissance art that comprises of more than 500 art pieces dating back to the 14th and 20th century.
TIPS:If you wanted to learn about the interesting history behind the famous paintings, consider hiring an audio guide.
Address:Via Brera, 28, 20121 Milano MI
4. Museo del Novecento
Set in an area that overlooks the Piazza del Duomo, the Museo del Novecento is a 20th century contemporary art museum known for its impressive art collections. It's built within a futuristic spiral ramp, which is an ode to the famous art collector, Solomon R. Guggenheim. The lower floors of the museum are cramped, however, it is where you will find the works of some of the world famous Italian painters like Campigli, Umberto Boccioni, Marinetti, and de Chirico.
TIPS:After exploring the museum, take time to drop by at the Giacomo Arengario, a top-notch bistro in the third floor, opening to the fabulous view of the Duomo cathedral
Address:Palazzo dell'Arengario Piazza Duomo, 8 20123 Milano
5. MUDEC
MUDEC or Museo delle Culture is among the latest museums to have opened in Milan. Set in a huge industrial complex, the museum was re-engineered by David Chipperfield, a British architect who is also behind the Neues Museum in Berlin and other notable museums in the world. The impressive structure is made of a series of concrete and translucent glass. Inside, you'll find a permanent collection of modern and contemporary art collections from the various government agencies of Milan, coming from donations made from the 19th century up until the present day. Some of these collections are donated by missionaries, scholars, explorers, and art collectors.
TIPS:The museum is also home to a contemporary restaurant headed by chef Enrico Bartolini, a two Michelin starred chef, who also oversees the museum's gourmet bistro.
Address:Via Tortona, 56, 20144 Milano MI
6. Fondazione Prada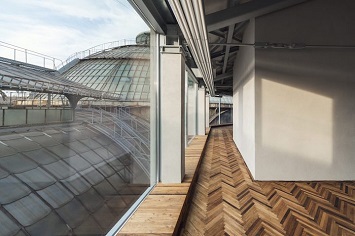 The Fondazione Prada is also a recent addition to Milan's growing list of art museums and galleries. Opened in 2015, this museum is set in a former gin distillery at the southern outskirts of Milan. It's dedicated to showcasing some of Italy's most remarkable contemporary art pieces and includes both permanent and temporary art exhibitions. At the middle of the gallery is the Haunted House, a 4-story building that's covered with gold leaf including the works of Louise Bourgeois where only 20 visitors are allowed to enter each time.
TIPS:If there are no temporary exhibitions, groups of 6 or more can enter the museum for free on Fridays, from noon until 6 PM.
Address:Largo Isarco, 2, 20139 Milano MI