Edinburgh Castle is a massive castle complex which has a very long history. The fortress dominates the skyline of the city of Edinburgh. It is divided into several parts and they serve different purposes.
Outer Defences
Located at the front of the castle and is now known as the esplanade where concerts are currently held. Laid out as a parade ground in 1753, it was extended in 1845.
Portcullis Gate and Argyle Tower
Built after the Lang Siege on the orders of Regent Morton to replace the round Constable's Tower which was destroyed during the siege.
Military Buildings
Located next to the Argyle Tower are largely occupied military buildings after the castle became a garrison in the early 18th century.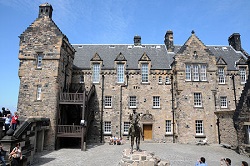 National War Museum of Scotland
Located west of the Governor's House and part of the National Museums of Scotland, it was once known as the Scottish Services Museum and before that the Scottish Naval and Military Museum.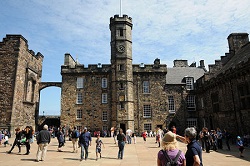 Upper Ward
Also known as the Citadel, the Upper Ward occupies the highest point of Castle Rock. The eastern end of the Upper Ward is occupied by the Forewall and Half Moon Batteries.
St. Margaret's Chapel
The oldest building in the castle and also in Scotland, St. Margaret's Chapel dates back to the reign of King David I. the chapel is dedicated to St. Margaret of Scotland.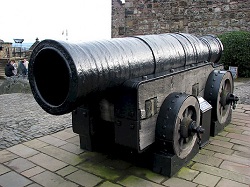 Mons Meg
This 15th century siege gun us displayed on a terrace in front of St. Margaret's Chapel. It is also known as the great iron murderer called Muckle-Meg.
Half Moon Battery and David's Tower
A prominent feature on the east side of the castle, Half Moon Battery was built between 1573 and 1588. The Half Moon Battery was built around and over the ruins of David's Tower.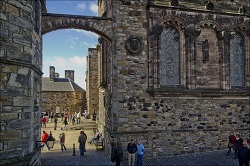 Crown Square
Also called Palace Yard, Crown Square was laid out in the 15th century during King James III's reign.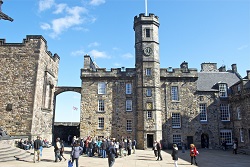 Royal Palace
There are four royal apartments that make up the Royal Palace, which were the residence of the later Stewart monarchs. The building has been extensively remodeled for the visit of James VII to the castle in 1617.
Great Hall
The chief place of state assemblies in the castle, the Great Hall was converted into a barracks for the troops of Oliver Cromwell during his seizure of the castle in 1650.
Queen Anne Building
The Queen Anne Building housed the kitchens serving the nearby Great Hall and was later the site of the Royal Gunhouse.