A Complete guide to Golden Bridge Vietnam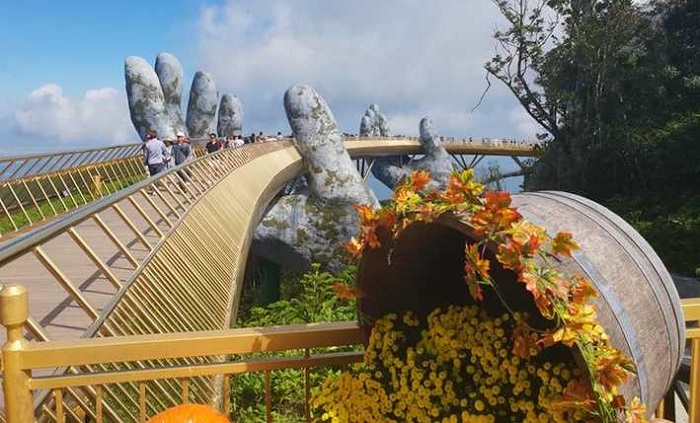 Nestled amidst the lush greenery of the Ba Na Hills, the Golden Bridge (Cau Vang) is a newly constructed pedestrian bridge in Vietnam that is amusing travelers from far and wide, for all the right reasons. You might have seen images of two giant concrete hands emerging from the trees, holding up a glimmering golden bridge sprinkled with gleaming tourists. This footbridge is Vietnam's very own contribution to the iconic bridge's across the world – the Golden Bridge. This colossal bridge spans for 150 metres long and stands 3200 feet above sea level, overlooking the Da Nang City surrounded by gardens of lavender.
Quick Jump links to Golden Bridge Vietnam
The Vietnam Golden Bridge, Ba Na Hills
Located inside the Thien Thai Garden of Sun World Ba Na Hills , the construction for the Golden Bridge started in July 2017 with a speedy finish and public opening by April 2018. Walking across this bridge gives you the idyllic feeling of walking on a cloud! Besides the Golden Bridge, the Ba Na Hills is also home to a cable car site that holds 3 world records, a replica of a French medieval village, manicured lavender gardens and as well as a wax museum featuring statues of Lady Gaga and Michael Jordan.
Golden Bridge Architecture
The unique design of the Golden Bridge is the prodigy of the extremely talented and creative TA Landscape Architecture, who designed and architected this wonder. The two colossal hands that cradle the Cau Vang (Golden Bridge) were designed to look like "giant hands of Gods, pulling a strip of gold out of the land." Despite appearing to look like ancient stones covered in moss, they are actually made of steel and fibreglass, completed with a weathered effect to create the illusion of age and antiquity.
It is said that there are further plans to develop the Golden Bridge with an adjacent Silver Bridge that will resemble a 'God's strand of hair' which is to be connected to the existing structure.
Vietnam Golden Bridge Tickets
To visit the Golden Bridge, one requires a ticket to the Thien Thai Garden of Sun World which gives you access to the three-storied amusement building "Fantasy Park" , 2 way cable, the wine cellar, Le Jardin gardens, a number of performances around the premises and of course the Golden Bridge. Unless you're arriving as soon as the park gates open or are booking a private tour, we highly recommend purchasing your tickets online in order to skip the long wait line. Since it is a new attraction and pulls hordes of tourists, the waiting lines can take anything between 1 to 2 hours.
Golden Bridge Ticket Prices
The Golden Bridge ticket prices for adults are 700,000 VND per person and for children aged 13 and above are 550.000 VND/child. Children under 13 years of age do not require a ticket and can walk in free. Da Nang residents can get a discount with a valid ID (for adults) and birth certificate (for kids).
How To Get To The Golden Bridge From Da Nang
The Ba Na Hills where the Golden Bridge is located is about 24 km from Da Nang which should take you roughly 45-minute to cover the distance. Here are the different ways you can go from Da Nang to the Golden Bridge in Ba Na Hills
1. On a Rented Motorbike
Traveling around Vietnam on a motorbike is a highly popular and much recommended experience. You can rent a bike from Da Nang for your 100,000 to 150,000 VND and drive yourself through the picturesque route. The roads are well maintained with clear signage, so feed in "Ba Na Hills Parking Lot" on your google maps and get riding!
2. On a Private Taxi
While this is a slightly more expensive option, it works well if you're a larger group and prefer to shun the hassle of driving. A private taxi should cost you about 400,000 VND one way or 700,000 VND for a round-trip. There are options of booking this through Viator at a cheaper price or you can ask your hotel to arrange this for you.
3. Organized Coach Tour to Ba Na Hills
This is an organized tour that takes you on a coach from Da Nang to Ba Na Hills on an all inclusive day trip . It should cost you about 2,00,000 VND but your food, travel and transport for the day is taken care of which gives you just one job – enjoy!
Golden Bridge Vietnam Tours & Tickets
Below is our pick of the best Golden Bridge Vietnam tickets and tours on the market.
How To Get The Best Photographs At Golden Bridge Vietnam
Since the Golden Bridge Vietnam is now one of the most popular attractions in Vietnam, expect to see a lot of tourists flooding the bridge – from bridal photoshoots to fashion photoshoots, everything takes place on this bridge. Here are a few tips to get your ideal Instagram worthy photos.
1. Reach Early
The crowd starts trickling in by 8 AM , so get there as early as 6 AM. This way you can watch the sunrise from this stunning bridge and even click pictures of the Golden Bridge in the golden hour! Soaked in warm golden light, the bridge looks truly like God's hand during the wee hours of the morning. Also, the earlier you go, you will have lesser tourist heads photobombing your picture!
2. Get to all the angles
While there is no right angle for the best photo, get to all the angles. Click pictures from either ends, hike a little below and get the worm's eye angle and click plenty of pictures of the view from either sides. To one side you have lavender fields and to the other the park.
3. Be patient
As ever photographer knows, for the right pictures you need a substantial amount of patience. When you find the right angle, there maybe heads in the backdrop. Feel free to ask people to wait ( politely, of course!) and you might just get your golden photo. However, know that by 10:00 AM, the crowd thickens tremendously with waves of tourists pouring in from the cable cars, so your best bets are before that.
Explore Around The Golden Bridge Vietnam
The SunWorld at Ba Na Hills is a recreational and amusement complex located about 20 km from the downtown city of Da Nang. Nested at 1,487m from sea level, SunWorld Ba Na Hills is often known to be "heaven on earth", boasting ideal climate and delightful natural landscape. There's so much to do here, that you'll need a whole day to explore them all sedately. After walking the length of Golden Bridge in Ba Na Hills, here's all that you can visit and enjoy .
Cable Car
The cable car to the top of the mountain holds 3 world records including the longest single-cable cable car at over 5km. This is your transportation to the park, so everyone has to invariably step into it. It's smooth and thrilling, allowing you to consume terrific views of the surrounding hills, the Son Tra Peninsula, High Van Pass, and the endless sea.Te cable car comprises 5 routes that will take you up and close to each attraction : Suoi Mo – Ba Na, Debay – Morin, Toc Tien Waterfall – L'Indochine, Hoi An – Marseille and Bordeaux – Louvre.
Funicular Ride
The funicular in Ba Na hills is the first funicular in Vietnam. If you want to visit the Debay Ancient Wine Cellar, Le Jardin D'amour and French Village, you have to hop onto this hill climbing train that will drop you right outside each of these spots. Be prepared to wait in queue!
Le Jardin d'Amour
Le Jardin d'Amour is a huge flower garden flaunting many varieties of flowers,over an area of 8.206 m2. This garden is divided into many 9 small gardens with each space sporting a distinct artistic nuance and name : Legend Garden, Mo Spring Garden, Memory Garden, Thought Garden, Love Garden, Holy Garden, Heaven Garden, Secret Garden, Grape Garden. Walking around this floral heaven will uplift your spirits and how! To reach the Le Jardin d'Amour, you have to take a funicular ride. This is included in your ticket so go ahead and take it!
French Village
When you step out of the Louvre Station into the French Village, you are momentarily transported to a district of European style villas with cafes, restaurants, pastry shops, and places to shop around for souvenirs. You'll find a brass band playing covers of the latest pop hits in front of the cathedral, so shake a leg along! You can take a walk inside the cathedral for respite from the heat, but be prepared to brave more crowds inside as others are also probably taking sanctuary from the heat! You'll see tourists taking pictures with costumed Europeans, so join them and it will be like being in Europe and Southeast Asia, all at once.
Linh Chua Linh Tu Temple
From the French Village, you'll see a set of white marble steps leading upwards to the mountaintop. Climb these flight of steps and you'll reach the Linh Chua Linh Tu Temple, where you can enjoy the calming bonging of the giant bell, the beautiful Japanese style Tru Vu Tea House, some lovely flowers, and a few Buddha statues.
Debay Wine Cellar
The Debay Cellar was built by the French , deep in the mountaintop of Ba Na (Da Nang city) in 1923. It holds a very special architecture, running about 100m long, 2.5m high and about 2m in width. Inside the Debay Cellar you can find storage rooms, distilleries, bar areas, fireplaces, and lounges. The most unique element here is the wall made of mountain stones and resin of tree only in Quang Nam – Da Nang in Vietnam. The temperature in the wine cellar is set to 16 to 20 degrees Celsius, which is ideal for storing wines.
Fantasy park
If you're traveling with kids, make sure to hit up the Fantasy Park. This is an underground amusement park with 3 floors brimming with rides and games. From the deepest level of the fantasy park you can board the tower drop ride which raises you up to the surface level and gives you a quick look out into the courtyard before dropping you back down with a scream.
There are also several arcade games on free play. Indulge in some arcade classics like the Time Crisis, Star Wars Racers, and a wall size version of Pac Man here! You can also engage in a thrilling 4D and 5D experiences, one of a wild west shootout and the other being a space ride racing through various terrains in a hovering spacecraft. While this whole arena may not be as fascinating to adults, take a walk through and play a game or two and take a walk down to your childhood!
Wax Museum
Entry to the wax museum involves an addition fee, due to which a lot of people end up skipping it. While it is nowhere in comparison to Madame Tussauds, you can witness wax sculptures of Michael Jackson, John Travolta and even Obama here! If you're looking to keep your kids entertained, this is another zone we'd recommend.
Alpine Coaster
This is one of the coolest roller coasters out there. You can control the speed as per your wishes! On the Alpine Coaster, you are strapped into a car ( one person per car) which comes equipped with a hand-brake. The hand brakes allow you to control your own speed. The only catch is that that if the person in front of you is not adventurous enough, you might have a rather slow coaster. However, you can enjoy the views from the height and have spurts of thrilling speed in between.
Tips for Your Golden Bridge Visit
Pack light and wear comfortable shoes because there's a lot of walking involved
It's best that you purchase tickets to the amusement park in advance. The ticket lines can take up to 2 hours, so skip the hassle of waiting in line and buy them online.
There are combo offers that club tickets, transport and a buffet lunch. These work out most economical.
The best time to visit Ba Na Hills would be anytime before 8:00 AM in the morning. The cable car queues are slim and you can walk around for a bit without brushing shoulders with other tourists.
Avoid visiting the Ba Na Hills during Vietnamese national holidays and during peak summer season as the crowds are maximum during these days.
If you're visiting the Ba Na Hills anytime between October to November, make sure you carry a raincoat as Vietnam experiences spells of rain during these months.
Keep aside a whole day to enjoy the Ba Na Hills and Golden Bridge. Covering all the parts along with the moving queues for each cable car ride will end up consuming half your day.
The restaurants in Ba Na Hills do not have great reviews and are said to be overpriced. Feel free to carry some snacks along and make a picnic of it.