Malaga to Nerja and Frigiliana Half-Day Trip Discount Prices
We are comparing Malaga to Nerja and Frigiliana Half-Day Trip Prices from leading ticket suppliers and Try to find you Cheap tickets prices on the market.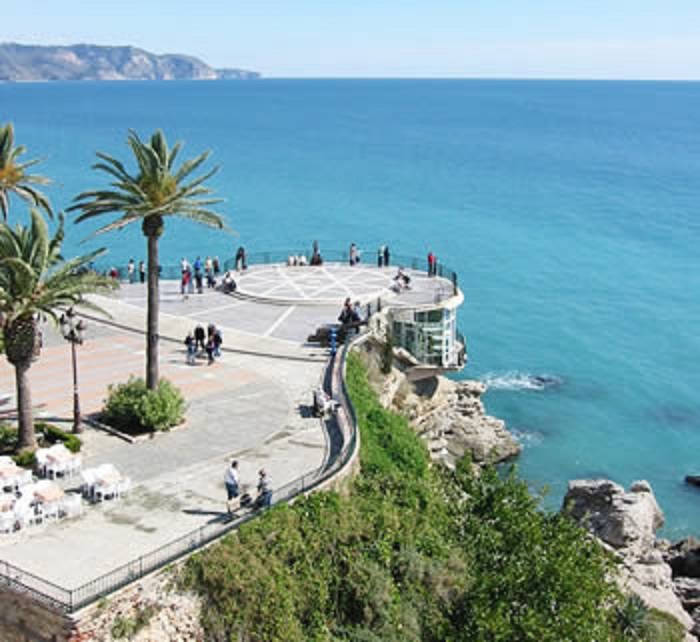 Opening Times of Malaga to Nerja and Frigiliana Half-Day Trip

| Duration | REVIEWS |
| --- | --- |
| Eight hours | (113 reviews) |
| Opening Times | Best Times |
| --- | --- |
| Monday and Thursday around 9 am | |
Highlights of Malaga to Nerja and Frigiliana Half-Day Trip
Frigiliana and Nerja are picturesque Andalusian settlements offering a taste of authenticity to their visitors.
While traveling from Malaga to the towns, travelers admire scenic views of the Mediterranean.
An old Moorish fortress in Frigiliana and several kilometers long caves of Nerja are among the highlights of the tour.
Besides visiting attractions, participants in the tour familiarize themselves with the local arts & crafts, such as pottery, local produce and local wines.
Whitewashed structures and cobblestone alleyways are other things of note travelers have a chance to admire during the guided and self-guided tours.
Balcon de Europa in Nerja is a great spot for enjoying sea views and taking photos.
Is It Suitable for Me?
Join the tour if you are a fan of history and local culture.
Travelers interested in arts & crafts, local architecture and shopping shouldn't miss the guided tour.
Gourmands and wine aficionados should enjoy the day trip to Frigiliana and Nerja.
Your Experience With Malaga to Nerja and Frigiliana Half-Day Trip?
Marvel at the Mediterranean landscapes while traveling to authentic Andalusian towns of Nerja and Frigiliana.
Explore the old fortress in Frigiliana made by the Moors, which was their last stand during the Spanish Reconquista (Reconquest).
Browse shops to acquaint yourself with the local wines and crafts.
Enjoy views of the Mediterranean Sea from the Balcon de Europa in Nerja.
Pay a visit to the Nerja Caves, consisting of a series of caverns about 5 km long.
Spend free time in the towns at your leisure.
What Malaga to Nerja and Frigiliana Half-Day Trip Includes?
Transportation by an air-conditioned vehicle
Service of professional tour guide
Free time in Nerja and Frigiliana to spend how you wish
Routes/Attractions
Malaga
Frigiliana
Nerja
Malaga
TIPS
From the Balcon de Europa in Nerja, you will be able to see the mountains of the Sierra Almijara, the Mediterranean Sea, rocky coastline, coves and sandy beaches.
Frigiliana fortress occupies a viewpoint overlooking the village and the Mediterranean coastline.
Travelers Reviews about Malaga to Nerja and Frigiliana Half-Day Trip?
In general, former participants of the tour have a high opinion about the towns and the day trip.
They underlined the passion of the tour guides and were satisfied with their performance and the organization of the trip.
Many travelers share the opinion that Frigiliana and Nerja are beautiful villages and interesting places for exploration.
Some of them state that a visit to the Nerja Caves is the highlight of the day trip.
Comments suggest that the activity is suitable for children regardless of the fact that the participants spend a few hours on the bus.
Disabled Access
The guided tour isn't suitable neither for visitors in wheelchairs nor for those suffering from limited mobility issues.
Ticket Details
Printed and mobile tickets are both valid for this activity. Depending on the chosen operator, you are eligible for a full refund if you cancel the tour one or two days in advance.
Things to Consider Before You Go
Little children don't have a seat and can sit in their parents' or guardians' laps.
Multilingual guide may lead the guided tour.
Dress accordingly to weather conditions.
Address / Pick up Location
Avenida Andalucia (Caixa Bank), Malaga
Compare Car Hire Prices from Avis | Hert | Sixt | Europcar | Budget | Enterprise...
Car Hire