Palma Local Food and Drinks
Tast Avenidas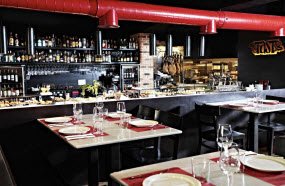 Tast is a rustic restaurant focusing on "tasting tapas", however they do not limit themselves to tapas, also serving salads and steaks as well as a wide variety of cheeses, bruschetta and an impressive wine menu.
Must Try Dishes: For the real flavor of Spain, try the local Iberian Ham (Jamon Iberico De Bellota) as a tapas. Jamon is at the heart of the Spanish culture and life, with most Spaniards eating it at least once a day. The Ham will be sliced off the bone while you wait, guaranteeing fresh, quality ham at a reasonable price.
Contact Details
| Phone | Address |
| --- | --- |
| +34 971 101 540 | Avinguda Comte de Sallent 13, Palma |
Opening Times
Price
Opening Timing
1.75-32?


13:00-24:00 Monday-Saturday
Closed Sunday



Simply Fosh
The modern and chic Simply Fosh serves Mediterranean dishes with a contemporary twist, using only ingredients sourced at local markets. Your fine-dining experience takes place in a 17th century building and provides an unforgettable dining experience.
***Reservations are highly recommended. For a cheaper meal, go during lunch hours***
Must Try Dishes: Whilst in Spain you must try gazpacho, a local dish. Luckily, Simply Fosh offers a mouth watering Chilled Fresh Pea & Borage Gazpacho served with Redcurrants and Goats Cheese Ice-cream. This modern twist on the classic gazpacho will have you craving seconds.
Contact Details
| Phone | Address |
| --- | --- |
| +34 971 720 114 | Carrer de la Missió 7A, Palma |
Opening Times
Price
Opening Timing
27.50-89? for 3-5 courses


13:00-15:00 Daily
19:30-22:00 Daily



Celler Sa Premsa
Celler Sa Premsa, whom are about to celebrate their 60th anniversary, pride themselves on their rustic atmosphere and Majorcan cuisine. You will be eating in a very traditional restaurant, with frescos on the walls and a heavy focus on timber furniture and roof paneling.
Must Try Dishes: Arroz Con Leche, or Rice Pudding, is a typical dessert at the heart of Spanish cuisine. Slightly different from the traditional rice pudding, the Spanish version – what you will be served here – has a thicker consistency, does not contain raisins, instead a lot more cinnamon is used, which complements the rice perfectly.
Contact Details
| Phone | Address |
| --- | --- |
| +34 971 723 529 | Placa Bisbe Berenguer de Palou 8, Palma |
Opening Times
Price
Opening Timing
3-12.75?


7:30-23:30 Monday-Saturday
Closed Sunday



Wineing
If you're passionate about wine, we have found your Heaven! Wineing offers 48 types of wine which you dispense yourself by placing a card, you are given upon entering, into the machine, selecting whether you want a sample, half or full glass or entire bottle, then at the end you pay for what you have taken. The elegant atmosphere teamed with great food will provide you with a truly unforgettable experience.
Must Try Drinks: For a local experience, try some La Tierra de Mallorca, a lovely area for growing wine in Palma. Both red and wine whites are available.
Contact Details
| Phone | Address |
| --- | --- |
| +34 971 214 011 | Calle Apuntadores 24, Palma |
Opening Times
Price
Opening Timing
1-40?


13:00-16:00 Wednesday-Monday
18:30-24:00 Wednesday-Monday
Closed Tuesday



Bar Abaco
Bar Abaco is truly a one of a kind. Located in a restored 17th century Baroque house lies an elegant and sophisticated modern-day bar. The property is still set up and furnished as if it were a lived-in house, with new flowers and fruit arrangements being set up regularly. Guests are free to explore the amazing bar which also features an outdoor courtyard with water feature; a true oasis.
Must Try Drinks: The extensive cocktail list may leave you a bit overwhelmed, so we recommend trying the Margarita. Whilst technically Mexican, Margarita's are extremely popular with Spanish locals and have been in the country for over 50 years.
Contact Details
| Phone | Address |
| --- | --- |
| +34 971 714 939 | Calle San Juan 1, Palma |
Opening Times
Price
Opening Timing
14-40?


20:00-1:00 Sunday-Thursday
20:00-2:30 Friday-Saturday



Chakra
Chakrais most definitely Palma's most colourful and eclectic bar. The Indian-style bar is heavily decorated with Indian furnishings, chandeliers and wall-art and the waiters wear traditional Indian clothing, such as belly-dance costumes for an extremely authentic feeling that will transport you from Palma to Delhi.
Must Try Drinks: For an interesting combination of cultural flavours, try the Punjabi Sangria, containing an orange liquor, mango and prosecco.
Contact Details
| Phone | Address |
| --- | --- |
| +34 971 903 305 | Calle Saint Magi 40, Palma |
Opening Times
Price
Opening Timing
1.40-27?


19:30-2:00 Monday-Thursday
19:30-3:00 Friday-Saturday
Closed Sunday