A Complete guide to SPYSCAPE Museum
Have you ever been a huge fan of spy movies or always wanted to try out some of the things you see spies do? If this is you then you will definitely want to visit the interactive SPYSCAPE museum in NYC. This spot is one of New York's finest edifice and has all you can think about that relates to spies.
Quick Jump links to SPY Museum NYC What is Interactive SPYSCAPE Museum?
SPYSCAPE is an interactive spying museum experience in NYC. The museum uses spy skills and spy stories to see the world, and everyone else more clearly. By using entertaining and educational experiences and content, Spyscape hopes to inspire regular citizens to do extraordinary things.
Secret intelligence has always held a timeless and universal appeal that cuts across society and culture. Its appeal is even more relevant today with all the concerns circulating about hacking, fake news, corporate espionage, privacy, and surveillance.
The Spyscape interactive spy museum is an authentic and innovative experience put together by authors, top architects, designers, curators, gamers, developers, hackers, investigative journalists, spies, psychologists, and storytellers.
Spyscape launched in New York City in early 2018. They are currently developing new channels, contents, experiences, and expanding to new locations. The fun with Spyscape is only just beginning from the many free things you can do in NYC.
How Spyscape Works
Ever watched a spy flick or a James Bond movie and thought "these stunts aren't that hard" or "I'd make a better spy?" If yes, then the Spyscape NYC is the perfect place to see how good of a spy you really are. Even if you haven't looked down on a spy movie before, the Spyscape is still a great place to test out any hidden spy skills you may have.
The interactive Spyscape museum measures 60,000 square foot. It is dedicated to all things espionage and it opened in Hell's Kitchen sometime in February. The Spyscape offers three different types of experiences to its visitors. The traditional museum experience, the interactive experience, and a personal journey of spy-themed discovery.
The traditional museum experience focuses on real-life spies and the lives they lived. It includes WWII code breaker Alan Turing, and Virginia Hall, the one-legged American spy. You'll also see actual objects and gadgets used in the shadowy world of international espionage like encrypted documents and code-breaking machines.
When you visit the museum, you're giving an "identity band" wristband. The RFID technology on the band lets you interact with the various stations. Each station comes with a series of escalating tasks that you can complete. You can take a lie detector, monitor CCTV footage, try your hands at decoding messages, or run through a hallway while dodging the laser. Get a real taste of how hard and dangerous spy work is.
The last part, and arguably the most personal aspect of the museum, concludes with a mission "debrief." An actual profiling system developed by a former head of training at British Intelligence takes care of the debrief. The system tells you what type of spy work you are best suited for, you could be a hacker, intelligence analyst, or an agent handler.
What Are The Opening Times Of The Spyscape?
The opening times of the Spyscape interactive museum are as follows:
Monday - Fridays: 10:00 am - 9:00 pm
Saturday and Sunday: 9:00 am - 9:00 pm
You'll need to make an appointment to get a ticket. Read on to see ticket prices.
What to Expect From Visiting Spyscape Museum
There are different kinds of events and experiences to enjoy in the Spyscape museum. There's the interactive aspect of the museum and the traditional aspect. Let's look at what both have to offer.
The Traditional Museum
The role of any museum is to collect, preserve, interpret, and display items for the educational purpose of the public. Since the Spyscape is a spy-themed museum, the traditional aspect displays several real-world spy memorabilia.
You can find artifacts and pieces from WWII. There's a section dedicated to one-legged American spy Virginia Hall, and renowned code breaker Alan Turing. It also contains all sorts of gadgets used in the second world wall, and in the international world of espionage like code-breaking machines and encrypted documents.
The traditional museum is a great place to learn more about the real-life actions of spies, and the impact they've had in our society.
The Special Ops Challenge
Spy movies are filled with high-speed car chases, jumps from airplanes (mission impossible here's to you), action-filled fights, and of course, the suspenseful laser scene. While you won't be participating in any high-speed chases, you can get your chance to dodge some colorful lasers.
Test your flexibility and agility as a spy in this interactive sequence. There's no million-dollar jewel or nuclear code at the end of this laser-filled hallway, but it is fun to try to dodge every one of them. How good of a spy are you? How many tries will it take you to get from one end of the hallway?
The Surveillance Challenge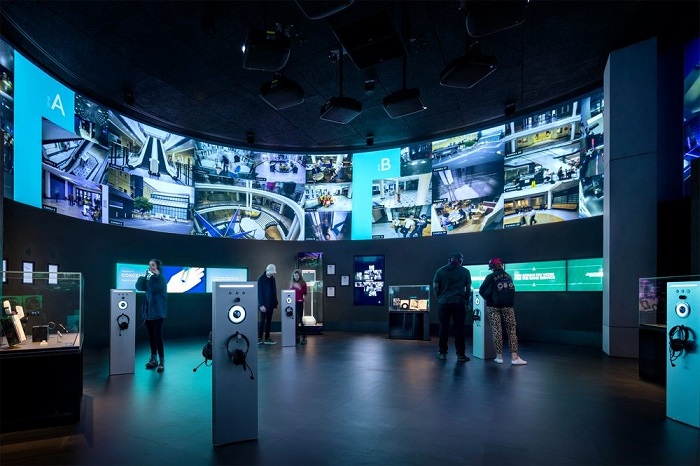 If the action-packed spy life isn't for you, then perhaps this next challenge will be more your speed. Field agents in the movies and in the real world are able to do what they do best because they have a team watching their back. This control team s usually helping them out of tough spots and making sure there's no one from the other team creeping up on them.
The surveillance challenge gives you a chance to monitor CCTV footage, and keep an eye out on the rest of your team. Surveillance may not be as adrenaline filled as the special ops challenge, but it is still a lot of work. You need to take note of any change that occurs on your screen and be ready to report it before the mission is jeopardized.
A surveillance team is equally as important as the field agents are. They get their hands on important information and help make sure the other agents are safe while on the field.
Hacking Gallery
The surveillance team usually ends up with a lot of encrypted information. When that happens, it is up to the hacking team to decrypt the information and get something useful from it.
The hacking gallery tests your hacking skills. How fast are you at solving puzzles? Decode encrypted messages that could save countless mission lives.
The best part about the spy museum NYC is that you'll find something that'll suit your personality. Even if you're not as good as Ethan Hawke or James Bond in all three sections, you're sure to have a great time while you're there.
Debrief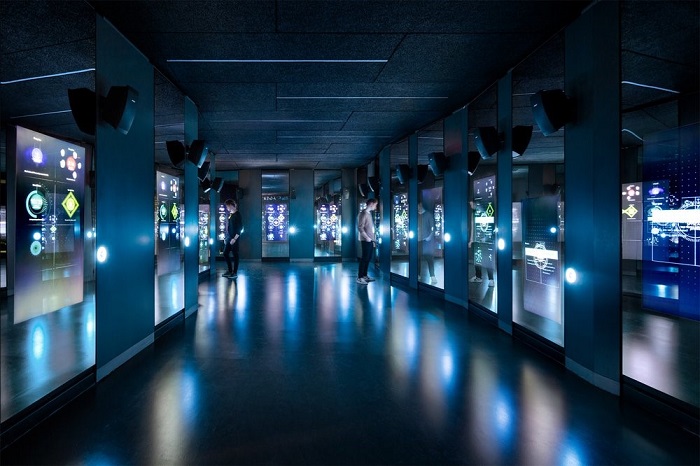 The debrief section signifies the end of your mission. But before you leave the spy museum NYC, you'll need to be debriefed like every spy. The debriefing is done by an actual profiling system. Former head trainer at British Intelligence designed the system.
The profiling system lets you know the best type of spy work will fit you best. Are you a hacker, an agent handler, or an intelligence analyst? The next time you have your friends over for movie night, you can let them know that you could have been a top-spy.
Spyscape Museum Ticket Prices NYC
Ticket information while in NYC is below:
General admission is specific to a certain date and times. It cost $39 for adults and $32 for children.
With the Gift Flexpass, you get to enjoy a VIP treatment anytime. It is valid for 1 entry for 90 days. Adults are $59 and children is $52. It also comes with a free Spyscape logo hat (which is usually $22 on the site).
This is an adult only ticket available only on Friday evenings. It costs $45 and includes free bar snacks and complimentary drinks. The bar is open from 6 pm to 10 pm. Last admission is at 8 pm.
For every ticket you buy, you get one student ticket free. The student needs to come with valid student ID. It is open Monday to Thursday from 4 pm and costs $39.
For groups of people 20 or more, contact Spyscape.
Special Consideration
Spyscape discount is available for certain groups. Tickets for seniors 65 or older as well as Law Enforcement and Military $30.
Many tour operators offering substantial discounts, you can try out.
Compare Tickets Price with Tripindicator
From
43.00$
From
42.00$
N/A

How to Get to Spyscape Museum NYC
Adress:928 8th Ave, New York, NY 10019, USA
If you're walking or cycling to the Spyscape NYC, then you can use this to get directions.
For Subway Directions
C, E to 50th Street Subway Station
A, C, B, D to 59th Street Columbus Circle Station
N, Q, R, W to 57th Street Subway Station
For Bus Directions
M20, M104 Northbound to 8th Ave W 52nd Street
M20 Southbound to 7th Ave W 55th Street
M7, M104, Southbound to 7th Ave W 54th Street
You can also visit the New York Attractions Map to help you during your tour.
Top 5 Things to do Near Spyscape Museum NYC
Bryant Park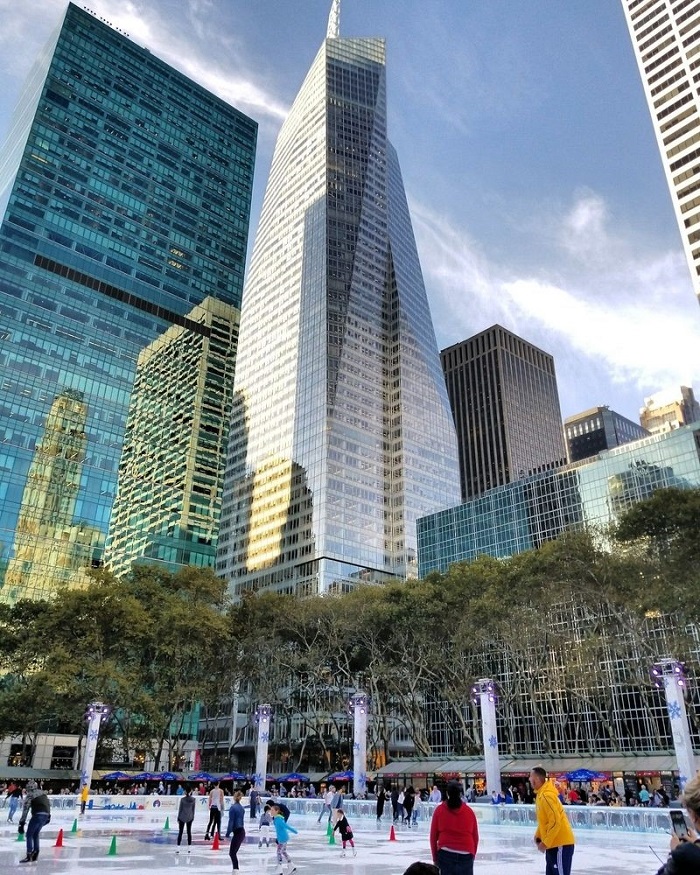 Bryant Park is one of the most seasonally entertaining parks beside Central Park in NYC. It is a fantastic oasis in midtown Manhattan Bryant Park. While it isn't as popular as Central or Prospect Park, it is still a destination worth visiting all-year long.
It is centrally located in midtown, which is great as it means you won't ever get lost. It's not as large as the other more popular parks, but it has a lot of charm, almost like a city park.
Most people go to Bryant Park for the ice skating rink, so don't be surprised to see long lines. It is not as busy in spring, making it the best time to visit. It is usually filled with various activities in the summer.
Ice skating rink
Ice sculpture
Beautiful decorations
Booths with art vendors and crafts
The Museum of Modern Art
The Museum of Modern Art (MoMA) is another great attraction next to Spyscape NYC that you can visit. It is located in the heart of midtown Manhattan.
The Museum of Modern Art houses some of the greatest collection of contemporary and modern art in the world. Some of the art piece you can find in the museum include:
Vincent van Gogh's "The Starry Night"
Andy Warhol's "Gold Marilyn Monroe."
It also houses works by Jasper Johns, Jackson Pollock, Elisabeth Murray, Cindy Sherman, and other great artists of this generation. It also displays film architecture, photography, media, design, and performance arts. You can also do some shopping or enjoy the available dining options.
MOMA is beautiful to spend some time with your family, friends, and even your partner. The museum has five floors, and each floor has its own theme. The exhibitions and the layout change regularly, so you can revisit the museum as many times as you wish.
3.Rockefeller Center
Since it opened in May 1933, Rockefeller Center has been a New York City landmark center. The iconic art deco motifs and the legendary 360-view from the 70th floor are just some of the reasons for its popularity.
Although the top of the Rockefeller Center is the more interesting than the rest, you should still check out the rest of the site from the Rink to the Atlas, and every mural, carving, sculpture, and mosaic in between.
The Rockefeller Center is one of the top 10 attractions among visitors and locals alike. It is a great place to visit at any time of the year.
Grand Central Terminal's Whispering Gallery
The Whispering Gallery is a section of the extraordinary Grand Central Terminal where you can catch some fun with your friends. Whether by design or by chance, this auditory anomaly is lots of fun to try out.
If you speak into a corner in one end of the wall, your friend at the other end will hear clearly what you're saying even with all the noise of the terminal. The whispering gallery is the name for the four arches in the dining concourse outside the oyster bar.
Whisper into one arch, and whoever is at the other arch will hear it.
Empire State Building
The Empire State Building is one of the most popular New York City attractions. You may think it's overrated, but the view of the Manhattan city skyline especially at night is completely worth it. You can get an unobstructed 360-degree view of the city from the outdoor observatory.
The first thing you'll notice is how tall the building is, and then when you get in, you'll be blown by the inedible lobby. There may be a bit of a line because it's such a huge tourist center. However, when you get to the 80th floor and make it to the observatory deck, you'll see that it was all worth it.
Enjoy an unobstructed view of Freedom Tower, Times Square, and even the Statue of Liberty. But more importantly, don't forget to take pictures.
Make sure you do have a spoil time on your next visit with the amazing Spyscape discounts available from vendors in order to make your trip hassle-free while you hop on hop off NYC.