Budapest Local Food and Drinks
Trófea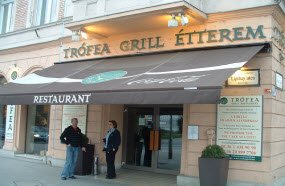 Inside the unassuming restaurant front you will find one of the Hungarians favourite restaurants, a massive buffet restaurant, conveniently located just beside Magaret Bridge. The elegant interior makes for the perfect affordable yet sophisticated dinner with both food and drinks included in the set price.
Must Try Dishes: Try the sweet gnocchi for a slightly different take on the traditional dish, choose from three flavours, with poppy seed, custard and walnut and a'laSomlo style. Either way you're guaranteed a great dessert to finish your meal and even go back for seconds and thirds, it is a buffet after all!
Contact Details
| Phone | Address |
| --- | --- |
| +36 143 89 090 | Margit Kourt 2, Budapest |
Opening Times
Price
Opening Timing
3899-5999HUF (12.39-19.06?)


12:00-24:00 Monday-Friday
11:30-24:00 Saturday-Sunday



Budapest Bisztró
The Budapest Bisztró offers one of Budapest's best culinary experiences.The wide range of authentic local dishes all served to perfection will both inspire and encourage you to try more Hungarian flavours. The restaurant itself is a very clean, open space with an elegant industrial feel, but also allows for outside dining if you prefer.
Must Try Dishes: To avoid committing a crime against Hungarian culinary culture you must try some goulash. Budapest Bisztro is widely recognized as servingHungary's best goulash, the dishes title "Legendary Goulash Soup" says it all. Served in the pot it was cooked in with noodles.
Contact Details
| Phone | Address |
| --- | --- |
| +36 178 307 88 | 3 Vécsey Street, Budapest |
Opening Times
Price
Opening Timing
850-6590HUF(2.75-21.25?)


7:30-24:00 Monday-Friday
9:00-24:00 Saturday-Sunday & Holidays



Molnars Kürtóskalács
Molnars is an adorable little store offering a traditional Hungarian dessert, kürtóskalács. Kürtóskalács are a sweet cylindered bread, also known as a Chimney Cake, which is covered in sweet toppings such as coconut or cinnamon. Originally used for special occasions such as weddings and baptisms, this cake has become a vital part of the Hungarian culture and today is much loved by tourists and locals alike.
Must Try Dishes: The kürtóskalács obviously! Here you can chose from 8 coatings, vanilla, cinnamon, walnut, almond, chocolate, coconut, cocoa and poppy seed. Walnut is the most traditionally used topping, so why not fully embrace the Hungarian culture with the crispy walnut pieces.
Contact Details
| Phone | Address |
| --- | --- |
| +36 140 723 14 | VáciUtca 31, Budapest |
Opening Times
| Price | Opening Timing |
| --- | --- |
| 990HUF(3.20?) | 9:00-22:00 |
Szimpla Kert
Szimpla Kert is one of Budapest's pioneer ruin pubs, known throughout the world. In a nutshell, you will find yourself in a dimly lit warehouse-esque building with insane decorations; you'll be walking with bikes and televisions above your head and sitting in a bath tub or horses from a carrousel. Despite all of this the bar feels pleasantly clean and relaxing, explore all of the little rooms upstairs and downstairs before choosing your favourite spot. The next thing is to decide on the endless drinks offered!
Must Try Drinks: You absolutely cannot go past the raspberry wine. This sweet Hungarian wine is extremely light and refreshing, which is ideal for a location such as Szimpla. Please note; for all wine you will be required to pay a 200HUF deposit for the wine glass, which will be refunded in full upon returning the glass.
Contact Details
| Phone | Address |
| --- | --- |
| +36 202 618 669 | Kazincy U. 14, Budapest |
Opening Times
Price
Opening Timing
390-1500HUF (1.25-4.85?)


12:00-4:00 Monday-Thursday
10:00-4:00 Friday
12:00-4:00 Saturday
9:00-5:00 Sunday



Boutiq' Bar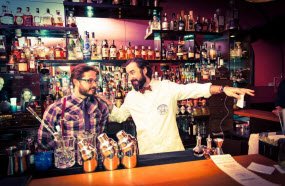 The Boutiq'Bar is one of those bucket-list places you have to go; being recognized as one of the worlds top cocktail bars and best in Hungary. Previously the bar has overcome many issues from surviving the financial crisis, lack of money and lack of professional bartenders. Today, the bar has an old-school charm with crimson-red walls and with the barmen in suits that is sure to please any type of person.
Must Try Drinks: Don't let the name 'Hello Tourist' put you off – this cocktail is the perfect blend of traditional Hungarian palinka (hard liquor) in a lovely apple flavor, with Pastis, red wine, apple juice and just a hint of cinnamon to taste.
Contact Details
| Phone | Address |
| --- | --- |
| +36 305 542 323 | 5 Paulay Ede U., Budapest |
Opening Times
Price
Opening Timing
1950-8450HUF(6.30-27.20?)


18:00-1:00 Tuesday-Thursday
18:00-2:00 Friday-Saturday
Closed Monday



Doblo
Doblo is yet another award winning bar, having been awarded as Budapest's most beautiful winebar. This is no surprise after the recent renovations which restored the building to its former glory with weathered bricks, 5 meter ceilings and carefully chosen decorations. As far as drinks go, choose from wine, beer or cider, all carefully chosen to ensure that they are of the best quality.
Must Try Drinks: For the best experience, try the 8 Hungarian Wine Extra tasting package. As the name suggests, this includes tastings of 8 local wines with some accompanying snacks.
Contact Details
| Phone | Address |
| --- | --- |
| +36 293 988 863 | DobUtca 20, Budapest |
Opening Times
Price
Opening Timing
550-9950 HUF (1.15-32?)


14:00-2:00 Sunday-Wednesday
14:00-4:00 Thursday-Saturday