Top 5 Must-See Activities in Madrid
These are the most famous Madrid tourist attractions & sight tours which sees thousands and millions of visitors each year:
Madrid Local Food and Drinks
Asador El Molino
Walking through the door to El Molino will take you back 50 years to the real Madrid, you won't find anything quite as authentic as this. Wooden ceilings, walls and furniture pared with wine-bottle lined walls and white and blue tiles; an icon of Spain provide the perfect setting to enjoy some amazing food with caring waiters looking catering after your every need. You will not be disappointed – and are sure to come back again and again!
Must Try Dishes: Do yourself a favour and try the roast Suckling Pig. Served on the same ceramic plate that it was cooked in the wood oven with, you can't go past the crispy skin and melt-in-your mouth meat. We guarantee you won't regret it.
Contact Details
| Phone | Address |
| --- | --- |
| +34 910 259 008 | Conde de Serrallo 1, Madrid |
Opening Times
| Price | Opening Timing |
| --- | --- |
| 8-60? | 12:00-24:00 Daily |
Platea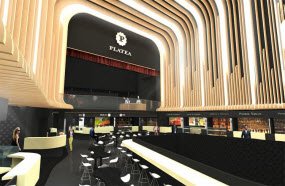 Walking through the doors your jaw will drop at the sight of this 6,000m2architectural wonder. Linear wooden beams line the ceiling and walls whilst balcony's overlook the stage and ground floor's eating area. Opened in 2014 in an old cinema is Europe's largest gastronomic leisure space, featuring several cocktail and Michelin Star tapas bars for you to choose from. We highly recommend reserving a table or arriving before 9pm when the Spaniards will come for dinner.
Must Try Dishes: A plater of fresh oysters and lemon will perfectly compliment your other tapas. The oysters here are some of the freshest you will find in Madrid.
Contact Details
| Phone | Address |
| --- | --- |
| +34 915 770 025 | Calle Goya 5-7 |
Opening Times
Price
Opening Timing
3-80?


12:00-00:30 Sunday-Wednesday
12:00-2:30 Thursday-Saturday



La Estacion de Los Porches
On the edge of Madrid's city centre lies La Estacion de Los Porches, a family run restaurant with an authentic feel and cuisine. Enjoy your meal inside or in the garden when the weather is nice. For the best Spanish experience, check out the regular jaw-dropping Flamenco shows choreographed by Ricard Sanchez, or if you're feeling more creative, take a flamenco or paella cooking class and go home a real Spaniard!
Must Try Dishes: You absolutely must try the Garlic Prawns; a common dish, but no where does it quite as nice as Los Porches! The garlic sauce so amazingly delicious that you will be scooping every last bit of it up with your bread and still be wanting more. The prawns; extremely fresh and perfectly cooked!
Contact Details
| Phone | Address |
| --- | --- |
| +34 914 786 031 | Calle Timoteo Perez Rubio 2, Madrid |
Opening Times
| Price | Opening Timing |
| --- | --- |
| 6-60? | 9:00-24:00 Daily |
Las Cuevas del Sésamo
Down a twisted staircase you will find a small sangria bar with curved ceilings and decorated in the quotes of famous Spanish painters and writers. Live piano fills the small space and add to the bohemian vibe. You will be transported in time, to the 1950's and will have never been so relaxed in the middle of a chaotic city such as Madrid.
Must Try Drinks: Sangria of course! Sésamo lives up to their promise that you've never tasted sangria quite like theirs. With just the right combination of powerful and sweet you won't be able to stop at one glass.
Contact Details
| Phone | Address |
| --- | --- |
| +34 914 296 524 | Calle del Principle 7, Madrid |
Opening Times
Price
Opening Timing
2-15?


18:30-2:00 Sunday-Thursday
18:30-2:30 Friday-Saturday



La Venecia
A much loved bar of Ernest Hemingway; foreign journalists and soldiers frequented this bar during the Spanish Civil War in the 1930's.Since then, the only thing that has changed is the ban on smoking. There is no publicity and the dusty advertisements remain hung on the walls alongside bottles of wine with peeling labels as do the rules, adding to the old-world charm. Sorry but no photos, spitting on the floor, or tipping!
Must Try Drinks: The bar offers nothing but five types of Spanish sherry. We recommend the chamomile sherry, a particular favourite of Spaniards.
Contact Details
| Phone | Address |
| --- | --- |
| +34 914 297 313 | Calle de Echegaray 7, Madrid |
Opening Times
| Price | Opening Timing |
| --- | --- |
| 4-10? | 12:30-3:30 and 7:30-24:00 daily |
Mercado de San Miguel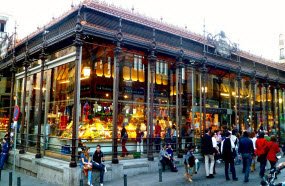 The Market consists of 33 stalls tightly packed in a glass and cast iron building, just meters from Plaza Mayor andfeatures 5 wine carts, 3 beer houses and many tapas carts. It's standing room only, but each stand has been selected as the best in their industry, so it is a good compromise! The concept is to present Spanish products to the world, so you're guaranteed a good drink – and maybe even a tapas or two!
Must Try Drinks: Stop in at The Sherry Corner for a tasting of six different types of sherry. Bring your Passport along as a guarantee for an audio guide which allows you to redeem six different tapas from stalls around the market to match each of the sherry's you are drinking, free of charge!
Contact Details
| Phone | Address |
| --- | --- |
| +34 915 424 936 | Plaza de San Miguel, Madrid |
Opening Times
Price
Opening Timing
1-35?


10:00-24:00 Sunday-Wednesday
10:00-02:00 Thursday-Saturday