Officially named Her Majesty's Royal Palace and Fortress of the Tower of London, the Tower of London is a historic castle situated on the north bank of the River Thames. It was founded towards the end of 1066 as part of the Norman Conquest of England. This massive complex is visited by people from all over the world, and for good reason. It has so much history and culture that it should not be missed by anyone going to London. The tower of London is divided into different parts.
White Tower
The White tower is a keep or a donjon. It is often the strongest structure in a medieval castle and contains lodgings suitable for the lord, the king or his representative. One of the largest keeps in the Christian world, the White Tower has also been described as the most complete eleventh-century palace in Europe. The White Tower measures 36 by 32 meters at the base and is 27 meters high at the southern battlements. The original structure was three levels high with a basement floor, an entrance level, and an upper floor.
Royal Chapel
The Royal Chapel of Saint Pierre Ad Vincula is the parish church of the Tower of London. It is a small rectangular building situated on the northwest corner of the inner courtyard of the Tower. It now serves a place of worship for the people who inhabit the Tower.
Innermost Ward
The innermost ward encloses an area immediately south of the White Tower. It stretches to what was once the edge of the River Thames. The innermost ward was probably filled with timber buildings from the Tower's foundation. It is not certain when the royal lodgings began to encroach from the White Tower into the innermost ward.
Inner Ward
The Inner Ward was created during the Richard the Lionheart's reign, when the castle's size was effectively doubled with a moat dug to the west of the innermost ward. The ward's dimensions remain to this day and most of Henry III's works survived to this day.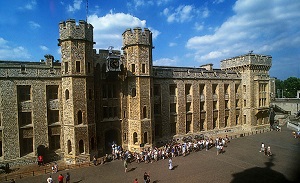 Waterloo Barracks
One of the main buildings of the inner court of the Tower, Waterloo Barracks is also called Waterloo Block and it houses the famous Crown Jewels.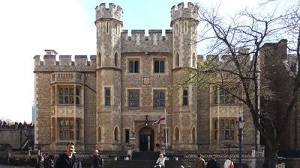 Headquarters of Fusillers
This is one of the buildings that still has a military vocation. It is open to the public and has now been converted to a museum.
Outer Ward
The Outer Ward is the third wall created during Edward I's extension to the Tower. A bastion known as the Legge's Mount was also built around the same time on the north-west corner of the castle as the Outer Ward. Another bastion called Brass Mount, was built in the north-east corner and together the three rectangular towers along the walls were dismantled in 1843.