Florence Local Food and Drinks
Golden View
Florence has hundreds of restaurants to offer; but none with a truly Golden View. Only here will you be eating with a perfect, unblocked view of the Ponte Vecchio; the most iconic bridge in Florence, if not all of Italy. Apart from that, your fine dining experience will take place in a stunningly elegant white-washed building. The simple interior ensures that nothing distracts your view! To guarantee that you get a table next to the window make a reservation.
Must Try Dishes: Tuscany has so many amazing foods for you to try, so with the Tuscan Tasting platter you get the perfect opportunity to taste all of it! This plate will allow you to taste Tuscan ham, two types of Tuscan salami, truffles and five types of locally made cheese. To cap off the experience, try some Tuscan wine.
Contact Details
| Phone | Address |
| --- | --- |
| +39 055 214 502 | Via de Bardi 58, Florence |
Opening Times
| Price | Opening Timing |
| --- | --- |
| 3.5-30? | 7:30-24:00 Daily |
La Buchetta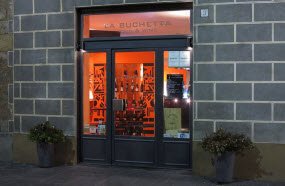 This gorgeous little restaurant is a great hit with locals who come for the central location and authenticity of dishes served. The décor is effortlessly casual and the food is always immaculately presented. Most importantly, the employees speak great English.
Must Try Dishes: La Buchetta make a scrumptious Tiramisu. The popular Italian dish is made from mascarpone, cream, cocoa and coffee, making it the perfect after dinner dish. Translated, tiramisu directly means "pick me up" which is exactly the effect it will have on you!
Contact Details
| Phone | Address |
| --- | --- |
| +39 055 217 833 | Via De' Benci 3/3A, Florence |
Opening Times
Price
Opening Timing
5-30?


11:00-15:00 Daily
19:00-23:00 Daily



Mangia Pizza Firenze
Mangia Pizza specializes in ciabatta Fiorentia, a Tuscan pizza, using rectangular flatbread instead of a dough base. The dough is left to rise for 48 hours to allow for natural fermentation. Owner Melania doesn't speak English (her staff do) but will make you feel incredibly welcome and at ease when you pop in for a quick meal.
Special drinks: For an incredible gourmet pizza opt for the ciabatta pizza with local sheep's milk cheese and fava beans. This particular pizza showcases local Tuscan products on the Tuscan styled pizza making it an all round authentic meal that you won't regret.
Contact Details
| Phone | Address |
| --- | --- |
| +39 055 287 595 | Via Lambertesca 24/6, Florence |
Opening Times
| Price | Opening Timing |
| --- | --- |
| 3-8? | 10:00-19:00 Daily |
Mayday Club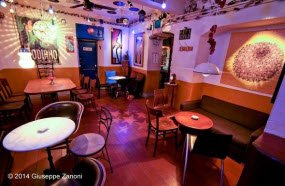 This quirky bar isn't what you'd expect to find in Florence, only 200m from Duomo, but the retro atmosphere and jazz music give a unique atmosphere that you are bound to love. Artists are free to display their works and the décor is clearly intentionally with the owner having a degree in interior design, which you will notice almost immediately with the perfectly decorated bar. Mayday offers some unbeatable cocktails, taking pride in their mixology and in fact, you can learn to make cocktails just like the workers here by enrolling in their cocktail school!
Must Try Drinks: Cocktails are offered on a seasonal basis and include a mix of the classics and some newly created drinks, so your options depend on what time of year you come. The mixologist, Marco sources only certified organic Tuscan fruit juices and works with herbalists, apothecaries and Farmers to create the highest quality cocktails possible.
Contact Details
| Phone | Address |
| --- | --- |
| +39 055 238 12 | Via Dante Alighieri 16, Florence |
Opening Times
Price
Opening Timing
8-10?


19:00-2:00 Tuesday-Saturday
Closed Sunday-Monday



Le Volpi e I'Uva
Le Volpi e I'Uva is without question Florence's most conscious wine bar. Serving only French and Italian wine grown by small producers at reasonable prices for both the grower and you. The gorgeous bar, with both indoor and outdoor seating, offers a very homely and relaxed atmosphere, serving at the perfect cure for any homesickness.
Must Try Drinks: For a true Italian wine-tasting experience ask for the Chianti Classico DOCG 2012. Chianti wine is a classical Tuscan dry red wine, Classico being a region within Tuscany. Classico wine tend to be medium-bodied with higher levels of acidity with cherry/nutty notes.
Contact Details
| Phone | Address |
| --- | --- |
| +39 055 239 81 | Piazza dei Rossi 1, Florence |
Opening Times
Price
Opening Timing
2.50-13?


11:00-21:00 Monday-Saturday
Closed Sunday



La Terrazza Lounge Bar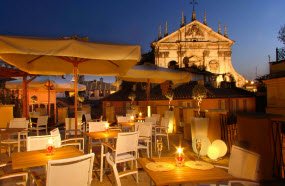 Perched in the sky above Hotel Continentale lies La Terrazza, offering one of Florence's best panoramic views. The simple décor and hundreds of pillows makes for a very cozy atmosphere, best enjoyed with your loved ones.
Must Try Drinks: Prosecco, a Northern Italian wine, is a great option for the Lounge bar. The sparkling wine is a cheaper and debatably better alternative to champagne. The main difference between the two is that Prosecco is fermented in stainless steal tanks, as opposed to the traditional wooden barrels. Regardless of how its made, it's perfect for any romantic occasion, as you will experience here.
Contact Details
| Phone | Address |
| --- | --- |
| +39 055 272 659 | Vicolo dell'Oro 6, Florence |
Opening Times
| Price | Opening Timing |
| --- | --- |
| 15-30? | 15:30-23:00 Daily |