Top Things to Do in Berlin at Night
You'll never run out of things to do in Berlin at night. It's a city known for its rich culture and history, interesting architecture, stunning street arts, vibrant nightlife, and delicious beer. Indeed, Berlin gets even more exciting when the sun goes down. It is usually during the night when you would be able to appreciate the city's unique beauty even more.
When it comes to the things to do in Berlin at night, you can choose from a wide range of options, depending on the kind of traveler that you are. Of course, there are also free things to do for budget conscious travellers out there. So check out this list of the best things to do when the sun goes down in Berlin.
1. Join a Private Walking Tour
Joining a walking tour is a great way to discover the amazing sights of Berlin at night. For this tour, you'll be joining a group of other tourists and an expert guide will lead you to some of Berlin's best attractions.
The night walking tour will take approximately 3 hours and you'll be visiting various hotspots in the city including the Brandenburg Gate, Memorial for the Murdered Jews, Berlin Wall and many more! You'll also be wandering along Berlin's grandest boulevard and make a stop at Hitler's bunker. Although you may have already seen most of these sites during the day, seeing them at night is an even more exciting experience. Joining a private walking tour is one of the most popular things to do in Berlin at night with family, so you better book your tour as early as possible.
Address:
Central Berlin
2. Get to the Top of the Berlin TV Tower
The Fernsehturm or the Berlin TV Tower is one of the most recognizable landmarks of Berlin. At 365 m high, it dazzles magically at night and you can catch a glimpse of its many angles in various areas all over the city. If you climb to the top, you'll be treated to an incredible view of the whole of Berlin. Although you can visit the tower during the day, if you want to witness the city's stunning views at night where most buildings are beautifully illuminated, you should consider visiting in the evening.
As one of the most popular attractions in Berlin, the TV Tower welcomes more than a million visitors each year. Thus, it's highly recommended that you book your ticket as early as possible. The tower is open until midnight, making it one of the best places to visit in Berlin late at night.
Address:
Panoramastraße 1A, 10178 Berlin, Germany
Duration:6 PM - 10: 30 PM
Price:€19.5
3. Visit the DDR Museum
Berlin is home to some of the world's best museums. If you want to learn more about the culture and history of the city, then you should take time to visit the city's best museums, such as the DDR museum. This award-winning interactive museum is one of the most visited museums in Berlin and visiting it at night is a truly great experience.
The DDR museum opens until 8 PM at night. You can visit around 5 or 6 PM, where there's less crowd allowing you to appreciate the exhibits even more. The best thing about this museum is that the exhibits here are not kept behind the glass. As a matter of fact, visitors are encouraged to feel, interact, and touch some of the exhibits that will take them back in time to truly learn and understand Berlin's past.
Address:
Karl-Liebknecht-Str. 1, 10178 Berlin, Germany
4. Take Part in a Brewery Tour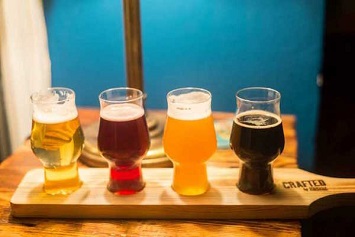 Beer plays an important part in the culture of Berlin. In fact, the beer culture in the city is truly exciting. The brewery tour is one of the best late night tour Berlin that you can take part in. Depending on the tour that you will chose, you could visit as many breweries as you can. Most of these breweries produce their own craft beer and you will have the chance to witness the production of beer up close!
For the Berlin Brewery tour, you'll be joining a group of other tourists where you get to explore the history of the German beer and visit some of the best breweries in the city. The highlight of the tour is when you get to sample different kinds of German beer, with a complimentary snack to go with the drink.
Address:
Old Post Office (Postfuhramt) by Berlin Oranienburger Straße station
5. Hang Out at a Riverside Bar
Berlin is home to some of the best pubs and bars but if you want a truly relaxing way to end your day in the city, check out those bars by the riverside. For instance, you can visit the Strandbar Mitte, where you can enjoy a fantastic view of the Spree River as you sip on your beer. This place is even more beautiful during sunset.
The Strandbar Mitte is a tiki-style riverside bar located near the Museum Island. It's just right across the stunning Bode Museum and behind the Monbijou Park. If you're visiting Berlin with your partner, hanging out at this bar is one of the most romantic things to do in Berlin late at night. You can order some drinks and watch the world go by or listen to some vibrant music playing in the background.
Address:
Strandbar Mitte, Monbijoustraße 3B, 10117 Berlin, Germany
6. Observe the Night Sky at a Planetarium
For a more offbeat nighttime activity, check out the Wilhelm-Foerster observatory and planetarium where you can go stargazing during a clear night. If you happen to visit the planetarium during a bad weather, it will create an artificial night sky. The place also offers exclusive programs for the kids as well as educational shows. Thus, visiting the planetarium is definitely one of the best things to do in Berlin at night with family, especially if you have small kids in tow.
Address:
Prenzlauer Allee 80, 10405 Berlin, Germany
7. Taste Berlin's Best Coffees
Not many people are aware of this but Berlin is actually a paradise for coffee lovers. If you want to experience Berlin's coffee culture, check out some of the best coffee shops in the city, such as the Westberlin. Tucked away in a quiet neighborhood in the city, enjoying a cup of delicious coffee is one of the most relaxing things to do in Berlin late at night.
Wesberlin Coffee is just a stone's throw away from the touristy areas of Checkpoint Charlie. This coffee shop also doubles as a bookstore and a great alternative to the various coffee chains in the area. The place has a lovely interior, featuring a white Scandinavian decor, which makes for a truly relaxing stay. So if you got tired after a long walk in the city, head to this coffee shop, order a cup of coffee, and grab a good book to read.
Address:
Westberlin, Prenzlauer Allee 80, 10405 Berlin, Germany
8. Head to the Charlottenburg Palace
When it comes to the most famous attractions in Berlin, the Charlottenburg Palace definitely tops the list. This place used to be a royal summer residence and is now Berlin's largest and most gorgeous palace.
When nighttime comes, the Charlottenburg Palace is truly a sight to behold! Built at the end of the 17th century, the palace serves as a perfect example of the rococo and baroque styles of architecture. The place is surrounded with a massive garden and has a theatre, pavilion, and mausoleum. Wandering through this place in the evening is a truly wonderful experience especially if you witness the magnificent night show.
Address:
Spandauer Damm 20-24, 14059 Berlin, Germany
9. Watch a Spectacular Show
If you want to experience an incredible performance in Berlin, then you better witness The One Grand Show at the Friedrichstadt-Palast. The place itself is truly spectacular and has been the venue of some of the most famous shows and concerts in Berlin. In fact, it has the world's biggest theatre stage!
From the name itself, the show is really grand! The performances are vibrant and colorful and tell of a very intense story about great love. There are also dances and acrobatics with very entertaining music in the background. Watching the show is a great activity to do in Berlin at night especially for those traveling with family.
Address:
Friedrichstadt-Palast, Friedrichstraße 107, 10117 Berlin, Germany
Duration:0.8125
Price:€40
10. Check out the Street Murals and Graffiti
Berlin is known for its colorful graffiti. While other places would consider graffiti as a form of vandalism, in Berlin, it's a different story. In fact, Berlin is known for its vibrant and colorful graffiti and murals, and if you're looking for some free things to do in Berlin at night, checking out these colorful street arts is a must!
These graffiti and murals are a form of art and expression and is welcomed and admired by locals in Berlin. This is actually what makes Berlin a great city for lovers of the art. Joining a walking tour that includes a visit to these streets is also recommended. With this tour, you'll be led by an expert guide who knows where the best street murals and graffiti in Berlin and can share to you a bit of history of these popular street arts and the artists behind them.
Address:
Berlin Streets
11. Party at the Hard Rock Café
When nighttime comes, Berlin's pubs and bars also come alive. If you want to take part in the exciting nightlife scene of Berlin, head to the Hard Rock cafe, one of the city's most iconic bars and restaurants.
The Hard Rock Cafe is known for its energetic ambiance, where live music can be heard playing in the background. They also serve great cocktails to go with their delicious foods. The bar is housed in a heritage-protected building in Ku'damm and features a combination of modern and historic architecture complete with a wall of various Rock n Roll memorabilia. The Hard Rock is definitely one of the best places to visit in Berlin at night if you want to party and dance the night away!
Address:
Kurfürstendamm 224, 10719 Berlin, Germany
12. Tour the City in a Segway
If you want a more adventurous way of discovering Berlin's best attractions at night, consider joining a Berlin Segway tour. For this tour, you'll be riding a 2-wheeled personal transporter called the Segway, which you need to drive yourself. Don't worry for there will be a practice session before the tour starts to ensure that you will be confident in operating the Segway yourself.
The one-hour Segway tour will take you to the various attractions in the city, including the Brandenburg Gate and Reichstag building. It also includes a visit to the Holocaust Memorial and the German Chancellery. An expert guide will lead the tour and will also be sharing interesting stories of the famous sites that you will be passing by.
Address:
CharlottenStrasse 29a, 10117 Berlin, Germany
13. Go for a Romantic Carriage Ride
If you're with your significant other, enjoy romantic night sightseeing in Berlin on board a horse drawn carriage. This tour is a truly unique way to see Berlin's most beautiful attractions at night.
The carriage tour will take you to the beautiful streets of Berlin and towards the city's historic city center. A knowledgeable connoisseur who is familiar and expert on the various attractions in the city will take charge in the carriage. He will also be sharing some fascinating stories on the places that you'll be passing by. Some of the places that you'll most likely be visiting for this tour are the Brandenburg Gate, Friedrichstraße, the French Cathedral, and the Museum Island. This activity is also a fun idea for travelers with kids.
Address:
Brandenburg Gate, Pariser Platz, 10117 Berlin, Germany
14. Hop on a Cruise for Dinner and Sightseeing
Another romantic way to soak up Berlin's beautiful views at night is on a cruise at the River Spree. The 250-km long river is right in the middle of Berlin which means that your tour will be passing by the various significant buildings and stunning sights in the city. There are many different Berlin river cruises to choose from. If you want to enjoy a nice dinner as you soak up the stunning views of the city, choose the cruises that come with a dinner and wine. There are also cruises with live entertainment on board. You can join other tourists or book the entire boat to yourself! Regardless of the type of river cruises that you're going to book, you can guarantee a truly spectacular experience!
Address:
Alte Börse" pier, opposite Burgstraße 27, 10178 Berlin, Germany
15. Stroll Through the Brandenburg Gate
One of the most stunning sights in Berlin at night is the Brandenburg Gate. For centuries, the Brandenburg Gate has been at the center of Germany's political upheaval and has played a significant role in the country's colorful past. This popular Berlin landmark looks very impressive at night where it's beautifully illuminated. Taking a stroll by this famous structure is certainly one of the best things to do in Berlin late at night. In fact, photographers who want to take great photos of this popular structure would often visit at night when there's less crowd. There are also other sights that are a walking distance from the Brandenburg Gate so you might want to check them out as well during your evening stroll.
Address:
Pariser Platz, 10117 Berlin, Germany
Travel Guides
More Free Things to Do
Things to Do at Night
Fun Things to Do