Top Things to Do in Rome at Night
Whether it's day or night, Rome is definitely a beautiful city to explore. But if you want to see the real beauty of the city, take time to discover Rome when the sun goes down. Rome has its own distinct beauty when nighttime comes, where you'll find the Colosseum majestically glowing against the darkened sky and the mood at the St. Peter's Square magically transforms from a busy plaza to a peaceful and serene place!
If you're heading to Rome and wondering what are the things to do in Rome late at night, then check out the list below. From taking part in a guided tour at some of the city's most popular attractions to enjoying a romantic dinner at the city's best restaurant, here are some of the best things to do in Rome at night.
1. Take Part in a Guided Tour at the Colosseum
The Colosseum is, no doubt, one of the most popular landmarks of Rome so it's probably one of the places that you have first visited upon arriving at the city. But try to visit this place when nighttime comes and when the Colosseum is beautifully lit up. You'll realize that is in fact even more beautiful at night than during the daylight.
You can choose to get inside for a guided nighttime tour. But if you have already visited it during the day and don't feel the need to see it again at night, then take time to walk around the surrounding areas and marvel at the beautiful architecture as it glitters at night. The externals of this beautiful ancient monument glows beautifully against the dark skies, creating a wondrous effect of a majestic glowing facade. There are also lots of restaurants nearby and others have rooftop that opens to the beautiful view of the Colosseum so you may want to check that out.
Address:
Piazza del Colosseo, 1, 00184 Roma
Duration:8:30 AM - 7:00 PM
Price:€20
2. Attend a Concert at Auditorium Parco della Musica
Watching a concert is perhaps one of the best things to do in Rome at night with family. The Auditorium Parco della Musica is a popular concert hall in Rome and there's a good chance that the place may be hosting a concert during the time of your visit. If this is the case, then make sure you take advantage of this. The auditorium itself is worth a visit. It's a massive music complex that has three indoor concert halls and a spacious outdoor theater in a beautiful park setting.
Some of the most popular concerts that take place at the Auditorium Parco della Musica are classical music played with symphonies and sung by the country's most renowned performers, such as the Three Tenors. World-renowned musicians and artists also perform at this place regularly. Although the place is massive, tickets get booked easily especially when it's a concert of a popular artist so you should book your ticket as early as possible. Regardless of the kind of music that you or your family enjoys, there's a good chance that you'll find a good concert to attend at this place.
Address:
Via Pietro de Coubertin, 30, 00196 Roma RM, Italy
3. Watch a Football Game at the Olympic Stadium
If you are a fan of football, then you should not miss watching some football games while in Rome. The city itself has two football teams, the AS Roma and SS Lazio Schedule. If you're a big fan of any of the team, then take this opportunity to watch them play up close. Both teams play in the Olympic Stadium all throughout the year and there are games happening in the evening. Regardless of when you will choose to visit the city, there's a good chance that you can see them play live at the stadium.
Watching a football game is among the most recommended things to do in Rome at night with family, especially if you're traveling with kids who are a big fan of the game. When heading to the stadium, take time to drop by at the Video Game Museum nearby. It's a great museum that appeals to travelers with small kids. If you are visiting both the Olympic Stadium and the Video Game Museum, you may want to check out the Rome City Passes, which includes admission to both these places.
Address:
Viale dei Gladiatori, 00135 Roma RM, Italy
4. Join a Dinner Cruise at the River Tiber
Are you traveling to Rome on your honeymoon? If so, then you're probably looking for romantic night sightseeing in Rome. When it comes to this, joining a dinner cruise along the River Tiber is highly recommended. This river runs through the heart of the city passing by the most famous attractions in Rome. During your cruise, you will be passing by the Castel St Angelo, St. Peter's Basilica, and of course, the majestic Colosseum.
There are different dinner cruises on River Tiber that you can book. If you want to enjoy a nice meal under the stars while marveling at the beautiful sights that the cruise passes by, then book a dinner cruise that comes with dinner. Although a romantic dinner cruise is suitable for couples, this activity is also great for the family too! Check out the Rome City Passes if you want to save money on river cruises.
Address:
The River Tiber
5. Cozy Up In Rome's Best Wine Bar, Cul de Sac
After a whole day of exploring the city, what better way to end the day than to enjoy a glass of your favorite wine? Thankfully, Rome is home to some of the best wine bars in the world and one of these is Cul de Sac, located in a small piazza known as the Piazza di Pasquino, which is just outside the Piazza Navona. As one of the top-rated wine bars in the city, Cul de Sac is definitely a great place to spend the night in Rome, especially if you're traveling with your partner since the place boasts a relaxing and romantic ambiance.
Cul de Sac has a collection of more than 1,500 wines, including champagnes and sparkling wines. It might look rather small from the outside but when you get inside, the place is narrow and spacious with lots of seating areas. Although this wine bar doesn't have their own kitchen, they serve reheated pasta dishes that can perfectly go with your glass of wine!
Address:
Piazza Pasquino 73, Rome, Italy
6. See an Opera at the Teatro dell'Opera di Roma
The Teatro dell'Opera di Roma is one of the best places to visit in Rome at night especially if you are a fan of opera shows. Opened in 1880, this opera house has a seating capacity of more than 2,000 and regularly hosts some of the best opera performances in the city. Although the theater focuses on classics, it also offers ballets, musicals, and other spectacular shows and concerts. This is where you can watch some of your favorite classics, like the Swan Lake, Don Quixote, Carmen, and many more!
If you happen to visit Rome in the summer, check out the series of operas and concerts happening at the Teatro dell'Opera. This is a great opportunity to witness spectacular shows in Rome right at one of the city's most historic landmarks. Watching the opera is a great activity for the entire family.
Address:
1 Piazza BeniamIno GIgli, 00184 Roma RM, Italy
7. Explore the Vatican Museums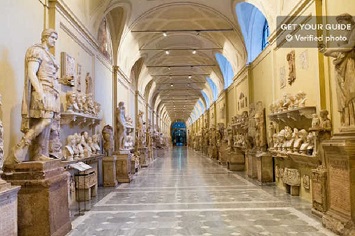 Just like the Colosseum and other attractions in Rome, it's also possible to visit the Vatican Museums when nighttime comes. This is usually possible during the spring and summer season although it's a bit difficult to secure a ticket since the slots are limited. Therefore, it's important that you book your tickets to the Vatican museums in advance, especially if you plan on visiting at night.
The night tickets to the museum usually allows visitors to visit between 7 PM and 11 PM, although the time will vary depending on the season so it is best to do your research ahead of your trip. What's great about visiting the museums at night is that the crowds are usually more manageable since it's not too hectic unlike when you visit at daytime. So if you want to explore the museums without many distractions, you better plan your visit to the Vatican museums at night.
Address:
Viale Vaticano, 00165 Roma RM, Italy
Duration:9: 00 AM - 6:00 PM
Price:€17
8. Take a Walk Along St. Peter's Square
While you're at the Vatican area, you may want to take time to explore the St. Peter's Square. This place is more serene and calm at night than during the daytime where it's filled with thousands of tourists and pilgrims. Taking a stroll along the St. Peter's Square is one of the free things to do in Rome, where you can witness the beautiful St. Peter's Basilica and other famous attractions nearby.
You can start your walk along the Ponte Sant'Angelo, at the grand approach towards the Way of Conciliation. Here, you'll find many statues erected around the basilica that are definitely worth checking out. You'll also be passing by the Egyptian obelisk of Caligula, the Prefecture of the Papal Household, and the Bernini Fountain and towards the St. Peter's Twin Fountain. This is a great activity for both the adults and the kids!
Address:
VA Piazza San Pietro, 00120, Vatican City
9. Enjoy a Romantic Dinner at the Antico Arco Restaurant
Italy is known for having the tastiest dishes in the world, from mouthwatering pizzas to savory pastas. Thus, a dinner at one of the city's best restaurants is a great way to end your day after a late night tour Rome. There are lots of great restaurants in Rome, but if you only need to choose one, make it Antico Arco Restaurant. It's a great dining spot located at the top of Gianicolo Hill at Trastevere, very close to the American Academy of Rome.
The Antico Arco Restaurant is housed in a 19th century structure where there's a bar at the ground floor area leading to a narrow dining room. For a more romantic experienced, check out the seating areas upstairs, which is more cozy and elegant. Specializing in Mediterranean flavors and Italian dishes, Antico Arco's menu consists of a wide range of tasty cuisines suitable to everyone's palate. Don't forget to check out their wine cellar, which has more than 20,000 bottles of fine wines.
Address:
Piazzale Aurelio, 7, 00152 Roma RM, Italy
10. Grab a Cup of Cappuccino at Cappuccino Doc
If you are craving for a cup of cappuccino after a late night walk in the city, then head to the Cappuccino Doc, a cozy coffee shop serving delectable cups of coffee and healthy drinks. As the birthplace of cappuccino, there are numerous coffee shops in Rome known for serving this delectable Italian drink, however, Cappuccino Doc is one of the few coffee shops that open until late night.
Aside from coffees, Cappuccino Doc also serves the best tasting cookies and homemade pastries. There are also smoothies and other healthy drinks on their menu. The café itself is very cozy, a great place to relax after your late night walks. It's always filled with locals and tourists, which is a good indication that the place is indeed the best in the area.
Address:
Via Ostiense, 71F, 00154 Roma RM, Italy
11. Make a Wish at the Trevi Fountain
As one of the most famous attractions in Rome, the Trevi Fountain is always very busy, filled with tourists from all walks of life. If you want to enjoy this famous fountain with fewer crowds, then schedule your visit at night. Visiting this famous fountain at night is especially recommended if you wanted to toss a coin and make a wish without any distractions.
It's been said that the first coin you'll throw means you can go back to the city again, the second coin means you'll find love, and the third will guarantee you a marriage. But going through this ritual may not be a pleasant experience if you're surrounded with thousands of tourists. Visiting the place at night means you'll have a greater chance of enjoying an uninterrupted view of this awe-inspiring travertine fountain that's sculpted against the Palazzo Poli. It stands at 85 feet high and releases 2,900,000 cubic feet of water every single day.
Address:
Piazza di Trevi, 00187 Roma RM, Italy
Duration:Open 24 hours a day
Price:€Free
12. Treat Yourself to a Late Night Pizza at La Boccaccia
Although you'll find pizzerias in almost every street corner in Rome, not all these pizza places are open at late night. So if you find yourself craving for the best tasting Italian pizzas in the middle of the night, check out the La Boccaccia, a famous pizzeria at Trastevere where both tourists and locals can be seen lining up for a bite of their delicious freshly baked pizzas.
Opening until 11:30 PM at night, La Boccaccia is the best place to visit to satisfy your late night pizza cravings. They have a wide range of delicious Italian pizzas made from fresh ingredients and served hot from the oven. If you're not sure what to order, simply as the friendly staff for recommendations and you'll not be disappointed!
Address:
Via di Santa Dorotea, 2, 00153 Roma RM, Italy
13. Go Window Shopping Near the Spanish Steps
Shopping near the Spanish Steps is one of the most popular activities for both locals and tourists in Rome. Even if you don't intend to spend, this place is still a great spot for people watching or simply checking out the various shops and boutiques that line the area. Some of the shops near the main street of Via Condotti open until late at night. These include high-end luxury brands and other local designer brands.
There are also other streets that are much quieter than the main shopping area and a pleasure to walk around especially with a loved in tow. After your window-shopping, check out the dining spots and cafes nearby such as the Bar Frattina, which serves delectable Italian coffees and mouthwatering gelatos!
Address:
Piazza di Spagna, 00187 Roma RM, Italy
14. Join a Panoramic Big Bus Night Tour
If joining a walking tour of Rome is not for you, then check out the bus tours, which is a more convenient and pleasant way of seeing Rome at night. The big bus panoramic night tour will take you to see the famous landmarks of the city while on board a bus at night including the world famous Colosseum, the Piazza Venezia, and the Vatican.
The night bus tour will usually take up to an hour. It is a great way to discover the city's landmarks as they glitter at night amidst the dark sky. On board, there's a pre-recorded commentary, which is a great way to learn more about the attractions where the bus would pass by. Joining a panoramic big bus night tour is ideal for those who find it a challenge to explore Rome by foot. It's great for both adults and kids and pretty much all kinds of travelers who would prefer to explore Rome in a more convenient and comfortable manner.
Address:
Termini Railway Station
Duration:7:30 PM - 8:30 PM
Price:€15
15. Check Out the Food Stalls at Mercato Centrale Roma
The Mercato Centrale is a night market in Rome and a great place to spend the night away. It's situated within the Roma Termini station and a great spot for foodies and those who are craving for a late night meal in the city.
This night market is surrounded with tons of food choices featuring authentic and traditional Italian food at very affordable prices! Aside from the wide range of dining options, the Mercato Centrale is also a great spot to shop for fresh produce and other locally made goods! So after you treat yourself to a mouthwatering dinner, don't forget to check out the stalls and shops in the area.
Address:
Roma Termini, Via Giovanni Giolitti, 36, 00185 Roma RM, Italy