Uffizi Gallery Artwork & Architecture
The initial building intention for the Uffizi Gallery was to accommodate the offices (Uffizi) of the Florentine magistrates; the top floor was made into a gallery.
It was built by Giorgio Vasari, who was one of the leading painters and artists in the world at the time of its construction.
Location
Vasari's intention for the Uffizi Gallery was for it to be placed adjacent to the Medici Palace and to be extended all the way to the Arno river, over the Ponte Vecchio bridge.
Interior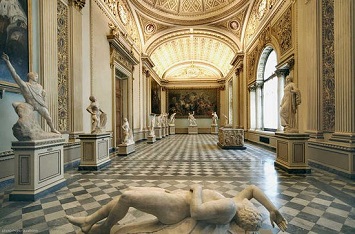 The interior of the Uffizi Gallery is quite an impressive feat to admire; not only is it home to some of the most spectacular pieces of art in the world, but it also hosts a plethora of stunning architectural designs.
The architectural design of the gallery consists of a large three-story U-shaped building, as well as an enclosed passageway that's commonly known as Vasarian Corridor. The passage connects the Uffizi building with the Pitti Palace that's located on the other side of the Arno river.
The Uffizi Gallery's permanent exhibition spans across a total floor area of around 139,000 square feet; which is cleverly divided into various sections that are suitable for the chronology of the art featured in the gallery.
Inside the Uffizi Gallery, you'll also find a library, a shop and even a restaurant that can be enjoyed as part of a lavish visit to the elusive gallery.
Tribuna of the Uffizi
Also known as the Octagonal Platform, the Tribuna of the Uffizi is an octagonal room that resides inside the gallery.
Built in 1584 by Buontalenti, the special structure boasts some of the most antiques and paintings from the Renaissance period, all the way to the present day. In the middle of the room of the Tribuna of the Uffizi, sits an octagonal table that has been preserved since 1589.
Exterior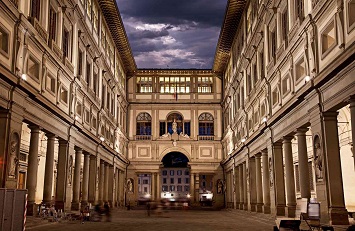 The Uffizi Gallery resides on the Piazza della Signoria - a beautiful, L-shaped square that's also home to numerous other famous buildings and landmarks in Florence.
The gallery is also consists of two wings which are separated by a narrow courtyard walkway. Through this walkway, you'll be able to see that every other column of the outdoor hallway is made up of a statue from the likes of Botticelli and Michelangelo.
The sculptures on the exterior of the Uffizi Gallery are just as, if not more so, impressive as the ones housed inside the gallery.
Most Famous Attractions Tickets & Tours