Best Fun & Unusual Things to Do in Paris
Whether you are visiting France for the first or twentieth time, it's easy to find something new and fun-filled activities to do. Because Paris is the most visited city in the world, there are countless tours already set up for you! You don't have to do any of the legwork before you go. If it is your first visit, start with a walking, bike, or bus tour to get an introduction to the highlights of the city. Because there is so much to do in Paris, this will help you decide on what you'd prefer to focus your time. We present to you 15 Unusual and Fun-Filled things to do in Paris, join us as we take you down the list....
1. Flight simulator
Have fun as you have a flight stimulator on the Flight Experience Boeing 737
Address:16 Rue Raymond Aron, 75013 Paris, France
2. Le Ballon de Paris / Ballon Generali (Hot air balloon)
The Ballon Generali is a tethered helium balloon, used as tourist attraction and advertising support. Installed in Paris since 1999 in the Parc Andr
Address:Parc Andre Citroen, 75015 Paris, France
3. Helicopter ride (helicopter flight over Paris)
Take a seat in the helicopter that will take you above the capital city and to Versailles. This journey will give a nice panorama on the capital and you will land with your eyes full of beautiful images. Millions of people visit paris each year but you will be few to discover the view of Paris in that exceptional way. Transfer by a private driver from your hotel to the airport. Your private pilot will fly over Paris offering a breathtaking view of the Eiffel Tower, the Trocadero, the Arc de Triomphe and even Versailles. After this 45 minutes fight over Paris and the surroundings, you will land at Chateau de Vaux le vicomte or chateau d'esclimont , where lunch will be served. When lunch is over, you helicopter will take you back to Paris, where a car will be waiting for you to drive you to your hotel.
Address:16 Rue henry Farman, Paris
4. Have your cocktail at the Little Red Door
Another unusual and fun-filled event to do in Paris is this, lovers of an alcoholic drink consisting of a spirit or spirits mixed with other ingredients, such as fruit juice or cream. popularly known as Cocktail would find Paris more interesting if they could visit one of the best Cocktail bars in the world situated at Paris. The Little Red door is one of a kind because starting from the door is enough to make you fall in love with the bar, then going inside is just like going into Paradise. They give you the best Cocktail experience that you won't forget in your lifetime. As the name suggests, its little red door will catch your attention and invite you inside to its cozy interior. Every cocktail on the menu looks and tastes like a work of art.
One of the recommended cocktail to take in the LITTLE RED DOOR BAR is the Baroque – made with rum, fortified wine, orange liqueur and pomegranate flowers. Experiencing only brings about the good news, visit the LITTLE RED DOOR and live to cast the news of It's awesomeness
Address:60 Rue Charlot, 75003 Paris, France
5. Eiffel Tower
Mere taking on board the queues and safety measures, how could you possibly come to Paris and not go up one of the world
Address:de Mars, 5 Avenue Anatole France, 75007 Paris, France
Duration:Open ? 9:30am, Closes 11:45PM
6. Palace of Versailles
We are sure you will be fun-filled to visit the largest and if not the most famous palace in the world. Entering this palace isn't something to take lightly either. Andre Le Nôtre, who perfected the French formal garden style, and the virtuoso artist and decorator Charles Le Brun are just two of the masters to leave their mark at Versailles.
You can't just be in a hurry in this wonderful place because it's captivating, with its majestic structure and immeasurable beauty, you will need a lot of time to get the most from the palace, its opulent apartments and the historic Hall of Mirrors that links them.
Address:Place d'Armes, 78000 Versailles, France
Duration:Monday: Closed, Tuesday: 9am–5:30pm (same for other days)
7. Sailing the Private Boat on the Seine River
The Seine River is the second longest river flowing completely in France. The Seine is a 777 kilometres (483 miles) long river and is an important commercial waterway. The source of River Seine is a village named Source-Seine, 30 kilometres (19 miles) northwest of Dijon in northeastern France. The Seine source is at an height of 471 meters (1,545 feet) above sea level. A number of closely associated small ditches or depressions provide the source waters, with an artificial grotto laid out to highlight and contain a deemed main source. The grotto includes a statue of a nymph symbolizing the river.
Finding yourself and alot of people on rivers is fun-filled if you have experienced this before, it can't be compared to the fun you will have in the Seine River here in Paris, you might want to ask, what's special about the River??, You will get the full details on the Uncommon River. Dozens of boats (sailboats, motorboats, RIBs, houseboats and even a jet ski) are available to hire in Paris for a few hours or even a whole day to cruise along the Seine river, the most romantic scenery in the world for the perfect selfie! No boating licence needed, and the skipper is provided too!
Address:75001 Paris, France
8. Visiting Notre-Dame de Paris
Couples would find this interesting and romantic, A pizza - picnic at the Canal Saint Martin is the answer to have great fun. The Canal Saint Martin located in the 10th arroudissement in the northern east of the city is a great place to picnic on it's own.
One interesting and cool to thing you must not miss and it is highly fun-filled about this place is that when you order for one Pizza, you will be given a pink balloon, after which you will find a spot on the Canal and wait with your balloon, shortly after you will be delivered with your Pizza. Have fun holding your Pink Balloon at the Canal Saint Martin with friends and loved ones.
Address:9, parvis Notre-Dame - Pl Jean Paul II, 75004 Paris, France
9. Drink while having a view at Perchoir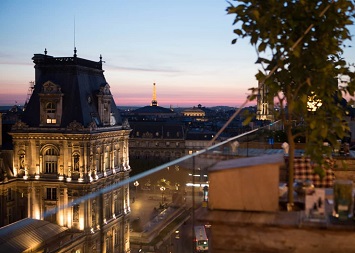 Views from rooftops bar are always fun-filled especially in Paris where you can have a drink while viewing the city at Perchoir.
Perchoir is on top of the BHV department store next to Hotel de Ville, Paris' city Hall and offers a far-off view of the Eiffel Tower. This popular bar in Merilmontart has a huge rooftop with a 360
Address:14 Rue Crespin Du Gast, 75011 Paris, France
10. Climb the 300 Steps of the Sacred Coeur Basilica
Even though, the Eiffel tower is on the bucket list for Paris of everyone going there. But there is another tower to climb with awesome views. The towers of the Sacred Coeur Basilica in Montmartre are open to the public for just small fee; you can climb the 300 steps with fun-filled company of friends/relatives up to the dome for a panoramic view or the city. And the Montmatre tour will have you guided with an expert guide. Happy climbing!
Address:35 Rue de Chevalier de la Barce, 75018 Paris, France
Duration:Open from 6am to 10:30pm everyday
11. Rent a Boat at Canal de l'Ourcq
Address:Basson de la Villette - 75019 Paris 19th Arrondissement
12. Sunset Car Tour
The street of Paris is obviously not busy during afternoon times but is always busy in Nightlife; sights are illuminated, really really beautiful. Enjoy Paris like never before under it's evening illuminating state and tour round the city streets.
Get a personal driver, let him pick you up at any hotel, or any other central Paris Location and drive down the Chanps Elysees to the Beautiful Arc de Trioruple, Gaze at the marvelous Eiffel Tower which is even more impressive at night when it is completely lit-up in a rainbow of Illuminations. Basically, you will have an awesome unique experience driving around the city. Promised! A quick advice, it would be of much fun-filled welcome activity if you can do this on your first night in Paris.
Address:13 Avenue Duquesne 75007 Paris, France
13. Nightlife Partying
Party lovers! And Night Crawlers! Paris had a vibrant nightlife, full of cool pubs, club sandwich planes you may not even remember the next day. Mix up with loyal locals, night lifers and party people at the best pub crawl in Paris including free shots and free club entry.
Run through our list of few Best Nightlife pubs in Paris;
1. Batofar (Facing 11, Quai Francois, Mauriae),
2. Chez Moure (54, rue Jean Baptiste Pigalle),
3. Cha Cha Club (47, rue Berger, 1st Arroudissement),
4. Le Truskel (12, rue Feydeau, 2nd Arroudissement),
5. Rex Club (5, boulevard Poissonneire, 2nd Arroudissement),
6. Le Social Club (142, rue Montmatre, 2nd Arroudissement),
7. Le Baron (6, avenue Marceau 8th Arroudissement)
Visit to Paris without a good night party and crawling is just like eating the outer later of an egg neglecting the yoke
Address:54, rue Jean Baptiste Pigalle
14. Walk through the Forgotten Railway.
Are you looking for a romantic fun-filled cool walk? Or maybe you are taking your babe on a walk date? Okay, now this one is serious fun! It is also one of the unusual things to do in Paris. Paris is an old City that has many of its old relics which have become fun places to explore. Similar to the promenade plantee in that it's no longer used railroad line, the petite ceinture (little belt) encircled Paris between 1852 and 1934. It is a fascinating and calm place to go for a walk, you won't feel like you are in Paris anymore, it's another world entirely because despite its abandonment, the physical location still exists and is a popular adventure for those looking to do something literally off the beaten path in Paris.